As women, we dream of finding the perfect pair of jeans. 
We think, "They must be out there somewhere in the world, right?" It would feel so good to slip into those jeans and know you can walk with total confidence.
Great news: It's 100% possible. We've found a tried-and-true method of helping every woman find her dream jeans. 
Ready? Let's find your perfect pair.
Keys to Finding the Perfect Jeans
The secret is to match your jeans to your Energy Profile. A pair of jeans should fit like a second skin and match your individual form of personal energy. When you know which Type of woman you are, everything else unfolds naturally from there. 
Above all else, your jeans must make you look and feel great. Your perfect jeans are comfortable, flattering, and always feel like a warm hug from your best friend.
Types of Jeans
If you've ever felt a bit frustrated by shopping for jeans, you're not alone. The average American woman owns seven pairs of jeans but is only happy with one or two of them. She's spent hours shopping, with little to show for it.
To improve your odds of finding the right pair, here's a quick education on the three basic characteristics of jeans: rise, fit, and wash.
Rise
Low-Rise: Low-rise jeans have the thinnest waist in terms of height above the hip. The top of the jeans sits at or below the hip, far below the belly button.
Mid-Rise: Mid-rise jeans sit between the hips and the belly button, giving more support to the midsection than low-rise jeans can offer. This prevents the dreaded muffin top.
High-Rise: High-rise jeans extend close to the belly button, creating a large expanse of fabric between the hip and the waist. They provide maximum support around the waist and can give the look of long legs.
Fit
Boyfriend Jeans: Boyfriend jeans are women's jeans that resemble the look of men's jeans. They have the silhouette of skinny jeans, but with an overall looser and more relaxed fit.
Straight Leg: A straight leg jean is the same width from the knee to the leg opening and gives a long, lean look. They do not taper in at all from the knee to the ankle.
Bootcut: As their name implies, bootcut jeans were designed to accommodate boots. They're a bit more narrow at the knee than they are at the leg opening, and are a basic fit that has been in style for decades.
Flare: Flare jeans are a type of wide-leg jeans that are narrower at the knee, then flare out as they flow down to the ankle. A true flare-leg jean has at least a twenty-inch leg opening.
Skinny: Skinny jeans have a slim fit that runs closely along the body with no extra or flowing fabric. From the knee down, they taper in and wrap closely along the calf and ankle, usually ending at or above the ankle. 
Wash
Dark Wash: Dark wash jeans are either black, dark grey, or the darkest indigo blue denim. In a dark wash, there is typically no fading or distressing on the jeans and they are a solid, dark color.
Light to Medium Wash: Light and medium wash jeans come in a variety of denim washes that give an overall mid-tone look. They may be white, light blue, distressed blue, or medium blue or grey denim.
Colored Denim: Colored jeans come in a solid color in a tone like yellow, green, red, pink, or purple. 
The Best Jeans for Your Energy Type
Knowing your Energy Type is extremely important when it comes to picking your perfect jeans. With the help of four friends – Hilary, Amy, Christine, and Sherri – we can find your ideal denim.
Type 1: Bright and Animated Hilary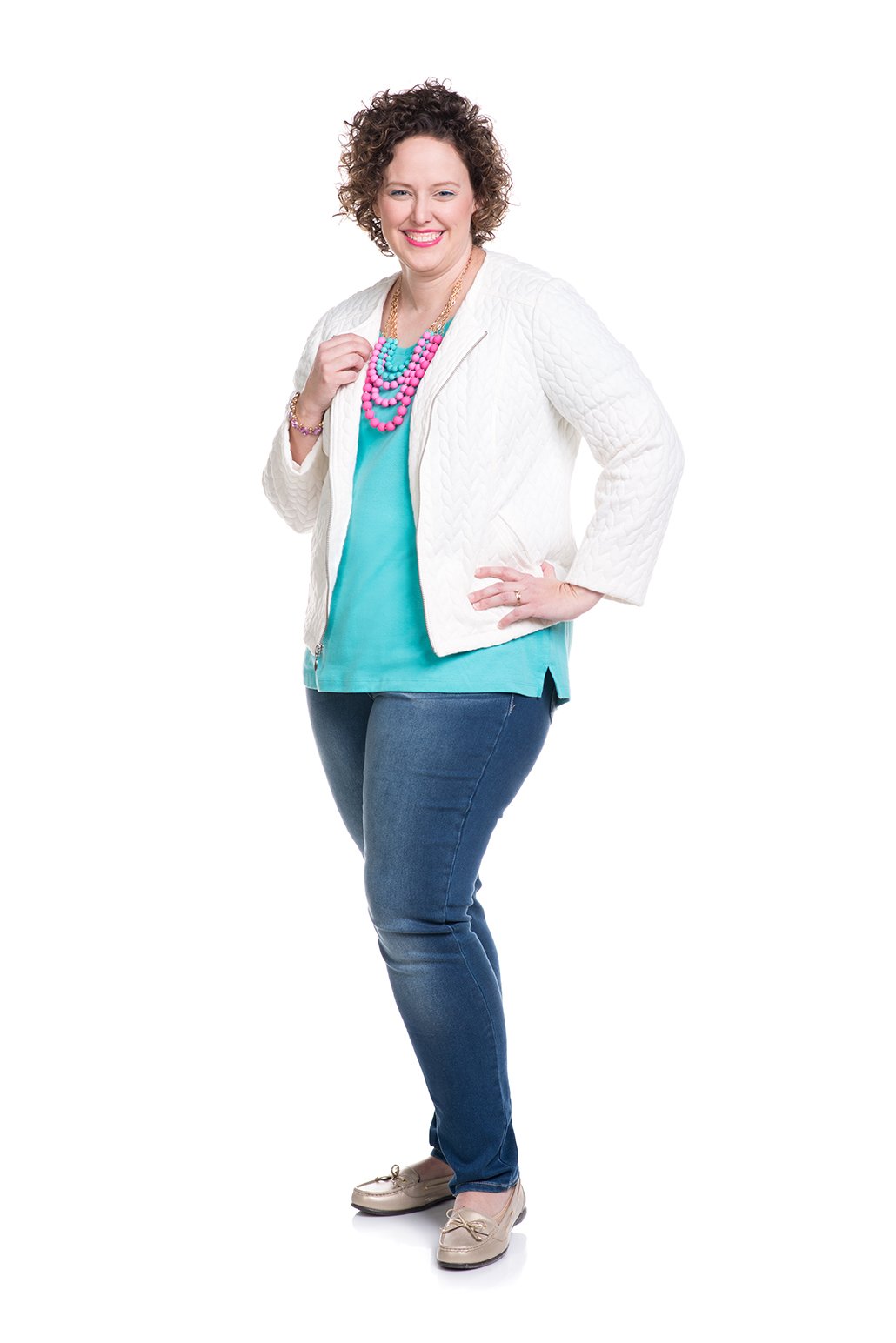 A Type 1 woman like Hilary needs jeans with a lighter wash that matches her light movement and bright personality. She's very animated and doesn't want any extra fabric to weigh her down.
That's why these lightweight blue jeans with a light distressing are the perfect look for Hilary. The lines are crisp and form-fitting with dainty bottom hems. 
When you're a Type 1 woman, your light steps shouldn't be slowed down by heavy hardware and embellishments. At most, a few small touches on the back pockets add some zing.
Type 2: Soft and Subtle Amy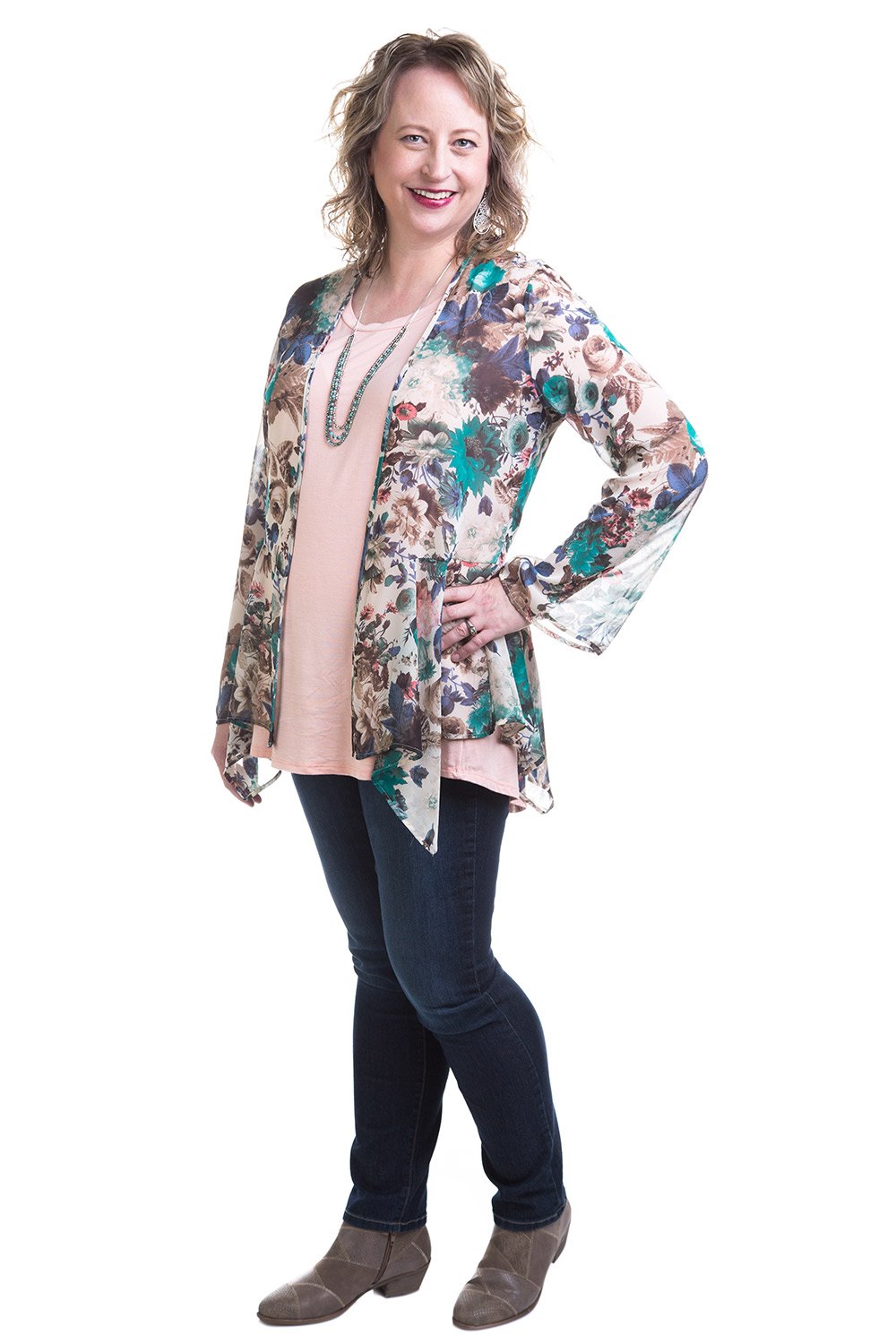 A Type 2 woman like Amy is known for her soft, subtle wit and forgiving personality. In the same way, her jeans should be very soft and pliable.
Amy looks terrific in fitted but forgiving jeans in a blue or grey wash with muted top-stitching. The fabric has some stretch that comes from a denim blend with a bit of Spandex or Lycra. 
Flexible jeans look and feel best with about 20% to 40% stretch range. Try on stretchy jeans, and you'll immediately feel the difference. Raw 100% cotton jeans will feel quite scratchy and stiff by contrast.
Low-contrast buttons and embellishments, along with blended hardware, set off Amy's graceful and flowing style. See how these jeans suit her energy so much better than a pair of stiff, straight jeans would?
Type 3: Rich and Dynamic Christine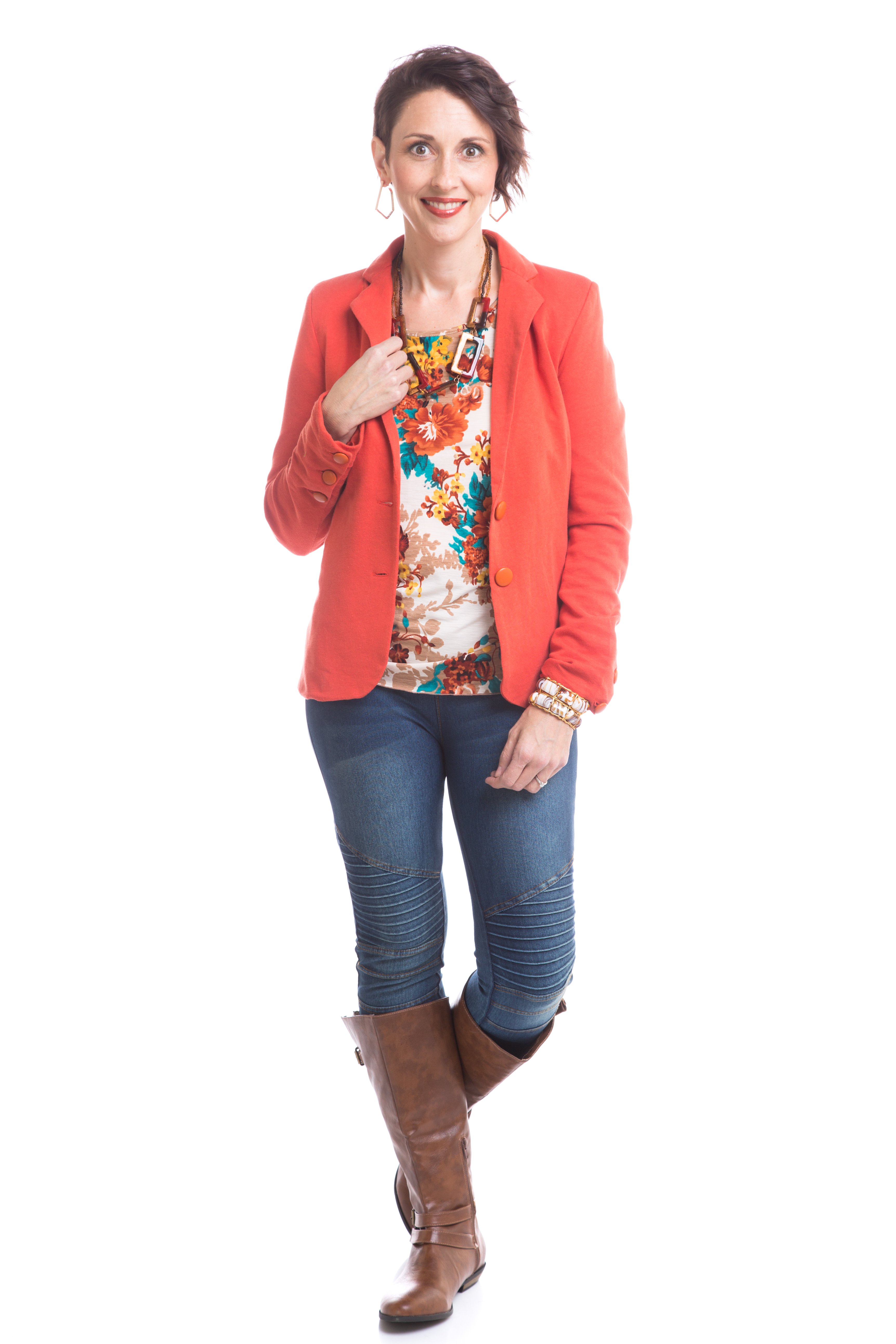 Dynamic and determined, Christine's wardrobe is full of rich, textured fabrics that compliment her vigorous personality. As a Type 3 woman, Christine needs denim that offers substantial weight, styling, and texture to match her energy. Grainy, dirty-washed and dark-washed jeans look great on her.
Christine's energy can easily handle some heavy hardware, so she feels just-right in jeans that are wrapped in edgy brassy or gold embellishments. Studs and gold stitching really suit her style.
A Type 3 woman may find herself attracted to jeans with sleek design line angles. She can pull off a boot-cut or slim fit look with ease, but wide-leg flared jeans just don't suit her energy.
Type 4: Bold and Stunning Sherri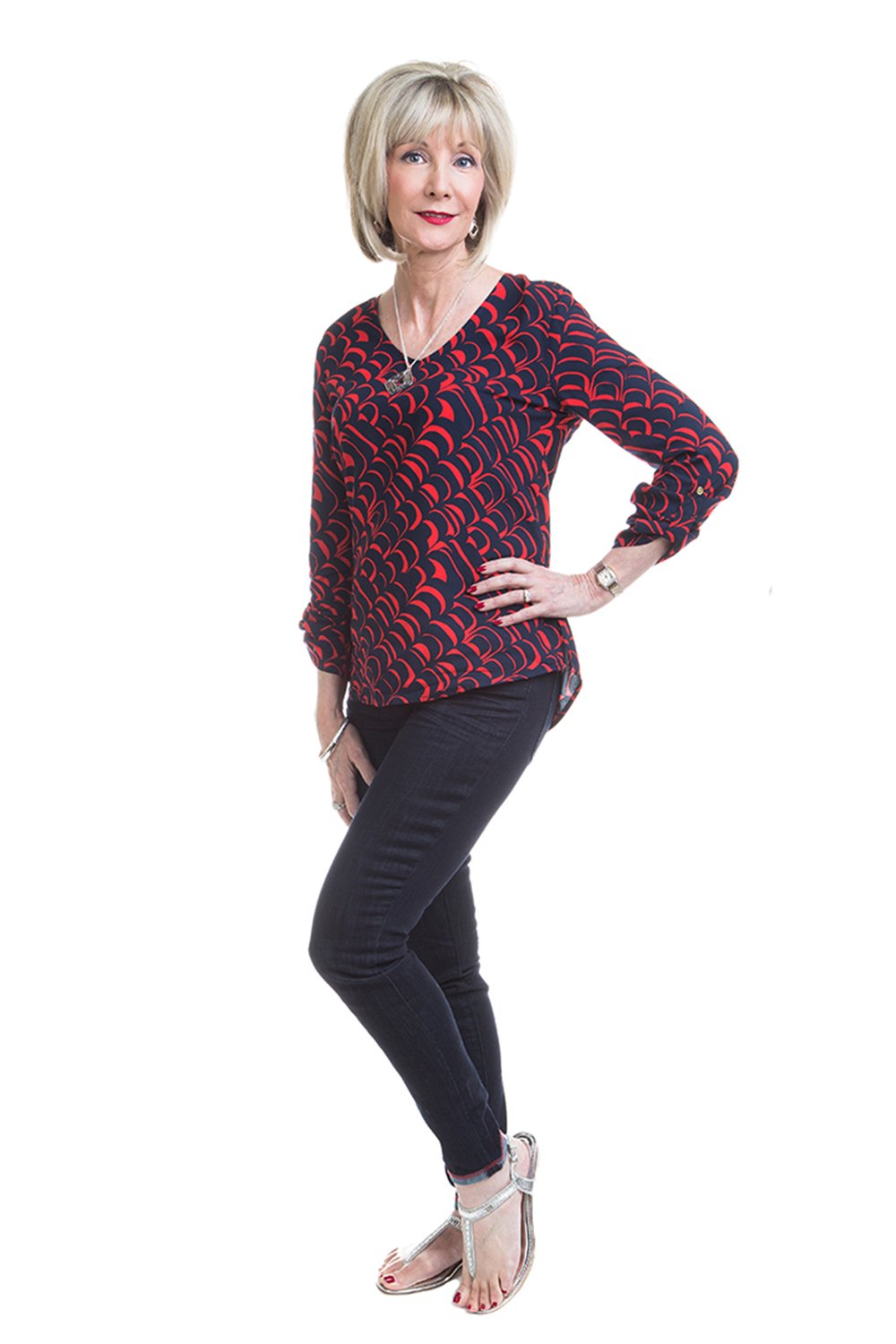 Sherri is a Type 4 woman who is sophisticated, precise, and wants to have some fun with fashion. She looks fantastic in a tailored, sleek pair of jeans with clean and simple design lines.
For this look, the color can be fully saturated denim in a variety of solid hues. In fact, her jeans should be totally free of fading or washes that would distract from her bold look.
In terms of topstitching, she should go one direction or the other: either high contrast or no contrast at all. Her jeans will complement her bold blouses and high-fashion accessories.
10 Tips for Buying the Perfect Jeans
Now that you know your Type of beauty and Energy Profile, you can start shopping for jeans with purpose and confidence. Here are our top tips for finding the best jeans every time.
Relax

. This is "me" time that should be fun and relaxing. Allow yourself ample time to make decisions that feel right for you, without any outside pressure. 

Reflect on your Type of beauty

. Buying jeans isn't about your body type or the latest trends in the fashion world. It's about your energy and what makes you uniquely

you

. Don't let mannequins and store displays distract you from your Type of beauty.

Observe shapes and lines. Keep an eye out for the specific shapes and lines that go along with your Energy Profile. Again, it's not about your body shape, but the natural clothing shapes that match your energy. Look for these outlines in jeans.
Pay attention to the details

. The details matter with denim: wash, texture, length, and color. Use your

Style Guide

as a reminder of what works for your Type of beauty.

Try before you buy

. Try on each pair of jeans before you consider buying them. The cuts, sizes, and washes vary among brands, so it takes a visit to the dressing room to find the perfect fit.

Jump, sit, bend

. Move around the dressing room with the jeans on and decide how comfortable they'd be during your regular daily activities. Can you jump and bend? Can you breathe when sitting down? Does your stride feel natural?

Check the price tag

. Set a budget before you shop, and check the price tag before getting too attached. A price outside your budget is always the wrong price. You don't want to start a new-jeans relationship with regrets.

Focus on fit

. Comfort is far more important than any denim brand name. When your jeans have the right fit, who cares about the label? You'll simply feel great.

Consider outfits. Buy jeans that enhance the clothes that match your Energy Profile. Consider outfits you'll need to wear frequently as you begin to dress for your Type of beauty.
Ask yourself, "Do I love these jeans?"

Before you ever head to checkout, ask yourself whether you truly love them – and don't buy if you don't. Try again another day.
You Deserve Joy From Jeans
We've seen women experience stunning before-and-afters that truly transform their view of wearing jeans. Maybe they just needed a darker wash, a higher waistband, or a bit of stretch denim. Maybe they just needed a break from mom jeans.
Sometimes women who were wearing slouchy, baggy jeans discover a love for skinny jeans. (No joke – It happens!) And women who have never felt comfortable in jeans suddenly experience the pleasure of a perfect plus-size hourglass fit.  
What changed for these women? Now they're dressing according to their Energy Type, not their body shape or fleeting trends. It makes all the difference in the world.
Don't give up on finding the perfect pair of jeans! They're out there. When you're Dressing Your Truth, buying jeans is a fun and transformative experience.