You already know that last month we released the new and improved Dressing Your Truth free Beginner's Guide—which our customers have been raving about ever since.
But did you know we made a new tool that makes sharing Dressing Your Truth even simpler?
Introducing, the 4 Energy Types Chart!
This chart makes it so easy to create conversation and curiosity about Dressing Your Truth. It clarifies the 4 Energy Types in such a way that someone could narrow down their dominant Type in just a few minutes.
Share it on social media, send the link to a friend, or print it out and bring it to your next gathering, like Type 1 Annie did!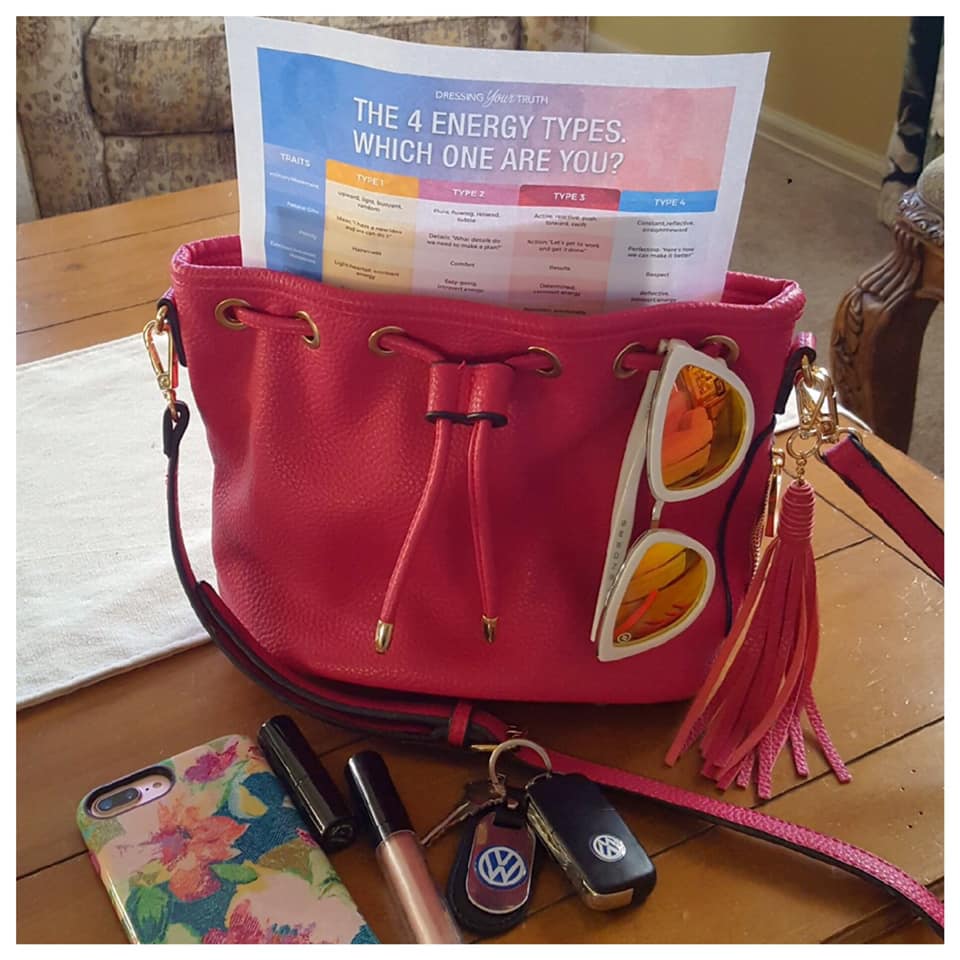 "Headed out to breakfast 🥞🥓 with some of my friends! 👭 It's going to be fun 🎉 to see if they can identify 🔎 their Type!! Have you printed out the chart yet? Who did you share it with? 😄" -Type 1, Annie P.
Dressing Your Truth helps improve relationships, co-workers, and friends.
"Success story! A coworker who I guessed as a Type 3 announced she was getting her hair cut in a very stark Type 4 way. I kindly said, "I think I can find you something you'll like better" so I Googled some options, which led to an entire conversation with her and another co-worker about DYT. They looked up the new 4 Energy Types Chart and instantly Typed themselves as the very Types I had guessed they were but had been keeping to myself until the time was right. My Type 2 co-worker instantly started the Beginner's Guide. The Type 3 took the pic we Googled to her hairstylist at lunch and she LOVES the new cut. Both of them kept saying, "Oh my gosh it's like looking into my soul right now!" Pretty sure one of them is joining Lifestyle today because she felt the guesswork being taken out of her style was going to be so worth it. I've been trying to manifest a time to share this program with ladies who needed it and it showed up for me today!❤👊" -Kristi C.
The new chart can help you determine your secondary Energy Type.
This is a phenomenal perk from using the chart. Women who are already confident in their dominant Type can easily see their secondary while reading the chart. Here's Becky's story:
"The new chart is phenomenal! My friend has finally gained confidence in her dominant energy, and I gained clarity on my secondary Type 2. I've loved that since learning about my secondary, I've been able to stop when I feel great anxiety and that I need to push myself and rush, and tell myself out loud that it's okay to be slow. I actually get so much more done, even more quickly, when I go slow. That's how I was built to function. I have time to think and know what I'm doing, otherwise, I feel frazzled. After using the 4 Type Chart, my secondary is very clear." – Becky Y.
Share the 4 Types Chart today!
I would love to hear your own story about how sharing with your friends has supported them in discovering their Type!