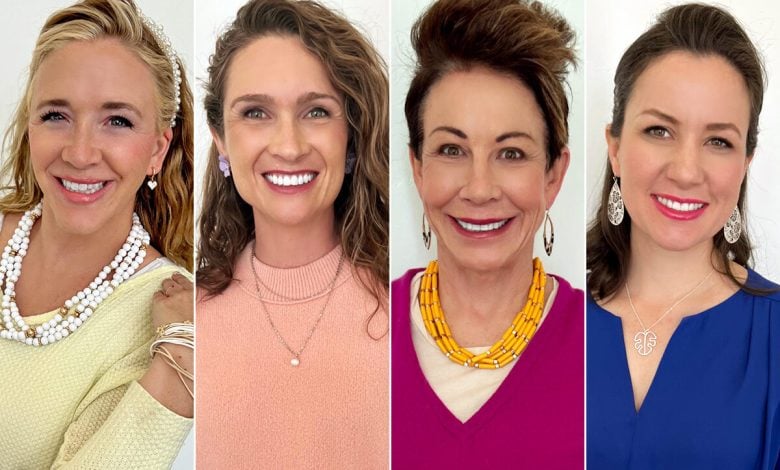 Ahh, springtime! It's the perfect time of year to freshen up your wardrobe and bring in something new to your style.
But what if you're not in the mood to shop for new clothes? Or maybe you're on a budget but still want to create new looks?
My #1 tip? Accessorize! My favorite way to accessorize every single day is with jewelry. Great pieces of jewelry add tons of life and zest to any outfit.
I'll show you what I mean!
(Psst…did you know? Everything in the DYT Online store is currently marked down for our Spring Clearance Sale! Go check it out!)
Type 1 Jewelry Style Tips
In Jaleah's first picture, she is shining with her Type 1 hairstyle, tops, and makeup. But something is missing — she has no jewelry. Of course, she's still so adorable! But look at how her personality just pops when she adds in earrings, a necklace, and bracelets.
Type 1 jewelry adds sparkles, animation, bursts of color, and high movement. Which look is your favorite? Would you mix and match some of these pieces to create new combinations?
Shop Type 1 Jewelry here!
---
Type 2 Jewelry Style Tips
In the first photo, Anne's hair, makeup, and clothes are all true to Type 2, and she is lovely! But you'll notice how quickly her style becomes so much more detailed, elegant, and eye-catching once she adds in jewelry.
Type 2 jewelry is a way to add that medium-low contrast with complementary colors. In all of her photos, her soft coral sweater stands out even more now.
Shop Type 2 Jewelry here!
---
Type 3 Jewelry Style Tips
In the first photo, I'm true-to-Type in every way: my hair has dynamic movement, my shirt has a deep-v which creates an angle, and even my nails are painted a complimentary color. But without accessories, my whole look still feels way too plain.
See how quickly that changes once I add in big earrings? And the best part is that they don't ever have to be heavy! In our store, all of our Type 3 earrings have rich elements while also being lightweight enough to wear all day long. Necklaces and bracelets give us that substantial texture we're able to hold so well.
Shop Type 3 Jewelry here!
---
Type 4 Jewelry Style Tips
In her first photo, Kalista is simply stunning. Your eyes are drawn upward right away to her eyes, all due to her perfect execution of Type 4 colors, hair, and makeup. But once she adds in those silver pieces—wow.
Somehow her eyes sparkle even more. Her bold blue top and striking pink lips balance in harmony with her earrings and necklaces. Nothing stands out as more important than another. Instead, she stands out as herself, which is what Dressing Your Truth is all about.
Shop Type 4 Jewelry here!
---
Jewelry is a fun, easy, and affordable way to transform an old shirt or dress.
From now through April 25, everything in the DYT Online store is currently marked down for our Spring Clearance Sale! Now is the time to get yourself some True-to-Type jewelry and freshen up your wardrobe!
Grab a few extras as Mother's Day gifts for the women in your life. Do you have a graduation party to attend this summer? What about a wedding you'll be dressing up for? Instead of going shopping for a new dress, look at what you have in your closet already, and get yourself new jewelry instead.
I'd love to see your pictures once you do!