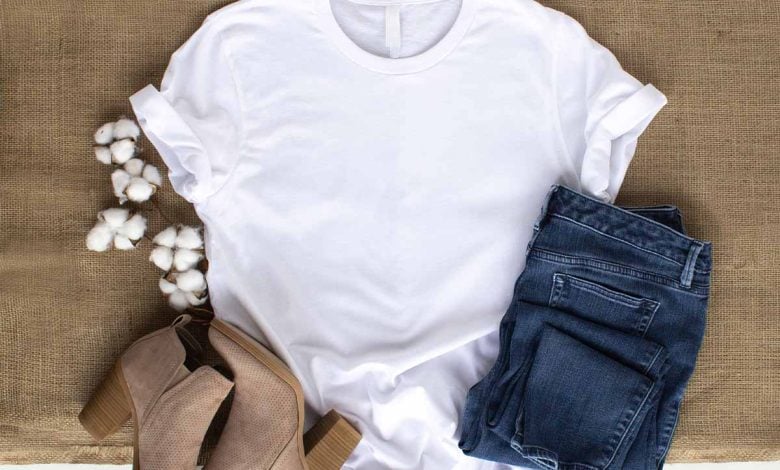 Anyone can throw on a t-shirt and jeans, but let's be real…sometimes that starts to feel a little boring.
That's probably because most women stop right there—with just their top and bottom.
To take an outfit from a 1 to a 10, you have to go beyond the basics! A great place to start is to make sure you're adding in the 5 Components of Style: Clothes, Accessories, Hair, Makeup, and Self-Care. Do this every day, with every outfit, and you're going to be amazed at the difference you see (and feel!).
But what about those jeans and t-shirts? How do we spice those up?
5 Tips to Uplevel Your T-Shirt & Jeans
1. Add a layering piece.
A great layering piece brings variety and character to your outfit. Play around with some layering items in your closet. You may surprise yourself with what you like.
Brand new and not sure where to start? Go with this suggestion first, based on your Type:
Type 1: Cardigan – it's lightweight and brings the eye upward.
Type 2: Duster – this adds a bit of soft flow and elegance.
Type 3: Jean Jacket – this is all about the substance and angles.
Type 4: Blazer – it'll give your look a classic, sophisticated vibe.
Type 2 Amanda below shows how a soft, heathery duster brings her simple "top and bottom" up to a cozy outfit!
In my photo below, you'll see how the pineapple t-shirt actually gets even more focus and attention after I add the blazer. It's fun to see how outfits come together when you have DYT guidelines pointing you in the right direction!
2. Dress it up with jewelry.
I'm still amazed at how much of a difference it makes when I add jewelry to my outfit. If you want to see for yourself, take a photo in an outfit before putting on jewelry, and then another one after. Compare them side by side and see what you think!
In the photo below of Type 4 Laurie, cover up her necklace in the photos. Isn't it crazy how the outfit immediately gets a boost with it!
Type 2 Lisa's earrings and necklace bring a glistening and glimmer to her casual outfit. We love it!
3. Focus on your shoes.
Shoes can be such a perfect finishing touch to an otherwise plain outfit. They can be heels, boots, ballet flats, etc. But I guarantee they'll make you look and feel much better than a pair of sneakers!
In the photo below, I love how Type 1 Vilma carried her brightness all the way down to the tips of her toes. Instead of the jeans being the stopping point, the shoes are that sparkly exclamation point that adds fun and interest to her outfit!
4. Add an accessory—or 2, or 3.
We're talking belts, scarves, watches, and headbands. You can go simple, like Type 4 Martha did in the photo below. Her silver belt brings out the silver in her t-shirt, and breaks up the black with a flattering accent.
Or you can go animated like Type 1 Erica. In her photos below, I love how she brought in all the pink in her headband, earrings, eyeshadow, and lipstick. She looks put-together and full of vibrant energy. How fun!
5. Tuck in the tee.
T-shirts can be quite boxy in their cut. You can make them look more flattering by tucking them in. Type 1 Julie below did this and she looks so bright and cute. If her shirt hadn't been tucked in, we wouldn't see her colorful belt.
Below we have Type 3 Erin who tied her shirt into a "front knot." This simple hack defines her waistline and adds angles to her top. You can experiment with different tucks. Try a partial "French tuck" with just a bit of the shirt tucked into the front of your pants. Try a side tie or a side knot as well.
See it all come together!
Anne's photos below really bring these tips to life. She's got them all in place, and wow, doesn't she look great in her "after" photo!
Share your Before & Afters in the Lifestyle Facebook group!
Let's see your Uplevels! Show us what your outfit looked like with just a top and bottom. Then, add as many of these tips as you want so we can all see your outfit transform!