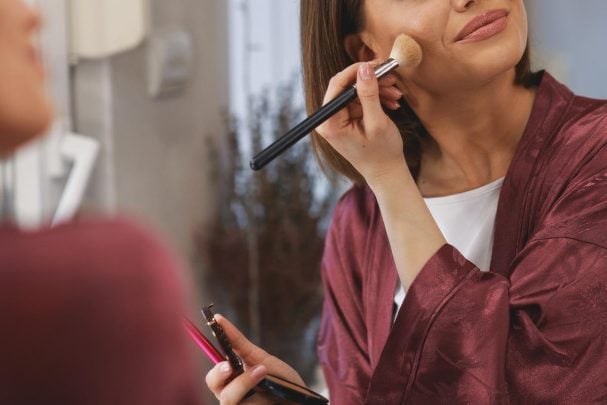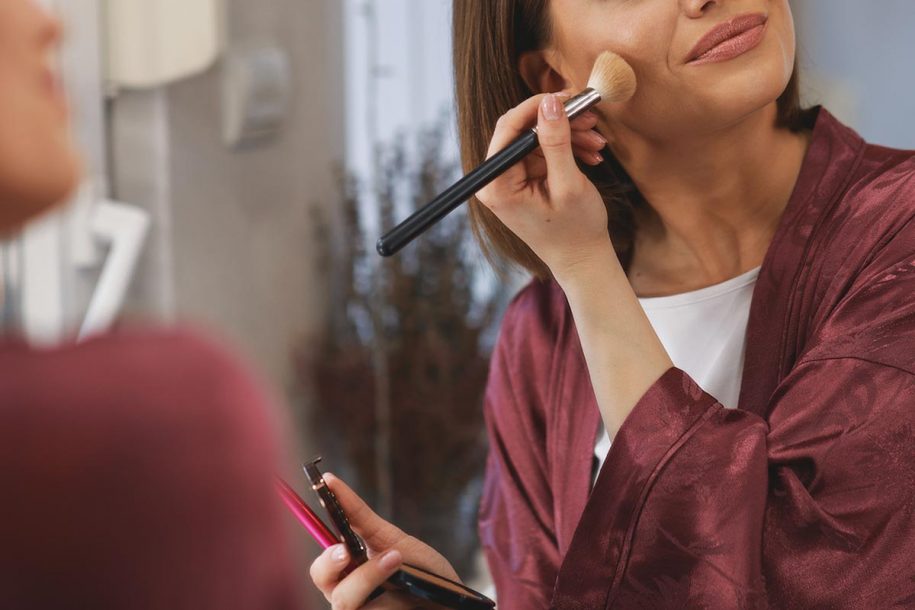 Are you finding it hard to balance a trendy and mature makeup look now that you're in your 50s?
You don't want a look that makes you appear sloppy or immature, but makeup can also age you when done incorrectly on mature skin. The goal should always be to create a look that is both healthy and authentic. Older women sometimes aren't sure what needs to change in their normal routine.
I want to help you find a look that matches your personality, Energy Type, and age.
This post covers some great makeup tips for women over 50. Age is beautiful! Let's embrace it and look our very best! Also check out my favorite fashion tips for older women.
Makeup Application Tips for Women Over 50
The best makeup is the kind that will match your Energy Type. If you aren't sure what Energy Type you are, you will want to take this FREE assessment now. These makeup tips will apply to every Type, but the colors you use will be different based on your personality. We want to let your inner beauty shine for an authentic first impression!
Skincare Products
This is an area I feel especially passionate about. In fact, I personally launched my own Anti-Aging Skincare Line in to support you with products that are gentle, effective, and give you glowing results. You can see how I use them and check out the Anti-Aging Skincare line here!
The products from my line are meant for all 4 Types of Skin! So rest assured, your skin will be in good hands, no matter which Type you are.
You want a gentle face serum that will hydrate your skin and seal the pores. Dry skin ages much faster, so a quality serum is very important to fight premature aging. The Skin Brightening Serum is perfect for this.
Your face cream needs to work with your skin type so it doesn't leave you oily, irritated, or dry. The Hydrating Face Moisturizer will help the makeup glide smoothly on mature skin without creating a greasy look.
Use a moisturizer dedicated to the face—preferably one with little or no scent because scented moisturizers can dry the skin.
For the evening, you'll want to use the Wrinkle Recovery Serum to work on your skin while you sleep.
Apply Primer
Next, seal in your skincare products with primer. I use our Mattifying Face Primer. This sets up a surface to ensure the makeup goes on evenly and stays put. I highly recommend you don't skip primer, or else the foundation pigment isn't going to sit right on your skin. The primer will help fill in fine lines and wrinkles—putting foundation directly over these spots without the primer can accentuate them and actually make you look older. Check out this video for a helpful tutorial on what a difference primer makes for your mature skin.
Undereye Corrector
It's time to get rid of those bags and wrinkles. I recommend Instant Action Wrinkle Smoother. Use a tiny amount around the brow bone and eyelid to smooth out the lines. This will make it easier to apply concealer to hide the dark circles. Along with your primer, it will help smooth out the lines that can catch makeup and age you through wrinkle definition.
Blemish Concealer
Next, choose a concealer to help cover your toughest discoloration spots and dark circles. Just a pea-sized amount should do it—you don't want to cake it on! Dab it on the top of your lip line, sides of your nose, above your brow bones, on the eyelids, under the eyes, and on your chin. If the concealer highlights wrinkles near your eyes, you can apply it only on the inner halves of your under-eyes to cover up any darkness without reaching as many wrinkles.
Blend using a foundation brush to avoid patches and achieve a feathered look that seamlessly smooths into your skin.
Satin Finish Foundation
If you are struggling to find the right foundation, my foundation matching guide can help. You can also learn more about choosing the right foundation here. You don't want a foundation that is too pale or overly tan. If your face looks like a completely different color from your hands and neck, you will look sickly or overdone.
But, skin also grows more pallid with age. So, if you're wearing a foundation identical to your aging skin tone, it can leave you looking washed out. You want to choose a foundation that gives you a little bit of a glow without overdoing it.
Full-coverage foundation is an excellent choice for mature skin. Our Studio Blend Cover Foundation will give you full coverage and help you feel more confident, without feeling like you have too much makeup on.
Make sure you blend down under the jawline and even onto the neck to keep the color consistent. Don't go too far down, though, or you will end up with makeup stains on your shirts when they rub the base of your neck. Use very light layers to avoid a cakey look.
Eyebrow
Using a brow brush and brow powder, you will want to plump up your eyebrows. We typically lose hair as we age, so this is a place where you can really apply some anti-aging techniques. With swift movements, apply brow powder following the movement of your brow hairs. You can use a light brow pencil to help define the underneath arch of your brows for a little more definition and lift. Use a bristle brush to gently brush any hairs, helping create a little texture.
Avoid cartoonish brows. This is really easy to do by mistake if you are using the wrong tools or color. An eyeliner pencil on your brows, for example, will be way too heavy and harsh. My brow brush is designed to be tough but applies the color lightly on the brows so you don't get the heavy, garish brows that look fake.
Blush
I cover the proper strokes of applying blush in the Beginner's Guide. The goal is to look healthy and not look like you have a lot of makeup on. You will want to stop using the "smile" technique and use the blush to highlight the tops of your cheekbones. Check out this tutorial on blush basics and highlighter hints to shape your face.
Avoid a streaky blush, and instead, swirl blush ever so slightly higher on the apples to help create lift to better support your aging skin.
Bronzer
Adding a little color to your face with bronzer can give off a youthful, sunkissed glow when done correctly. You can use this to create intentional shadows. Choose a bronzer that is non-shimmer and fine particles to avoid calling out fine lines. (This peach bronzer works great for Type 1 and Type 3. And this cool-toned bronzer works great for Type 2 and Type 4.)
Use bronzer on the back of your jawbone (near the ears) if your face is widening with age. If your cheeks are a bit sunken in the middle, you can use it along the whole jawbone to create a fuller-looking cheek. Use the bronzer under your chin if you are getting looser skin there or trying to combat "multiple chins." Your bronzer shouldn't be drastically different in color than your foundation since you don't want any streaking.
Lip Color
You don't want your lipstick to bleed. Start with your foundation to make the lip the same color as the skin. Add a lip moisturizer for hydration. Use a lip liner to outline your shape. Fill the lips in with your hydrating matte lipstick of choice, using the lipstick brush to get even coverage. A lip gloss on top will add a little extra glisten.
The lip right color is going to depend on your Energy Type. Check out my eye and lip color combination collections for each Energy Type.
Eye Color
You want your eyes to look fresh and grab attention—but not be overdone.
Within each Makeup Starter Kit (we have one for each Energy Type!), we've included 3 eyeshadow colors to match any outfit look. The Makeup Starter Kit is great because it has a corresponding eyeliner and mascara to complete the look. You will use the eyeliner to accentuate the angles of the eye, but you don't want to end up with a lagging or uneven line. You can also use the eyeliner in between the eyelashes along the edge of the lid to help provide a visible thickness to your lash line.
Use the lightest eyeshadow color in the inner corner of your eyelid and on the brow to help create lift. Use the darker eyeshadow shade on the outer corner of your eyelid to help create a slightly wider look. Use the middle color in the center and crease to help visually even out the deep creases that often occur with age.
Use an eye primer to combat oily lids and the wear of blinking. A primer will help your shadow go on evenly and stay put longer. (You only need a very tiny bit, so this bottle will last for a super long time!)
Mascara
No matter your age, dark and defined lashes are in. You may need a water-resistant mascara if your lids are heavy and tend to rub the mascara under your eyes throughout the day. In this case, you will also need a very gentle eye makeup remover. (Our Cleansing Cloths are phenomenal for eye makeup removal…you only need to add water, and voila—it gently takes everything off!) You may need to choose a thickening or plumping mascara if your lashes are sparse. If you have short lashes, try a lengthening mascara. I'd recommend not using an eyelash curler unless you really need one since they can pull out your lashes at a faster rate.
If you are struggling with thin lashes or brows, try a brow and lash serum to help improve growth. The Enhance Brow and Lash Serum I offer helps thicken hair follicles for a fuller look within just 3 weeks after daily use.
Final Touches
Use accessories like jewelry that match your Energy Type to really pull together the whole look. The goal here is to help your personality truly shine with quality style choices that look great on you.
At every age, things change. That doesn't mean you are any less attractive, less valuable, or less fun! Knowing how to adapt to take care of yourself and present your very best look is just part of the wisdom of aging. We can learn how to grow into ourselves when we aren't afraid to put in the effort and learn a few anti-aging tricks along the way.
Join Me for More Fashion by Type!
Are you brand new to Dressing Your Truth? Make sure you check out my Beginner's Guide to get you started. I specifically spend time going over your Energy Type and how that impacts the perfect look for you. Then after that, you can check out hundreds of videos on clothes, accessories, makeup, and hairstyling. My Dressing Your Truth online store organizes makeup and jewelry by Energy Type to help you quickly find what you need.
You aren't going to find this approach anywhere else! I look at your body type, Energy Type, and age to find fun and expressive looks that fit YOU.
It's so freeing when you find a style you LOVE and know the "rules." I'm not talking about rules for your age, but rules for finding the perfect wardrobe, accessories and makeup that creates a natural look for YOU.
When you have a clear direction in place from a stylist and makeup artist, you spend less time trying to decide if something looks right. These "rules" help clarify your shopping by giving you a simple roadmap to look your very best. When you know what you are aiming for, you will find clarity and reduce the stress of choosing your look.
This results in looking "put together"—and not because you fit the classic style mold (although maybe you are if you are Type 4!). You look put together because you have a consistent look that flatters you from personality to body shape, tone, and age. You will start to learn immediately what looks incredible on you and what just doesn't fit quite right.
This will help you slim down your wardrobe until you only have the pieces in it that fit well, feel right, and look amazing on you.
I absolutely love empowering older women by helping them discover their inner fashionista. When you find the style that perfectly matches your personality, you will feel incredible.
Are you ready to get started? Start your free Beginner's Guide today.
Discover your Type for free!