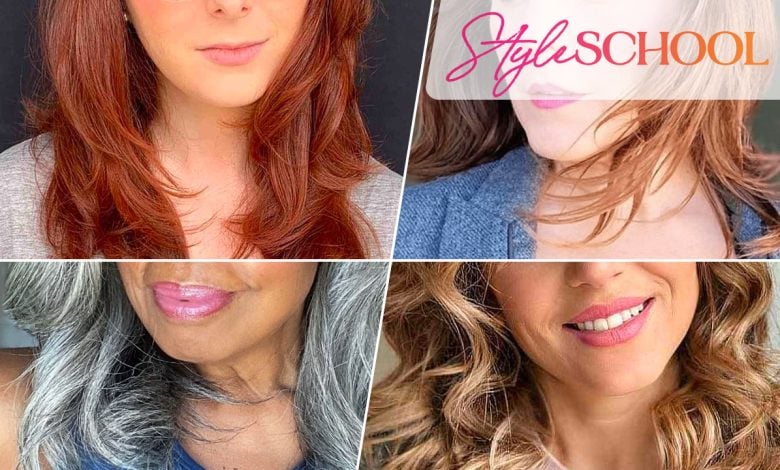 On a scale from 1 to 10, with 1 being "blah" and 10 being "I love it," how would you currently rate your experience with your hair?
We want you to be at a "10!" So with the help of the other Dressing Your Truth Experts, we are sharing four popular 2023 Fall/Winter hairstyle trends for your Type.
Hair is such an emotional experience for women, and as a Type 2, you lead with an emotional connection to the world. So if you are somewhere in the "blah" range of your hair experience, incorporating one of these trends will help your sensitive nature feel so much more relaxed and softened.
Now, if you love your hair currently, read this article to learn more about your Type and these hairstyles. Gathering all the information and having your questions answered ahead of time will be very supportive for you for whenever you're ready to make a change.
1. Bouncy Layers
This one is a throwback to the choppy 90s cut that was made so popular by Rachel on the hit TV show FRIENDS. We're seeing an updated version with more blended layers. This cut is known as the butterfly cut with short layers by the face and longer layers throughout the back. This look also resembles the 90's blowout, supermodel hairstyle. Think big Hollywood hair! It is a voluminous, bouncy style that can require more upkeep as you will want to use a blow dryer and curlers to create a full, bouncy look.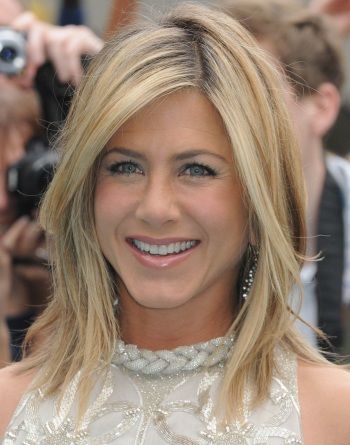 Does this hair trend favor Type 2?
Yes! Rachel was a Type 2, after all. The soft lines created by the layers are great for Type 2 energy. You will want to make sure your layers are blended so you don't get a choppy look. Keep the shortest layers around your face falling just below your cheekbone so they don't get too bouncy and upward.
This hairstyle takes more of a styling commitment, including blow drying your hair (see how it's done!) and using big curlers (watch that tutorial too!) to get the full effect of the bounce.
Any secondary Type considerations?
Type 2/1 will like bouncier layers with the added movement and curl.
Type 2/3 will appreciate the added movement and texture.
Type 2/4 should add fewer layers to create a more blended look and less movement overall.
What keywords are important to remember for this trend? Blended, Soft

2. Textured Lob
A lob is a long bob. We've seen this style featured for several years now. This season, the classical clean-cut lob is getting more textured. It is close in style to the shag and mullet-inspired cuts that we have been seeing the last year or two. With this style, you have the choice to go really textured and layered or more blended and classic. The viral "wolf cut" made famous by Wednesday's actor Jenna Ortega is a very edgy version of this classic cut.
This style adds movement and dimension with fewer layers than the bouncy layers above. This cut looks best worn with a bit of curl added either by letting your natural curl come out or by using a hot tool to add in some movement. It can be a low-maintenance style with a relaxed shaggy finish. The classic bob that hits right at chin length is also a really popular choice this fall.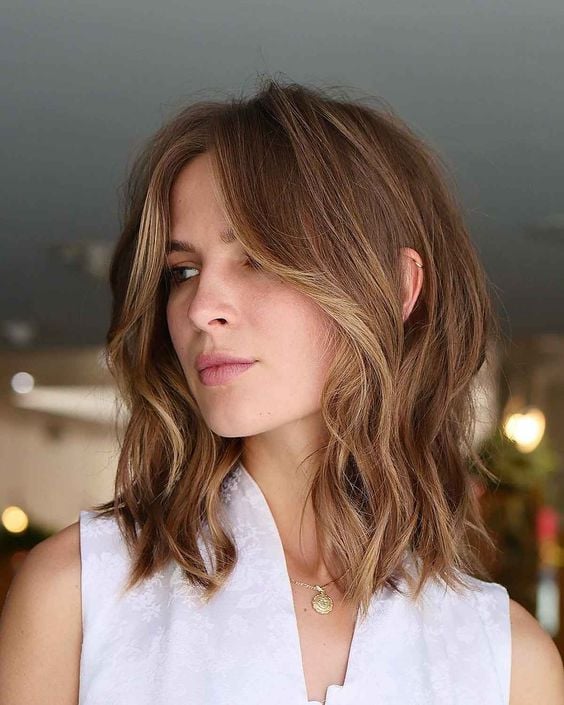 Does this hair trend favor Type 2?
Yes! Again, keep the shortest layers lighter and a tad longer on top. Bring them to just below the top of your cheekbone. This look would be very flattering on Type 2 with some soft beach wave curls. It has the potential to be low maintenance and elegant.
Any secondary Type considerations?
Type 2/1 – You'll enjoy the touseled look.
Type 2/3 – You'll love the added texture of this style and could easily add in more layers than a secondary 1 or 4.
Type 2/4 – You may prefer a classic lob with less movement.
What keywords are important to remember for this trend? Relaxed, Soft
3. Bangs
We've seen bangs come and go over the decades, and this season they are making a comeback. (Not the big 80s dramatic bangs, thank goodness!) The bangs we're seeing featured this season are longer in length.
There are many names for this longer style: "Birkin bangs," curtain bangs, and curve cut bangs. Basically a softer, longer version of the blunt cut bang. Depending on your current hairstyle you can cater the length of your bangs to work for your face shape and preference.
Bangs work well with different hair lengths and textures, so this could be a fun way to try a new hairstyle with less commitment. Because this style of bang is longer you can pin them back or blend them into your hairstyle on days you don't want to show the bangs.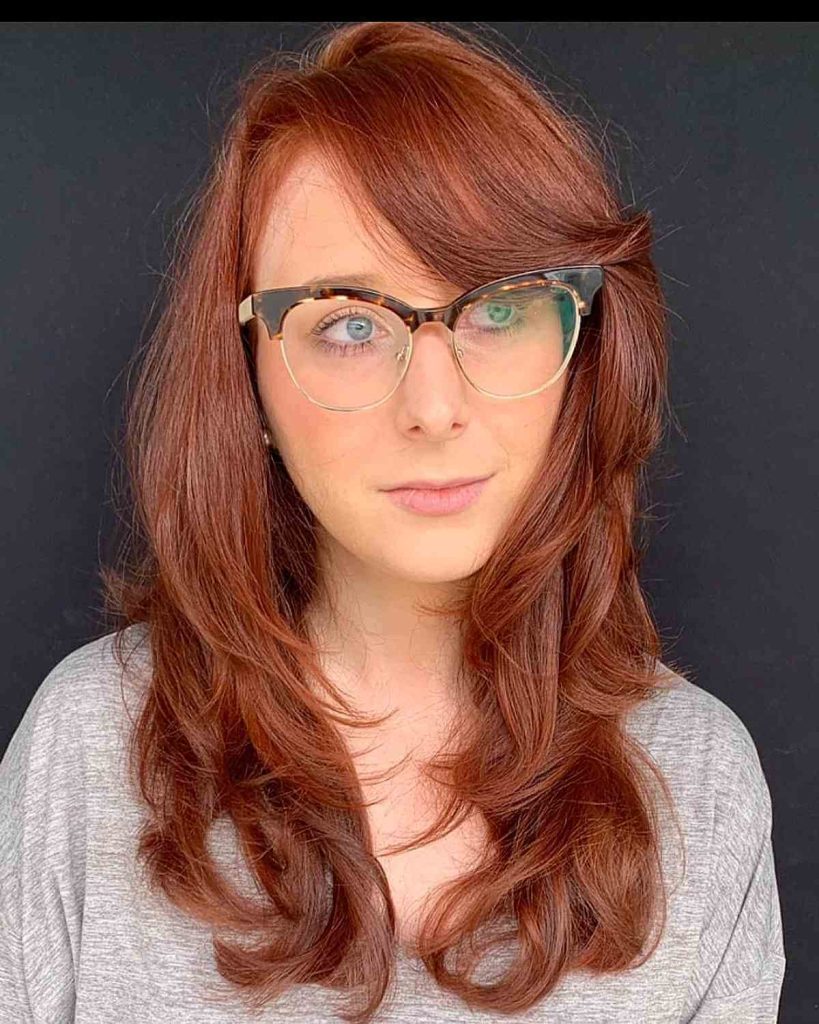 Does this hair trend favor Type 2?
Definitely. This trend is very favorable for the Type 2 energy. The longer length of these bangs naturally creates soft s-curves that gently frame your face. This could be a comfortable way to try a "new" hairstyle. Because the bangs are longer, they can blend into your hairstyle more naturally so you can ease into the transition of bangs.
Any secondary Type considerations?
Type 2/1 – Keep the feeling light around your face by adding less hair to your bangs.
Type 2/3 – Go a bit longer so you can blend them into your hair on the days you want a change from the bang look.
Type 2/4 – This could be a very classic look for you—or it could really bother you to have more movement around your face. You'll know what feels best for the amount of movement you can tolerate.
What keywords are important to remember for this trend? S-curves, Flowing
4. Side Part
The middle part has taken women by storm for several years, but now we're seeing the side part come back! This is great news for all 4 Types since the middle part is very severe and is reserved for Type 4s. In 2023, the side part is deeper and more intentional.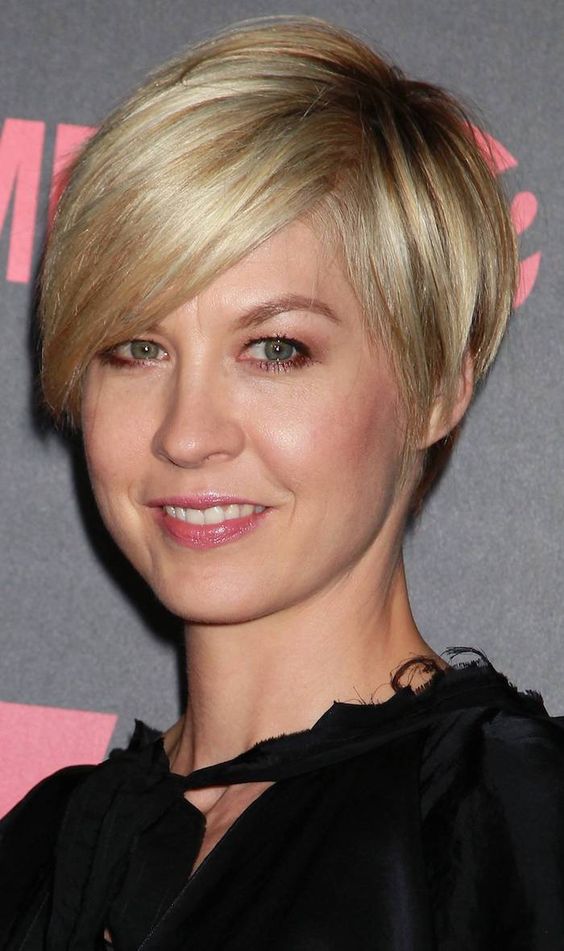 Does this hair trend favor Type 2?
Yes! The difference a side part can make on a Type 2 is astounding. It creates such a nice soft flow around a Type 2's face.
Any secondary Type considerations?
Type 2/3 and Type 2/4 – You can go more dramatic and bold by creating a deeper side part.
What keywords are important to remember for this trend? Gentle, Romantic
These fall/winter hair trends lend beautifully to your Type 2 nature!
Which trend caught your eye? Please share in the Lifestyle Facebook group any new hair updates incorporating these trends. Style School is all about trying new things!
We are excited to see your new looks and for you to inspire other members as we all uplevel our styles this season.