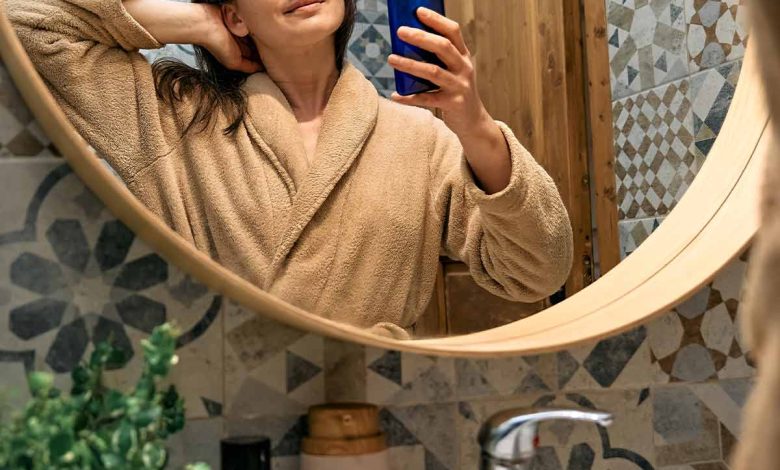 When you think of skincare, you think of your face, right?
And you should! You take such good care of your face with luscious serums, moisturizers, and exfoliators.
In fact, I formulated the Anti-Aging Skincare Collection with your beautiful face in mind.
But so many women skip over the part of their body that ages faster than any other—the neck.
It's so easy to do this because when we look in the mirror, we look at our faces first…our eyes find each other in the reflection. So we tend to notice the fine lines, age spots, and texture there.
But that means we don't give our necks and décolletage the attention they need! But that part of your body loses vitality as you age. And now that you think of it, I'm sure you've started to notice crepey skin there…
The neck and décolletage lose elasticity prematurely, resulting in sagging skin, fine lines, and wrinkles. No woman wants that!
You could be giving your face all the care in the world, but if you're missing these two important steps for your neck, eventually your skincare routine will backfire.
Here are 2 crucial steps for your neck you can't skip over anymore!
When I launched my Anti-Aging Skincare Collection, including this cream in the line was a no-brainer. The key ingredient is retinol, which stimulates cell turnover and essentially encourages your body to create "new" skin by shedding the old.
Why your neck will love this product:
Retinyl Palmitate – a vital component in anti-aging products to help minimize the appearance of fine lines and rebuild the look of skin volume.

Vitamin B3 and Green Tea – deliver gentle, added moisture.

Argan Oil – leaves your neck and décolleté feeling soft and smooth.

Chamomile – soothes and calms your skin as the retinol works its magic.
It's a power-packed product that shows visible results on your neck.
Use this product before bed to improve visible firmness of the thinner skin on your neck and décolletage as you sleep.
Visibly firms and tightens age-prone areas
Hydrates and nourishes dull skin
Reduces the appearance of age spots and fine lines
Get the Neck Restoring Cream for 20% off!
2. Be proactive in preventative care.
Getting older is inevitable, but how we age is a choice. It's important that we take measures to prevent and reverse the signs of aging.
We can reverse with amazing products like the Neck Restoring Cream, and we can prevent with sun protection.
Yes, I'm talking about sunscreen. But I'm also talking about GEAR!
Wide-brimmed sun hats (these are in style everywhere)
Neck gaitors (lightweight, breathable, and available in so many styles and colors)
This is a photo of me, completely protected from the sun. I take skin protection very seriously, and as you can see, it doesn't stop me from getting outdoors and staying active. 
You don't want to be causing further damage to your skin and then scrambling with products to do all the work.
With a few simple lifestyle changes, you can stop damage in its tracks and then let the products work wonders.
Avoid direct sunlight during peak hours
Cover your skin at all other times of the day
Even during winter or on cloudy days, make sun protection a priority
Want to see just how effective these two steps are? Take a "before" photo today, and then an "after" in 6 months.
Stand in front of the same window with natural lighting for both photos. You might not see changes on a day-to-day basis, but in 6 months, you will notice a BIG change in your skin.
The ENTIRE Anti-Aging Line is on sale right now for 20% off. You can purchase the whole collection for 20% off, or just stock up on the items you need.
Either way, don't miss out on snagging what you need at such a great deal!
ALL skincare is 20% off! Buy now & save!