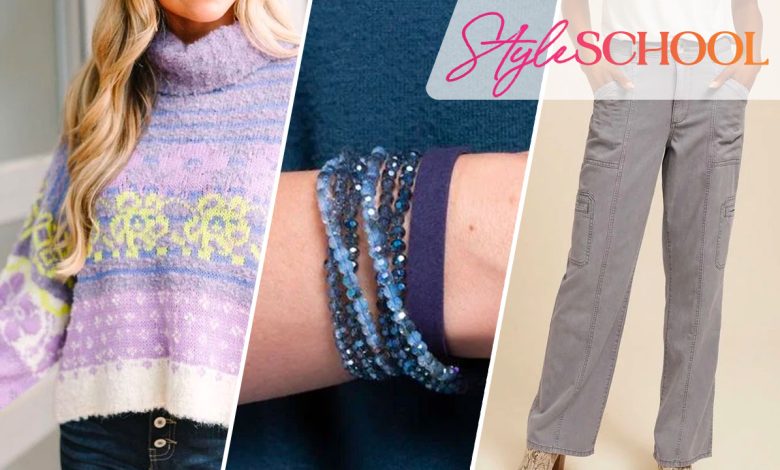 As a Type 2, are you usually an early adopter of trends?
I'll be the first to admit I'm not.
I'm Anne Tuttle Brown, your Type 2 Dressing Your Truth Expert. Since I like what's familiar, I don't readily jump into styles that I'm unsure about. Can you relate? Don't let your Type 2 need for comfort and familiarity hold you back from experimenting with some new trends.
For example, I recently decided to give the trendy wide-leg crop pants a try. I was hesitant about it at first, but it's quickly become a new favorite! And I asked myself, "Why didn't I try them sooner?"
If you're like me, you need a little nudge and guidance to get out of your comfort zone. Let this article be that for you! Once you know how to make the trends work for your Type 2 energy, you can confidently wear them beautifully this season. And maybe you'll find some new favorites just like I did!
A quick note: trends naturally lean toward a specific Type or a secondary Type—but every Type can make them work!
That's what we'll be doing here! You'll see photos of trends from the fashion world, and I'll tell you what to do to make them Type 2. (Want any of the items you see? Just click on the photo to shop for it!)
Then, you'll be able to take this information and create an outfit for yourself using what you learned!
Think of this as guidance, and then you get to go and be the expression!
So let's go over the new trends and discuss how to make them work for our Type 2 nature.
1. Dark-Wash, Wide-Leg Denim
This season we're seeing jeans with a more loose-fitted style through the legs, and different cuts including wide leg, boyfriend, flare, and split hem. The waistline is in flux as lower-rise styles are trying to make a comeback, but we're seeing women stick with the mid to high-rise as it's more flattering and comfortable to wear. Dark-wash and black rinse jeans are trending. Denim on denim is also popular this season, such as pairing a denim top with jeans.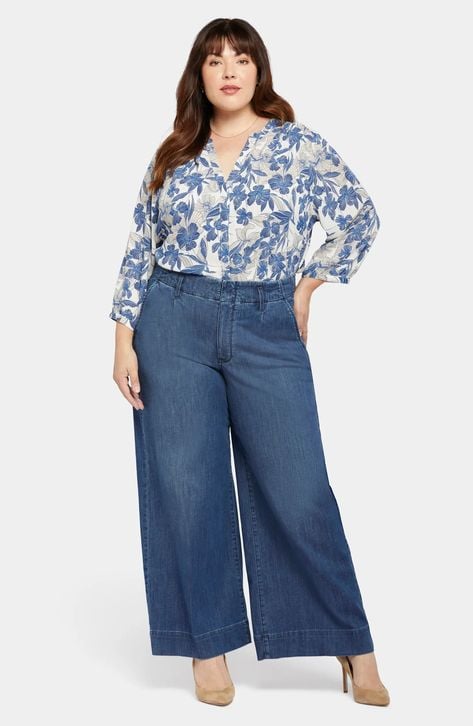 Does this trend favor Type 2's movement?
Yes. The wide-leg trend suits a Type 2 movement because it naturally creates more curve and flow in the design line. But a wider cut means more fabric which could create a heavier feeling, so the fabrication needs to be soft and light enough that it moves with you fluidly and doesn't way you down.
The dark rinse also works, just make sure it has a cool undertone and doesn't get too saturated turning into a Type 4 denim. A medium rinse is still a classic choice for all Types. The black rinse can definitely work as long as it is more faded, like dark gray or charcoal.
Jeans that have a bit of stretch in the fabric and waistline will feel the most comfortable on you as a Type 2.
Any secondary Type considerations?
Type 4 secondary will really like the deep dark wash. Type 1 and 3 secondary may want to go a shade or 2 lighter.
What keywords are important to remember for this trend? Cool, Subdued
2. A Tailored Look
Trousers, blazers, and even vests are becoming popular again. This 80s-inspired trend even has shoulder pads and pleated trousers. This look doesn't have to be reserved for office wear as you'll see it dressed up or down, depending on your occasion. Make it casual by pairing trousers and a blazer with a t-shirt and sneakers, or wear it more classically with a blouse and loafers. Choosing a blazer that is slightly oversized is popular.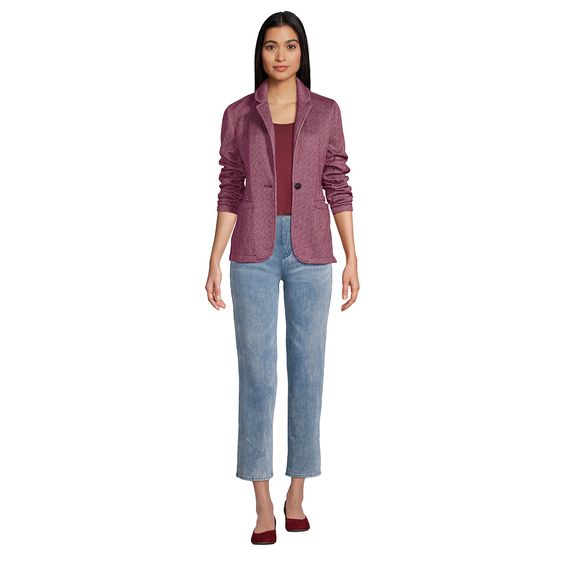 Does this trend favor Type 2's movement?
This trend leads with a structured movement favoring a Type 4 style, but you can make some tweaks to make it work for Type 2 if you want to give it a try. If your secondary is Type 4, this structured design line is right up your alley.
How can you make this trend work for Type 2?
Blazers and suit jackets can feel like a straight jacket on Type 2s, so choose a softer fabrication and texture that has some stretch so you can move your arms and shoulders without feeling constrained. Avoid stiff fabrics. Choose a collar that is softer in its design line, avoiding an intense notch or large collar. A shawl collar with some oval lines would be lovely. In place of buttons, you could try a fabric belt tied into a bow around the blazer would add a soft detail.
For trousers, pleats add structure so look for pants that have minimal to no pleating nor creasing and have a soft flow or stretch to the fabric. If you're wearing a 2-piece set with the blazer and trousers together avoid getting too structured by choosing a flowing pant with a more fitted blazer or vice-versa. A 3-piece suit including a vest would be too heavy looking for a Type 2.
If this trend feels way out of your comfort zone try wearing a blazer more casually with jeans or neutral pants. You could also create a tailored look with a fitted knit cardigan and trousers. This look may feel the most comfortable on a 2/1 due to the lighter fabrication of the knit cardigan.
Any secondary Type considerations?
Type 1 secondary try a fitted knit cardigan and trousers to create a tailored look. Secondary 3, a layered look with a blazer may feel really good on you. Try wearing it more casually with jeans or neutral pants. If your secondary is Type 4, this structured design line is right up your alley.
What keywords are important to remember for this trend? Comfortable, Stretchy
3. Cargo Pants
We've moved back to the 90s with this trend, but rather than seeing them in a camo print like we used to this season you'll see more neutral colors. In some styles, the pocket has dropped from high-thigh to just above the knee, which can be a more flattering choice as to not add bulk to your thighs. You'll see many styles in a wide leg. This trend crosses over into athleisure wear. But keep in mind, cargo shorts are still out!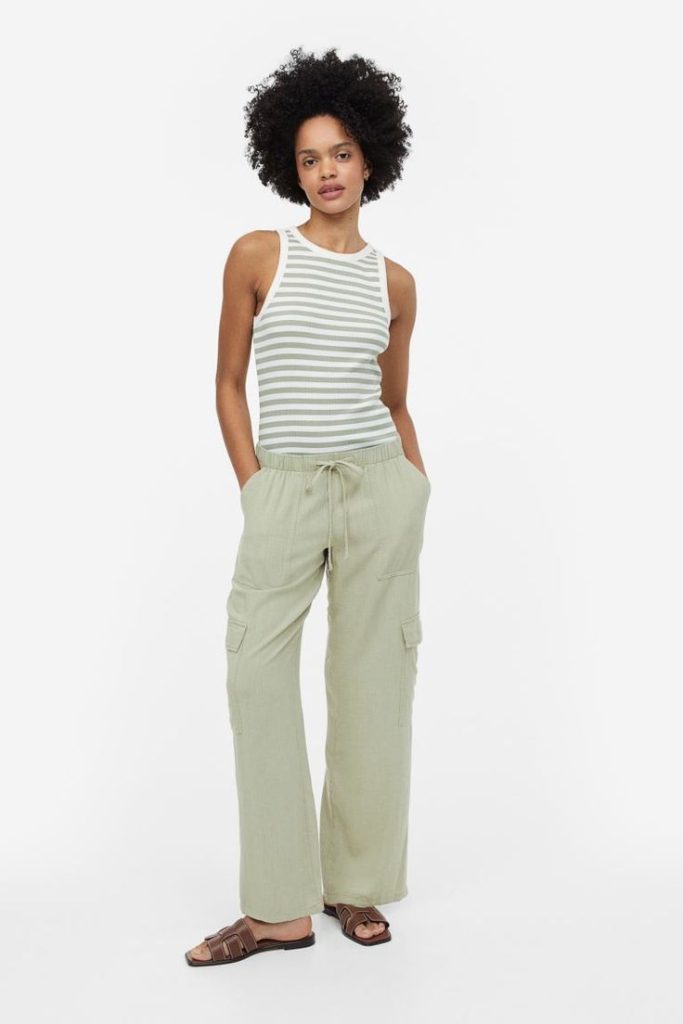 Does this trend favor Type 2's movement?
A cargo pant would lend itself to Type 3 movement because of the added texture in the additional pockets. A Type 2/3 may feel most comfortable in this look.
Choose cargo pants with a soft pocket design avoiding harsh angles, heavy zippers, and oversized pockets. Look for pants that have a softer fabrication that will create a flow in the look and fit.
Any secondary Type considerations?
Secondary 1 and 4 the added bulk of the pocket may just feel too heavy for you, so try a utility pant instead that usually just has the outline of a pocket and not more fabric. Secondary 3, you'll be drawn to the casual look of this style of pants and the added texture.
What keywords are important to remember for this trend? Relaxed, Low-contrast
4. Oversized Sweaters
Oversized everything has been a big trend for the last few years, and as we head into the cooler months you'll see oversized sweaters with a twist. The balloon sleeve (wide through the arms and tapers at the wrist) is trending this season. The oversized sweater with leggings and boots is a great look this fall.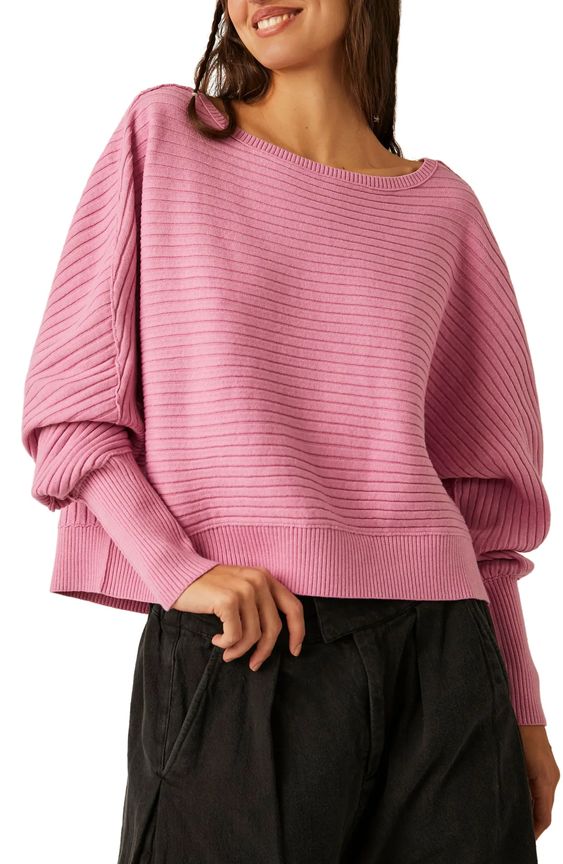 Does this trend favor Type 2's movement?
This trend is great for Type 2s because the extra fabric creates extra flow!
It's a fine line between trendy oversized and drowning in clothes that are simply too big for you. I find I have to size down one size these days because the clothing manufacturers are making things so large. If the oversized look feels unflattering to you the balloon sleeve that tapers at the wrists will be a great option. You could also try a sweater that is fuller aka oversized through the body but fitted at the waist. When choosing sweaters make sure the fabric isn't itchy. Being comfortable is always in style!
Any secondary Type considerations?
Type 1 secondary, keep the fabrication light so the added fabric doesn't weigh you down. Type 3 secondary, try an added layer you can take off if it starts to get in your way or make sure you can push up the sleeves occasionally. Type 4, try a sweater with fabric that has a little more structure overall.
What keywords are important to remember for this trend? Soft, Plush
5. Long, Oversized Coats
Overall, we're looking at longer lengths and oversized! Think 80's trench coat: double-breasted, big shoulders. Textured coats like fuzzy shearling and teddy coats are still going strong.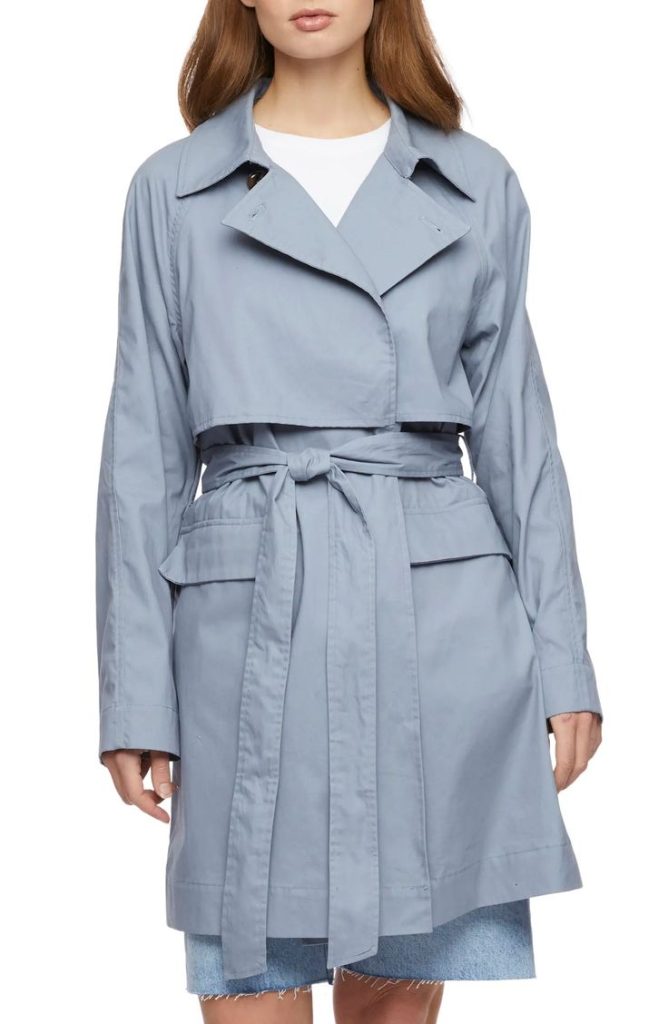 Does this trend favor Type 2's movement?
Longer lengths work great for Type 2 because it creates more flow in the design line. If you live in a cold climate, then it's really practical too!
Trench coats can get really structured in their design line with the double-breast, padded shoulders, buttons, and straps. As a Type 2 you will get lost in all that added bulk, so choose a trench coat that is simpler in its design line and has a lighter fabrication so you don't feel weighed down.
Any secondary Type considerations?
As a Type 2/3, a trench coat feels too sleek in texture to me. But a Type 2/4 will really be drawn to it. A Type 2/1 could feel weighed down in the length of the coat, so try a trench coat that hits mid-thigh or above. The shearling, teddy coat is totally Type 2 (but it may feel too soft and cozy for a Type 2/4). These fuzzy coats can also get heavy so watch for that and choose a lighter fabrication if you're a Type 2/1. As a Type 2/3 I love the extra bumps and texture in the shearling fabric. I'm excited this is still in this season.

What keywords are important to remember for this trend? Fluid, Flowing
6. Bold, Playful Patterns and the Color Red
Bold and Playful would be two words that sum up what we're seeing in the pattern and color trends this fall/winter (Did they say "bold and playful?" Be sure to read my thoughts on that below!) Popular patterns include colorful prints, polka dots, and hearts. Even the classic stripes have become thicker and more colorful.
Red is always a popular color in the fall, but this season you'll see more bright, light reds taking center stage. (Check out what makes a Type 2 Red here!)
Another popular nod to the 80's is color blocking with light and dark tones of the same color.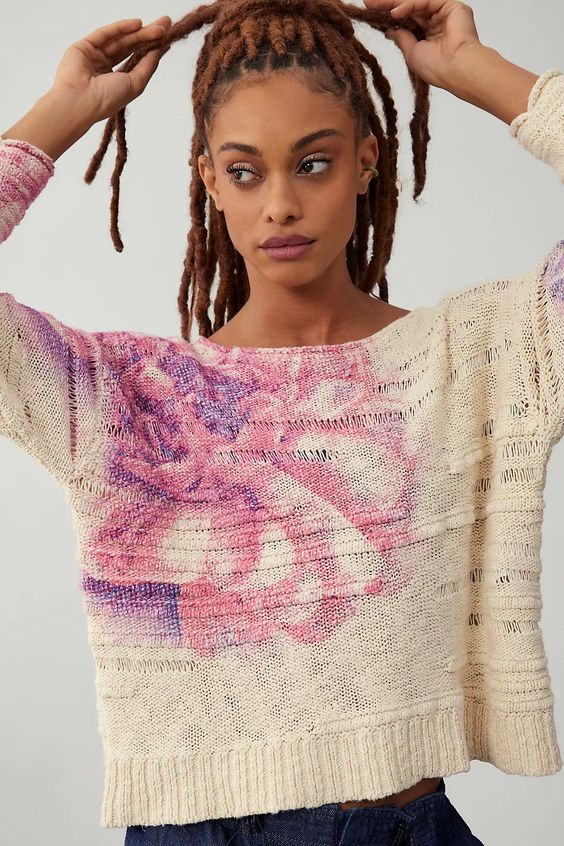 Does this trend favor Type 2's movement?
Bold and playful are not two words I'd use to describe Type 2. Soft and subtle is the opposite of what we're seeing on trend in patterns this season. Add to that a bright red and we're in a bit of a pickle!
The good news is florals are classic and here to stay. I'm excited about the challenge to find subtly bold and soft playful patterns and a toned-down red perfect for us Type 2s.
Any secondary Type considerations?
Stay within your Type 2 tones and look for larger prints in the pattern (Type 2/4s will enjoy this!) or a higher combination of colors in the pattern (great for the higher secondaries – 2/1 and 2/3
What keywords are important to remember for this trend? Connected, Muted
7. Statement Jewelry
Pick your piece! Will it be a statement earring, necklace, or bracelet? The statement can be the size, color, or design. Metal pieces are popular right now, and pearls are taking center stage as well. Keep in mind if you're clothing is stronger in pattern and color, keep the jewelry minimal. For minimal jewelry, small hoops and dainty chains are trending.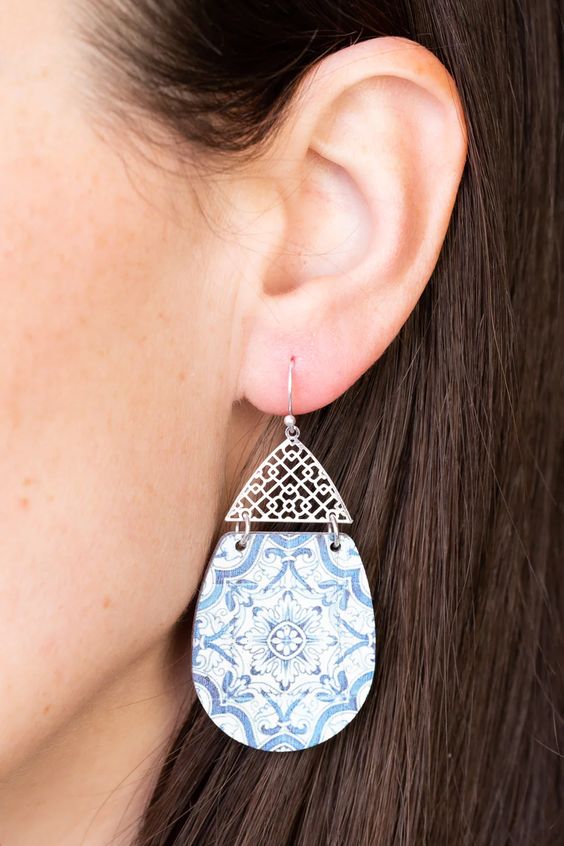 Does this trend favor Type 2's movement?
Oh boy! Another "bold" trend. You'll feel overcome if your jewelry is too large or heavy. A statement piece for Type 2 is medium in size compared to what a Type 3 and Type 4 can pull off.
But have fun choosing pieces that are unique in shape and color to create a subtle statement. Medium-small pearls are a great option for Type 2s. Worn with other silver pieces it can really dress up an outfit.
Our DYT store will always have the latest and best Type 2 jewelry in stock! Don't forget to use your Unlimited-Use Style School Discount Code: STYLESCHOOL20
Any secondary Type considerations?
Secondary 1, you love pearls so that will be easy to incorporate, but try going a little bigger than you normally would. This will be a comfortable trend for Type 3 and Type 4 secondaries to play with bigger Type 2 jewelry.

What keywords are important to remember for this trend? Flowing, Blended
Use STYLESCHOOL20 for 20% off!
Now that you've got all the info you need, you can create amazing, current Type 2 outfits.
And I want to see them all!
Ladies, I understand that as a Type 2, you may feel hesitant or shy about posting your photos in our Lifestyle Facebook Group. Out of all the Types, Type 2s are the most quiet in the group. We just like to observe, take it all in, and support other women.
But now it's time to celebrate YOU.
As a Grand Finale to Style School, we're showing off everyone's amazing style during a week-long 4 Types Fashion Show. Each Type will get one day to post their outfits in our Lifestyle Facebook Group and share what they learned during Style School.
Type 2s, our day to post is Thursday, October 5th.
Join your lovely Type 2 friends and share your photo that day. Show all the other Types what your unique, soft, subtle, Type 2 style looks like.
Thanks to all your photos, we'll be able to create an amazing Fashion Show Gallery for Lifestyle.
See you all in the Fashion Show!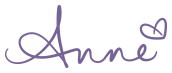 (Don't forget—all the photos in this post are linked for shopping, so if you like what you see, go and buy it! I've added some of these trends to our Type 2 StyleInspire boards. Just one of the many perks of being a Lifestyle member. Shopping made easy!)