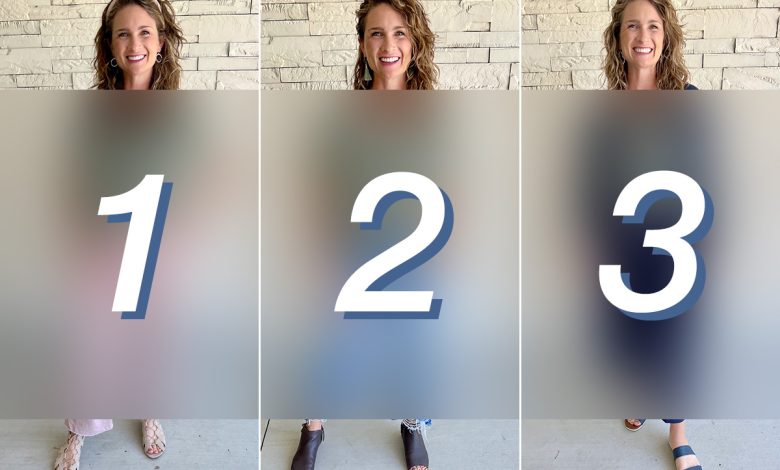 It's one thing to know you're a Type 2, but it's another thing to create a style that feels like it's expressing the real you—not just your Type!
You can easily do this by adding in your Secondary Style!
Time and time again, Carol tells women that one of the best ways to personalize your style is to determine your secondary and bring in elements from that Type.
I'm Anne, your Type 2 Expert. I'm going to show you how to do this. Watch as I take one "Base Outfit" and wear it 3 ways, one for each secondary.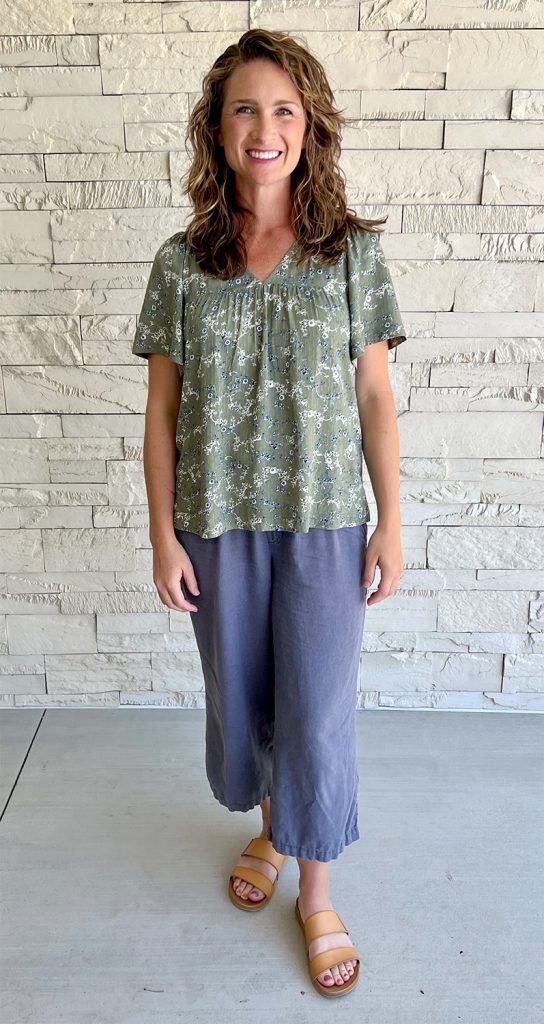 For my Base Outfit: I have a floral top with flowing sleeves and hemline. The top will remain the same throughout all 3 outfits. The pants will change but the wide-leg crop design line will remain. Watch how we can transform this flowing top and wide-leg crop pant for each secondary Type.
(Be sure to check out StyleInspire to get more Type 2 pieces like the ones I'm showing here. As a Lifestyle member, you get two shoppable boards each week, filled with Expert-picked outfits, shoes, accessories, and gift ideas.)
---
Type 2/1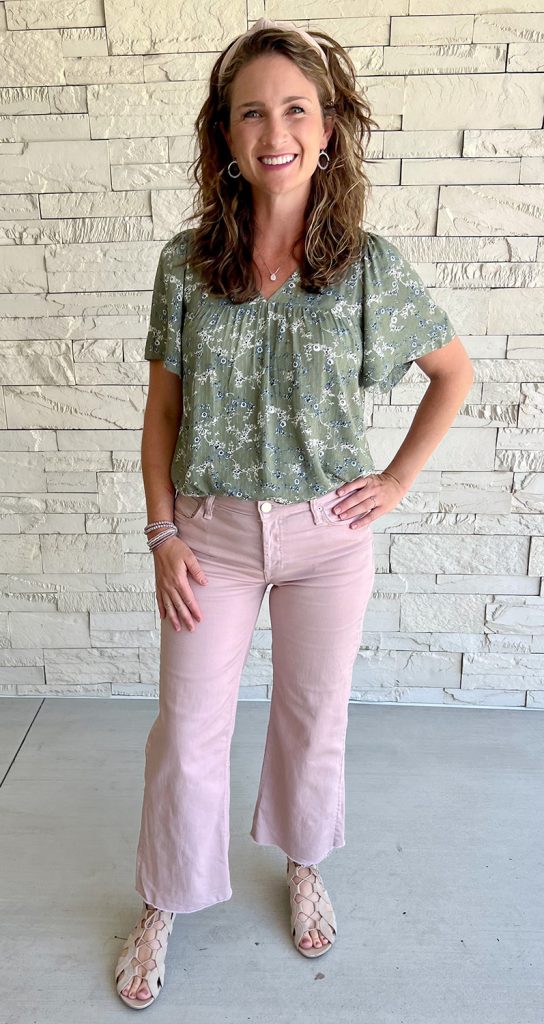 What makes this outfit Type 2/1:
There are subtle pops of pink added throughout the outfit – the pants, the jewelry, the headband, and the shoes.
I tucked the shirt in all the way around to bring up the movement and keep it minimize the flow.
The pants have a little bit of sheen on them (it didn't show up well in the picture, but when the light catches it? Perfect.)
The earrings, necklace, and bracelet all have a touch of sparkle. The earrings are a soft circle.
The headband adds more interest and pop as well as holds my hair back, which minimizes the flow around the face.
The shoes add a touch of pink as well. They are dainty and light with the kitten heel and the scallops add fun interest and detail.
Type 2/1 Keywords: Light, Upward, Fresh
---
Type 2/3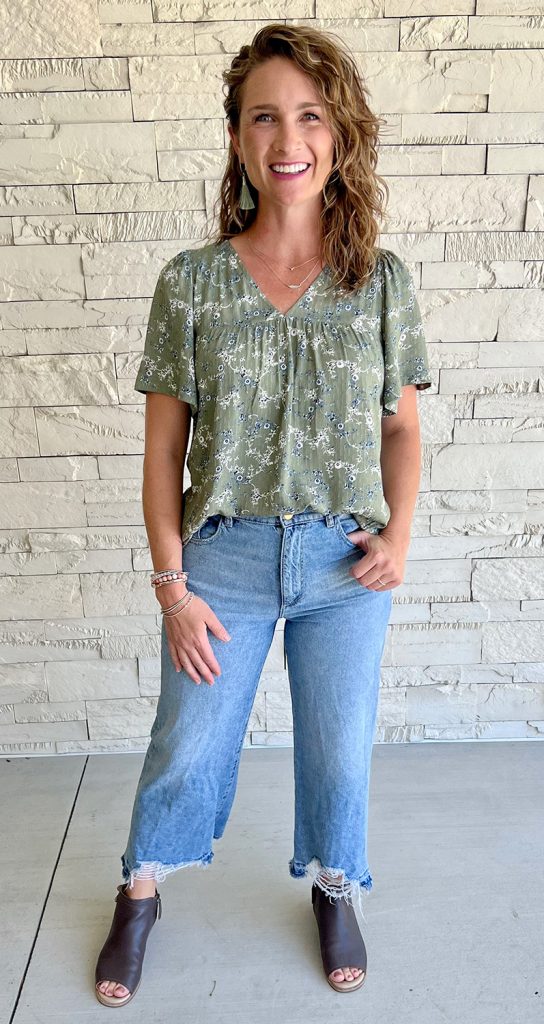 What makes this outfit a Type 2/3:
The pants, which are still a wide-leg crop, have torn hems adding texture. The rinse on the jean is also textured, creating an active and dynamic look.
The top is tucked in only halfway to add interest and more dynamic layers.
The shoes are a peep-toe bootie with a wooden stacked sole which adds substance.
The earrings are medium-sized with a fringe textured tassel and the necklace although smaller in size is layered which creates soft angles. The beaded bracelets add richness.
Type 2/3 Keywords: Textured, Dynamic, Rich
---
Type 2/4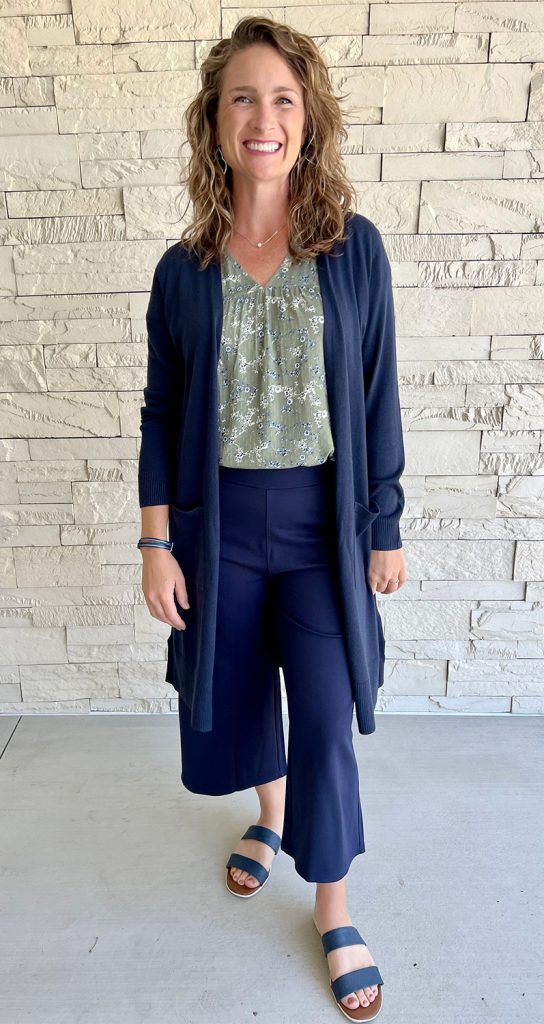 What makes this outfit a Type 2/4:
The wide-leg crop pant is sleek in texture and heavier in fabrication so it minimizes the flow.
The top is tucked in all the way to create a clean line.
A blue duster cardigan has been added to minimize the amount of pattern shown creating a clean and simple finished look.
The jewelry is clean and minimal. A simple silver silhouette earring and a single pearl necklace.
Type 2/4 Keywords: Simple, Structured, Clean
---
How do all of these outfits still lead with Type 2?
Even when adding in secondaries, it's important to make sure your dominant Type is still leading the way! In all variations, the floral top does this with connecting details. The wide-leg crop adds a flowing design line. And, of course, all of the colors are true-to-Type.
Right now, as a Lifestyle member, you can get 20% off jewelry with the code: ADDSOMEBLING
Shop Type 2 Jewelry!
Be sure to watch these secondary style videos: