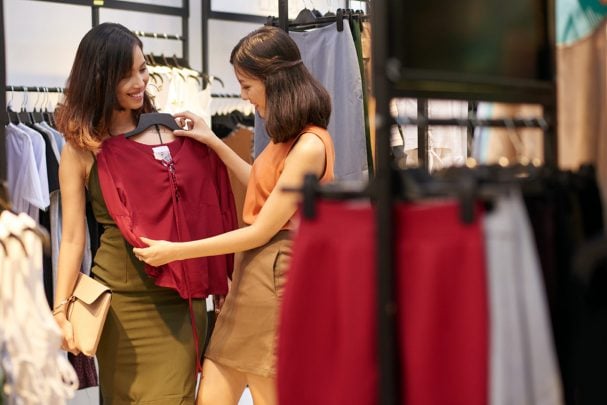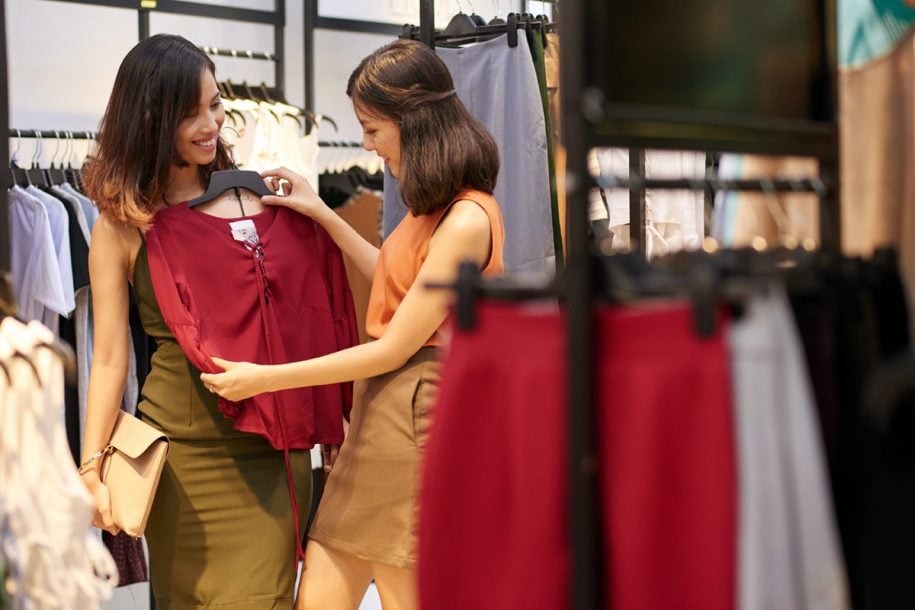 Do you love everything you buy—or do you get home and have regrets about what you purchased?
If that sounds like you, your closet has most likely become a collection of things you are trying really hard to like, but you never actually wear them.
Why does this happen? Maybe you lack the confidence and knowledge about what to buy that would be perfect for you. Maybe you listen to other people's advice instead of what you truly like. Maybe you only bought it because it was a "good deal."
Here are 4 shopping tips and tricks you can use to make sure you love everything you buy:
Tip #1. Ask yourself, "How does it feel?"
When it comes to how a garment feels on the body, women are drawn to two features.
The first feature is comfort, how it feels next to your skin. Is the fabrication and texture right for your comfort level? Does it feel bothersome next to your skin? Make note of this, because you won't wear it if you don't like how it feels on you.
The second feature is fit. How does it fit?
For tops, notice the fit of the armhole and the sleeve length—if they're too snug, you won't last long in it. Also, notice how it fits across your bust and torso. Is it too snug? Too loose? Pay attention to your preferences so you know what fit you like. For example, what a woman wears who has a short torso is likely quite different from one with a long torso.
For pants, the fit around the waist is the most important. What rise waistband do you prefer: high, medium, or low? What length of the leg are you most comfortable in? If they're too long, you'll feel frumpy. Just remember: you can always get the length shortened by a tailor for little cost if you love the way the top of the pant fits.
Tip #2. What will you wear it with?
This is a great tip to help you shop for clothes more effectively. Clothes are the blank canvas when it comes to creating a great style. Ask yourself, "What jewelry and accessories will I pair with this outfit? What shoes and handbag will I wear?"
Take a few moments to imagine the entire outfit. Do you already have the right pieces to make the outfit stylish? If not, are you willing to invest in them? A great outfit is more than just clothes—it also includes fantastic jewelry, accessories, shoes, and a fabulous handbag.
Tip # 3. Ask yourself, "On a scale from 1-10, how much do I love it?"
If you can't honestly score a 7 or higher, there's a good chance it will be the next item hanging in your closet as you ask yourself, "Why did I buy that?"
You'll always gravitate toward the items in our closet you honestly love. Don't let your desperation be the reason you decide how to buy clothes. If it's not scoring 7 or more, you are throwing your money away. It is better to own fewer things that you can say you love, rather than lots of things you dislike.
Tip #4. Need a second opinion? Ask someone who will be honest with you.
When indecision takes over, it's easy to think, "I don't know how to buy clothes!" But before you let those thoughts get the best of you, get a second opinion.
A friend or loved one may shy away from telling you the truth, and a sales clerk may have a vested interest in selling you a particular item.
When you're at a store and need a second opinion, find another woman about your age and ask her. A third-party stranger has very little to lose in telling you the truth. An opinion from a stranger can be all the confirmation you need to reassure your Beauty Sixth Sense.
My advice? Use this tip sparingly. You know yourself better than anyone else. You are more likely to get the answers you need when you truthfully answer the questions from the other tips.
Shopping for clothes can be fun, calming, adventurous, or a way to enjoy solitude.
Whatever you prefer, use these 4 tips to create a shopping experience you love—AND be able to get home and say, "I love it!" about every item you bought.
How a woman feels in her clothes is directly related to how confident she feels about herself. Boost your confidence and make choices that support your true beauty.
I invite you to take my free Dressing Your Truth Before & After course that will guide you through a makeover that gives you confidence for the rest of your life.

Here are the quick links to the resources mentioned in this post: