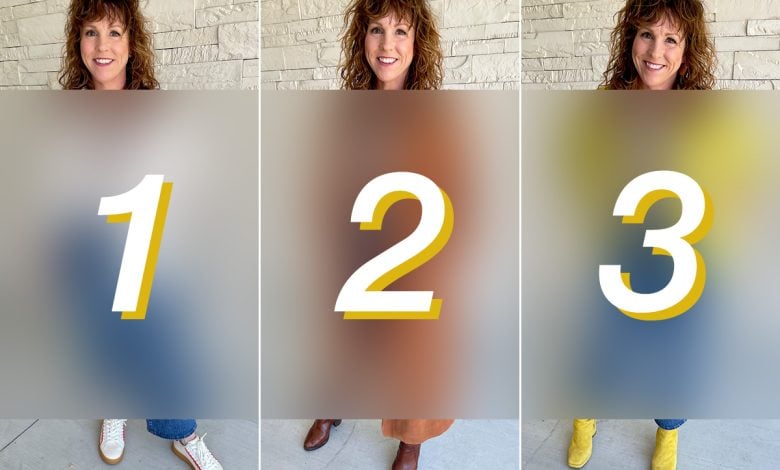 Ladies, do you ever see a Type 3 outfit on someone else and wonder how they look so put together…and just so themselves?
You can have this too—it's all about adding in your Secondary Style!
Carol teaches us that one of the best ways to personalize our style is to determine our secondary and bring in elements from that Type.
I'm going to show you how to do this!
I'm Anna K, your Type 3 Expert. Watch as I take one "Base Outfit" and wear it 3 ways, one for each secondary.
For my Base Outfit: I've got this amazing, edgy animal print top paired with crop jeans. Classic Type 3 vibes going on.
(Psst…back to my shirt for a second…it's incredible, right? Be sure to check out StyleInspire to get more Type 3 pieces like the ones I'm showing here. As a Lifestyle member, you get two shoppable boards each week, filled with Expert-picked outfits, shoes, accessories, and gift ideas.)
---
Type 3/1
What makes this outfit Type 3/1:
Crisp, crinkly light top, asymmetrical in the tuck, rolled up sleeves, fun and free! 
The shoes have an animated pop of color to contrast with the zebra print shirt.
Lots of movement! The button-up top creates a star point and the collar adds more upward movement.
Type 3/1 Keywords: Crisp, Light, Free
---
Type 3/2
What makes this outfit Type 3/2:
Long, soft, flowing trench paired with a more subdued shoe. 
Comfortable, easy, flowing fabrication, with a substantial collar that is lower and creates soft folds.
Less contrast, lower movement in the overall look.
Comfort and softness have been prioritized!
Type 3/2 Keywords: Soft, Flowing, Comfortable
---
Type 3/4
What makes this outfit Type 3/4:
Striking yellow color added with the blazer and shoes.
Blazer has a stiffer fabrication, clean open lines, and a strong topstitch 
Bold accents with pink cuff and square toe in the boots
Grounding quality with shoe and blazer matching in color
Type 3/4 keywords: Bold, Structured, Clean
---
How do all of my outfits still lead with the dominant Type 3 energy?
Even when you're adding in elements of your secondary Type, it's really important to make sure you don't lose the Type 3 look. So you'll notice that in all of these variations, Type 3 leads in these ways:
All colors are Type 3!
The stylization is edgy in every outfit
Each one has a dynamic layer
Jewelry and accessories are a fantastic way to add in your secondary Type. Our DYT online store has the PERFECT Type 3 jewelry for this. Just browse through the selection and look for elements of your secondary—knowing that any piece you choose is going to work great because it's already Type 3!
Right now, as a Lifestyle member, you can get 20% off jewelry with the code: ADDSOMEBLING
Shop Type 3 Jewelry!
Be sure to watch these secondary style videos: