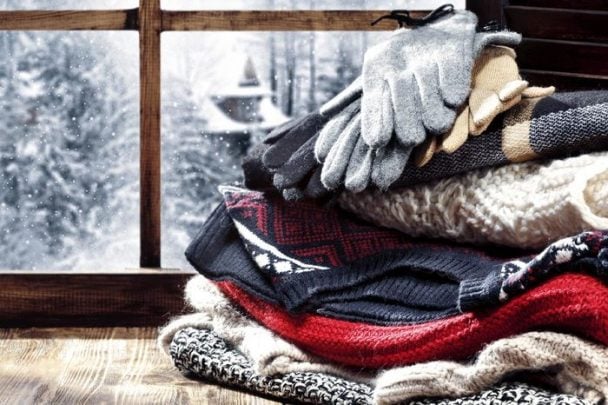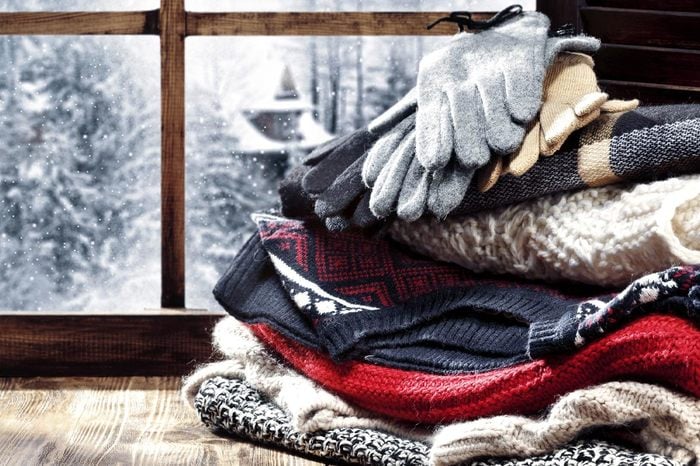 A capsule wardrobe is a #stylehack that gives you more!
Especially during the colder months and the holiday season, this #stylehack will keep you stylish and warm, give you more time with your family, save you money, and make getting ready for the party easier because you already know what you're going to wear!
Here's a list of the essential items you need for a mega-versatile, winter capsule wardrobe:
Signature color sweater
Of course, a great sweater in your signature color will top the list of winter essentials. There are more options for you during the holiday season than just primary red and primary green. Mint, mulberry, and forest green – just to name a few.
Whatever makes you feel the most comfortable and brings out your true beauty – that's your signature color.  If you're still figuring out your personal style and best colors: Start your free Before & After course here! 
After color, consider textures, fabrications, and patterns that are true to your Type when choosing your essential sweater:
Type 1 – Look for fuzzy or nubby knits, like chenille. Consider a sweater with an animated pattern: polka dot, floral, or abstract design. A Type 1 sweater could also include fun elements like appliqués, sequins, or pearls. These features will highlight your bright, animated nature.
Type 2 – True to your sensitive Type 2 nature, choose cozy or plush, not itchy! Oversized may be good so that you have a little flow to your look. Cowl neck sweaters with their swoopy design are a great Type 2 choice.
Type 3 – Go for a chunky or textured knit. A V-neck is a better match for your dynamic nature, as opposed to a cowl neck.
Type 4 – Keep your sweater structured and well-fitting. Consider a sleek turtleneck or crew neck. You'll feel very sophisticated in a high-quality cashmere.
Tunic-style plaid shirt
Nothing says "cold weather dressing" like a plaid shirt. A flannel with a plaid pattern would provide extra warmth. Opt for a longer tunic-style shirt that will go great with leggings, jeans, and skirts. You can belt it, leave it open like a jacket, or tuck it, if necessary.
When it comes to pattern, do you want a bold check or a smaller pattern? Here's a great guide to help you select the perfect plaid.
Shimmery blouse for holiday parties
Again, choose a color that makes you feel festive! If it has a shiny or shimmery quality that will be ideal. Something just a little more dressy than your regular office attire.
Slim pant or dark denim
Don a dark pant that can be dressed up or down. Opting for a slim leg will also allow you to tuck it into a tall boot.
Winter-weight skirt
Acquire a heavier weight skirt in a winter fabrication like tweed, suede, or wool blends, etc.
Patterned tights and leggings
Here's your chance to really express your personal style and be budget-conscious.
Tights and leggings come in innumerable colors and patterns. Because of the amazing variety, they are available at many price points. Including 2-3 pairs in your capsule wardrobe will expand your style options without overextending your clothing budget.
Two boots – one short, one tall
Give yourself the style options that come with having both an ankle boot and a tall, riding-style boot. Black boots are everywhere, but black doesn't work everyone. Expand your color horizons with these options:
Put the vest to the test
You're not always going to need to be bundled up for Snowpocalypse! A vest gives you the chance to show off more of your winter outfit. Puffer vests, in particular, are a popular, warm and cozy option.
A coat (or two) that will last
Your true-to-Type winter coat is going to be your biggest investment. If budget is a concern for you, save in other areas of your wardrobe and let your coat be your splurge item. A nice coat is something you will wear for years. Take the time and spend the money to select one that you truly love.
The best scenario is to have a casual coat for day-to-day and a dressier option for your special events. Don't get stuck wearing your ski jacket over your cocktail dress.
Durable purse or handbag
If you're still carrying around that straw purse from your island vacation, it's time to give it some well-deserved time off. Opt for a leather bag or another durable material. Choose a handbag that will be weather-proof for when you have to stand in the hot chocolate line out in the falling snow. Also, consider a larger bag for toting your hat, gloves, and thermos.
Makeup is a part of your total look
A lot of women make the mistake of changing to darker makeup during the winter months or just opting for the trending colors that year.
Get makeup that is true to who you are, not what the marketing machine is cranking out. These Makeup Starter Kits are curated to bring out your unique Type of beauty, that doesn't change with the seasons. And, because it's all in one easy kit, you'll complete your makeup routine faster!
Have you created a winter capsule wardrobe? How did it help you save time and money and make dressing easier for you? Share in the comments how this #stylehack has worked for you!
Want more winter style inspiration?
We've created StyleInspire boards with these cold weather essential items, plus so much more so you can complete your winter capsule wardrobe. Access to StyleInspire is a benefit that comes with a Lifestyle membership.