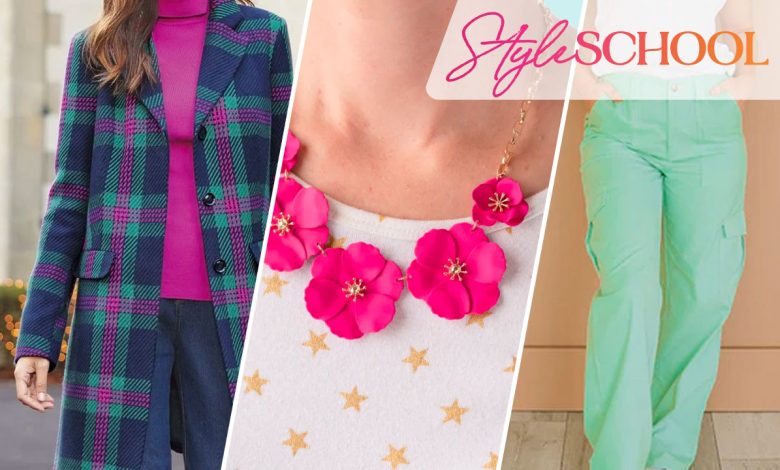 Trends come and go, change or flourish, are here for long, or leave just as fast as they came.
As Type 1s, do we enjoy playing in the trends? I THINK SO! We can easily connect and disconnect. And it's fun to try new things!
I'm Jaleah, your Type 1 Dressing Your Truth Expert! Right now I am wearing overalls… did I think I would ever want to wear overalls again, as I wore them when I was 13-15 years old? No way! But guess what? They're back, and I jumped on the trend and got me some! And it's SO fun!!!
A quick note: trends naturally lean toward a specific Type or a secondary Type—but every Type can make them work!
That's what we'll be doing here! You'll see photos of trends from the fashion world, and I'll tell you what to do to make them Type 1. (Want any of the items you see? Just click on the photo to shop for it!)
Then, you'll be able to take this information and create an outfit for yourself using what you learned!
Think of this as guidance, and then you get to go and be the expression!
So let's go over the new trends and discuss how to make them work for our Type 1 nature.
1. Dark-Wash, Wide-Leg Denim
This season we're seeing jeans with a more loose-fitted style through the legs, and different cuts including wide leg, boyfriend, flare, and split hem. The waistline is in flux as lower-rise styles are trying to make a comeback, but we're seeing women stick with the mid to high-rise as it's more flattering and comfortable to wear. Dark-wash and black rinse jeans are trending. Denim on denim is also popular this season, such as pairing a denim top with jeans.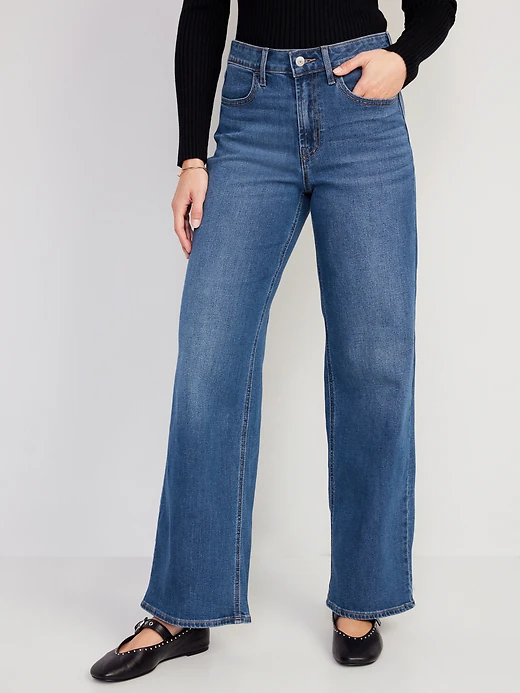 Does this trend favor us Type 1s? Yes! We wear navy as our "black," so dark jeans fit the bill! You'll want to make sure that the denim isn't SO saturated, that it looks almost black. But a wide leg?!?! Sure! You'll want to make sure the fabrication is lighter since thick denim that is wide-leg will make you feel like you are drowning.
Any secondary Type considerations? Secondary 4's will especially like the dark wash. The higher contrast works well.
What keywords are important to remember for this trend? Light, Bright
2. A Tailored Look
Trousers, blazers, and even vests are becoming popular again. This 80s-inspired trend even has shoulder pads and pleated trousers. This look doesn't have to be reserved for office wear as you'll see it dressed up or down, depending on your occasion. Make it casual by pairing trousers and a blazer with a t-shirt and sneakers, or wear it more classically with a blouse and loafers. Choosing a blazer that is slightly oversized is popular.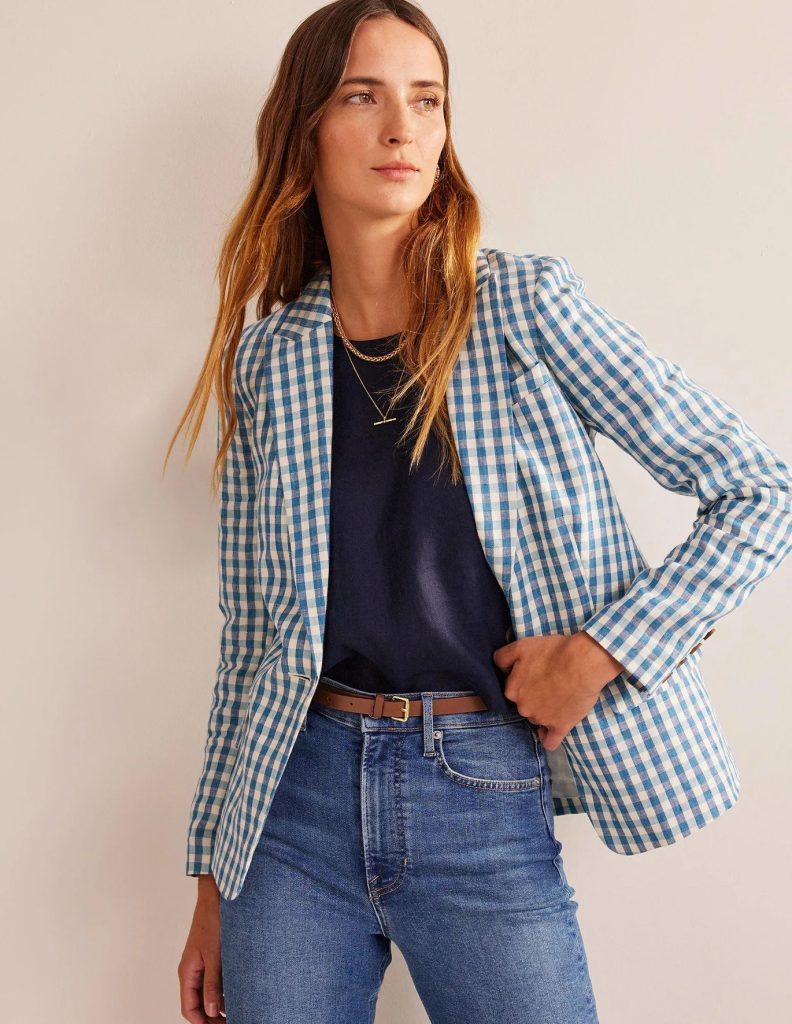 Does this trend work for us Type 1s? It can. We need to make sure that the tailoring isn't too rigid. Feeling boxed into your clothes will not a happy Type 1 make. Instead of getting pants your right size, size up a size or two. That way they don't feel too constricted around your thighs and hips.
Any secondary Type considerations? Secondary 3 and 4s will do well with this trend. Secondary 2s may feel too constricted by the tailoring, so choose a softer fabrication like a knit blazer or cardigan.
What keywords are important to remember for this trend? Airy, Crisp
3. Cargo Pants
We've moved back to the 90s with this trend, but rather than seeing them in a camo print like we used to, this season you'll see more neutral colors. In some styles, the pocket has dropped from high-thigh to just above the knee, which can be a more flattering choice as to not add bulk to your thighs. You'll see many styles in a wide leg. This trend crosses over into athleisure wear. But keep in mind, cargo shorts are still out!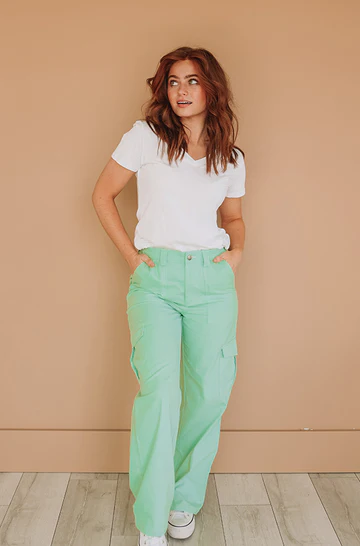 Does this trend work for us Type 1s? You bet! We can make this one work! You would think that it may lend to Type 3 the most, which it does… BUT if you get a pair in our Type 1 colors, a lighter fabrication, and not as bulky pockets, this will be a trend you really like.
Any secondary Type considerations? Secondary 3s will probably be all over this trend. Extra pockets?! Umm.. yes please! Secondary 2 you may enjoy the added flow in this style of pant. Secondary 4, choose a more tailored pocket or Utility Pant that keeps it clean.
What keywords are important to remember for this trend? Functional, Light

4. Oversized Sweater
Oversized everything has been a big trend for the last few years, and as we head into the cooler months you'll see oversized sweaters with a twist. The balloon sleeve (wide through the arms and tapers at the wrist) is trending this season. The oversized sweater with leggings and boots is a great look this fall.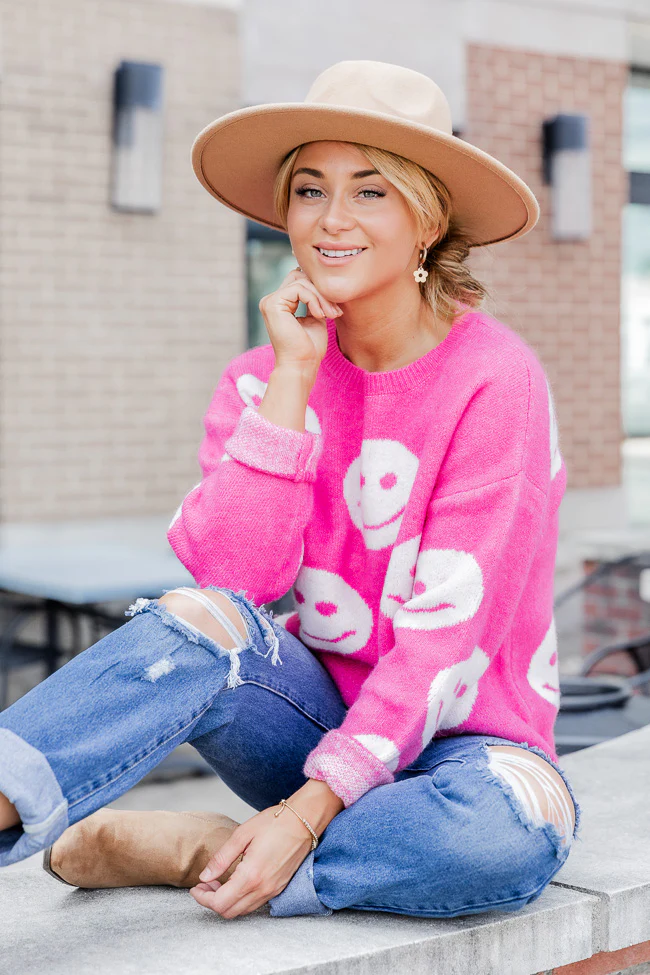 Does this trend work for us Type 1s? While it doesn't "favor" our Type's movement, it is a style we can make work! I like pairing oversized sweaters with tighter pants, like leggings, or skinny jeans, or straight skirts. Having a more flowing look on the top, we'll need to anchor it with something more slim at the bottom. Choose a sweater that is more animated, by the patterns, or the color. That can also bring the Type 1 in more.
Any secondary Type considerations? Secondary 2s will love this trend. The more oversized something is, the more flow it has, and that's great for Secondary 2s. Secondary 3, this may feel too heavy and weigh you down, so try an oversized layer like a denim jacket or bomber jacket so you can take it on and off. Secondary 4 try an oversized blazer to keep some structure in the overall style.
What keywords are important to remember for this trend? Animated, Light
5. Long, Oversized Coats
Overall, we're looking at longer lengths and oversized! Think 80's trench coat: double-breasted, big shoulders. Textured coats like fuzzy shearling and teddy coats are still going strong.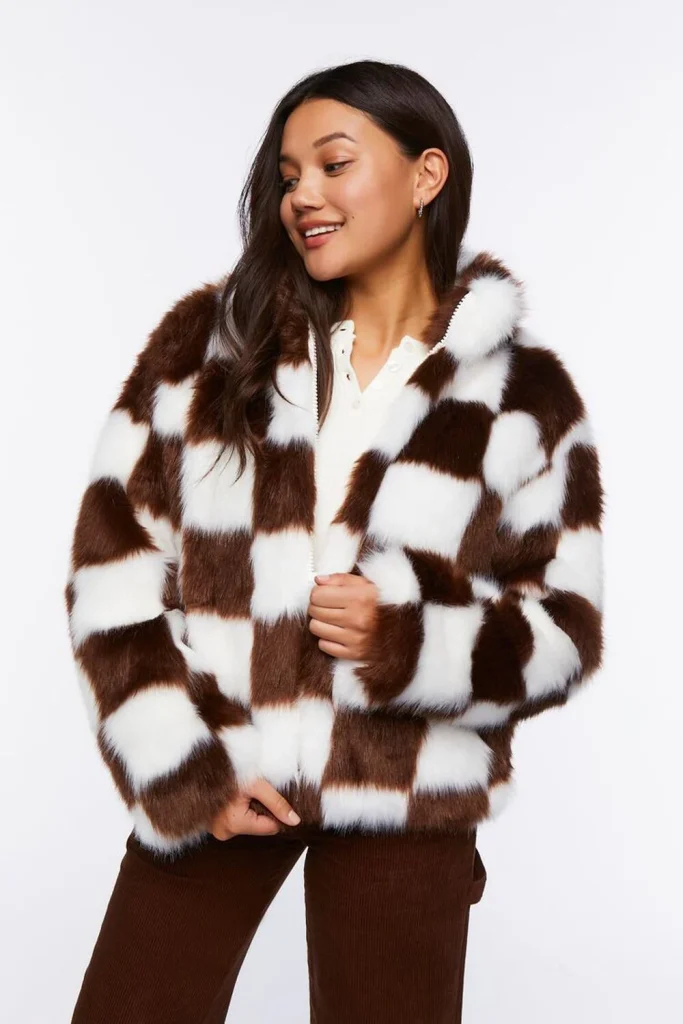 Does this trend work for us Type 1s? I have always been a fan of the longer coats. Hello…they keep my bum warm. I think coats don't need to be so rigid in the "rules." Is the color right? Does it keep you warm? Perfect 🙂
Any secondary Type considerations? Secondary Type 2 will like the softer texture of the fuzzy coat trend. Type 4 secondary may enjoy the added structure of the trench coat style. Type 3 secondary will appreciate the functionality of the longer coat style and have fun with the versatility of the coat trends this season.
What keywords are important to remember for this trend? Animated, Light
6. Bold, Playful Patterns and the Color Red
Bold and Playful would be two words that sum up what we're seeing in the pattern and color trends this fall/winter. Popular patterns include colorful prints, polka dots, and hearts. Even the classic stripes have become thicker and more colorful.
Red is always a popular color in the fall, but this season you'll see more bright, light reds taking center stage. (Check out what makes a Type 1 Red here!)
Another popular nod to the 80's is color blocking with light and dark tones of the same color.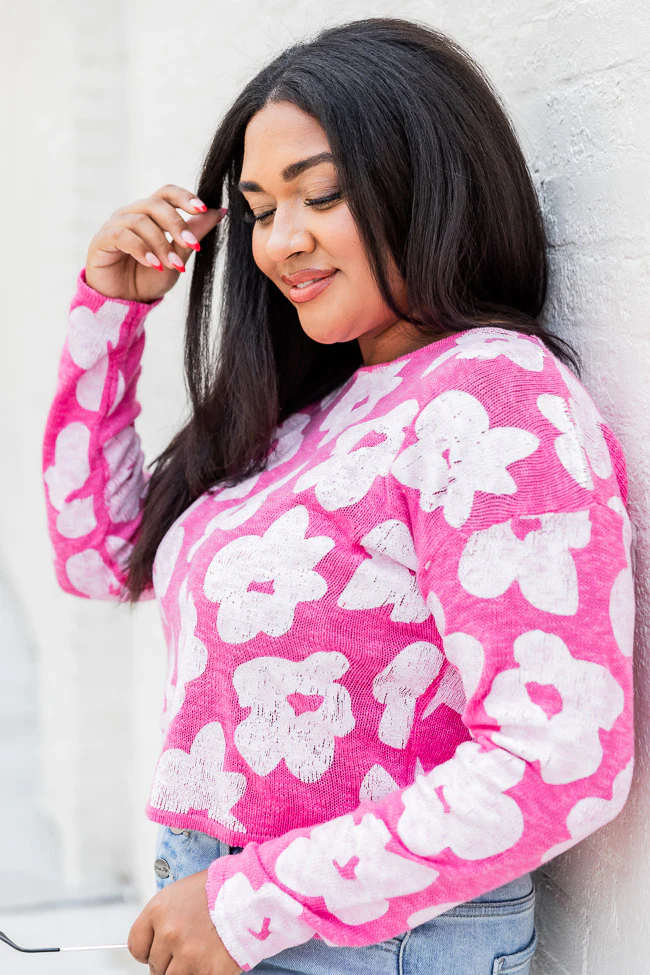 Does this trend work for us Type 1s? Now this is a sweet spot! More patterns? More colors! Oh, yea!! Do you have the Style Kit? That will be essential to make sure the items you're picking are perfect for Type 1!
Any secondary Type considerations? Secondary 2, keep the colors in the pattern more minimal to create a softer movement, but have fun trying patterns larger in scale than you are used to. This trend really plays well to secondary 3 and 4 with more movement and bold statements.
What keywords are important to remember for this trend? Fun, Animated
7. Statement Jewelry
Pick your piece! Will it be a statement earring, necklace, or bracelet? The statement can be the size, color, or design. Metal pieces are popular right now, and pearls are taking center stage as well. Keep in mind if you're clothing is stronger in pattern and color, keep the jewelry minimal. For minimal jewelry, small hoops and dainty chains are trending.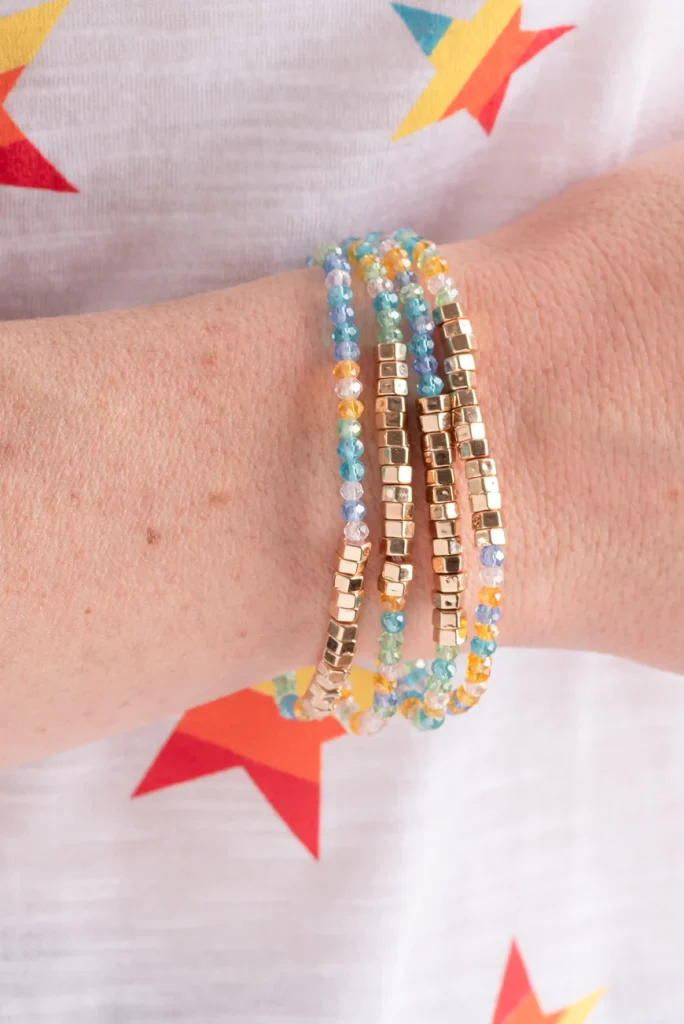 Does this trend work for us Type 1s? YES! Statement jewelry will always be on trend for Type 1s!
Our DYT store will always have the latest and best styles to keep you on trend and looking CUTE! (Don't forget to use your Unlimited-Use Style School Discount Code: STYLESCHOOL20)
Any secondary Type considerations? Type 3 and 4 secondary will wear the larger-sized jewelry with more confidence. Type 2 secondary may want to keep it more medium-sized, but push yourself to try something a little bigger than what is normal for you. You may find that you like it!
What keywords are important to remember for this trend? Light, Animated
Use STYLESCHOOL20 for 20% off!
Now that you've got all the info you need, you can create amazing, current Type 1 outfits!
I want to see ALL your adorable Type 1 faces in our 4 Types Fashion Show!
As a Grand Finale finish to Style School, we're showing off your amazing style during a week-long fashion show. Each Type will get one day to post their outfits in our Lifestyle Facebook Group and share what they learned during Style School.
Type 1s, get ready! Our day to post is Wednesday, October 4th!
Thanks to all your photos, we'll be able to create an amazing Fashion Show Gallery for Lifestyle!
(Psst! Don't forget—all the photos are linked for shopping, so if you like what you see, go and buy it! I've also added some of these trends to our Type 1 StyleInspire boards! Just one of the many perks of being a Lifestyle member. Shopping made easy!)