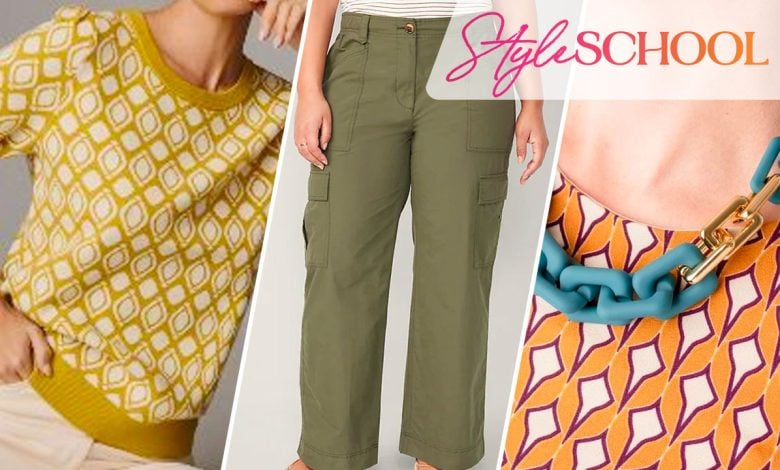 Ladies, we are in luck! The 2023 fall/winter trends scream Type 3!
I'm Carol Tuttle, creator and founder of Dressing Your Truth. As a Type 3, I'm thrilled that we have a large variety of trends this season that work great for us—no matter our secondary energy!
I've put together a list of 7 popular 2023 Fall/Winter trends and how to make them work even better for Type 3 women. (Want any of the items you see? Just click on the photo to shop for it!)
I'm not showing you complete looks in this article, but instead, I'm sharing individual pieces for you to work with. I invite you to use what you learn here and put it to practice to create some great Fall/Winter looks. Then, share them in the Lifestyle Facebook Group.
Think of this as guidance, and then you get to go and be the expression!
Let's take a look at 7 trends I've selected to help you learn how to incorporate them into your style.
1. Dark-Wash, Wide-Leg Denim
This season we're seeing jeans with a more loose-fitted style through the legs, and different cuts including wide leg, boyfriend, flare, and split hem. The waistline is in flux as lower-rise styles are trying to make a comeback, but we're seeing women stick with the mid to high-rise as it's more flattering and comfortable to wear. Dark-wash and black rinse jeans are trending. Denim on denim is also popular this season, such as pairing a denim top with jeans.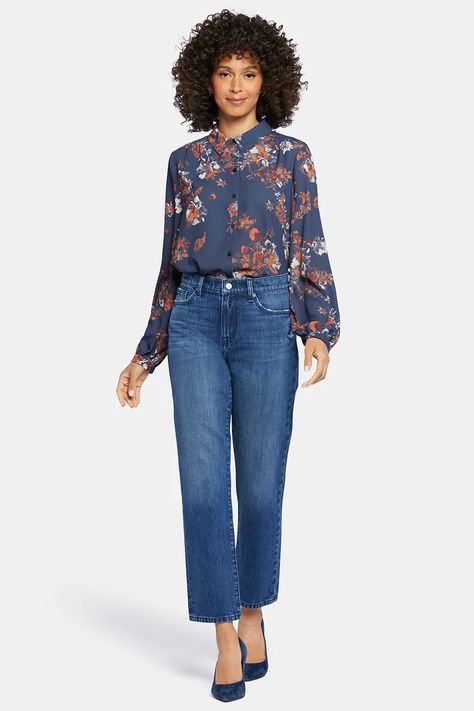 Does this trend favor Type 3's movement?
Did I say the trends lean Type 3! Well, let's start with the obvious. Hello! Denim on denim ladies, I mean…. who else can pull off the substantial weight of denim fabric on both the top and bottom? We can! If you prefer lighter-weight, stretchy denim, with all the denim being featured this season, you're sure to be able to hand-pick what you want. And with the return of boot-cut jeans, that's honoring our Type 3 angular design line 100%. For all combos, just make sure to choose denim that is not too saturated and has a bit of a washed look with yellow/gold top stitching.
Any secondary Type considerations?
A Type 3/1 can wear all of the above.
A Type 3/2 will look especially great in boot-cut, softer denim jeans with a little longer hem. 
Type 3/4 lends itself to straight-cut, wide-leg jeans. 
What keywords are important to remember for this trend?
Rich, Functional

2. A Tailored Look
Trousers, blazers, and even vests are becoming popular again. This 80s-inspired trend even has shoulder pads and pleated trousers. This look doesn't have to be reserved for office wear as you'll see it dressed up or down, depending on your occasion. Make it casual by pairing trousers and a blazer with a t-shirt and sneakers, or wear it more classically with a blouse and loafers. Choosing a blazer that is slightly oversized is popular.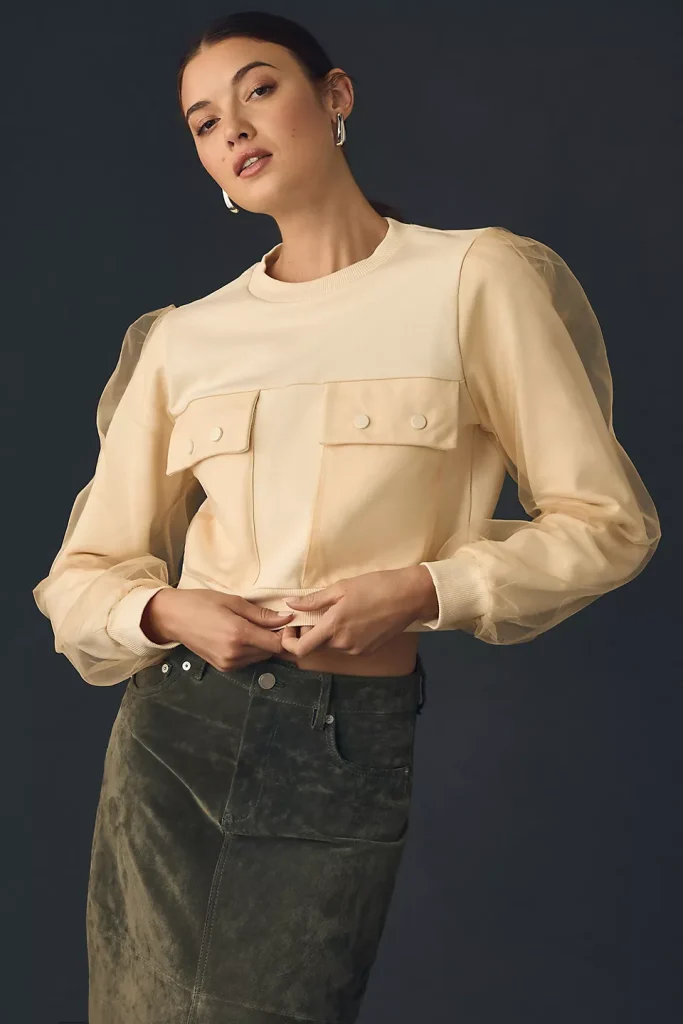 Does this trend favor Type 3's movement?
This trend definitely lends itself to our Type 3/4 hotties. With more structured (we are even seeing shoulder pads again, ladies) and pleated trousers, those design lines really add a secondary Type 4 influence.
Let's see how we can make it work for Type 3/1's and 3/2's.
Any secondary Type considerations?
3/1: Make it a little more playful by choosing items that have added pockets, and buttons to bring up the movement. A true tailored style is not enough movement for your Type.
3/2: Choose softer knit fabrics for tailored sweaters, blazers, and even pants – like a tailored sweater and pair it with jeans.
3/4: Wear it classically with a blouse and loafers.
What keywords are important to remember for this trend?
Dynamic, Angular

3. Cargo Pants
We've moved back to the 90s with this trend, but rather than seeing them in a camo print like we used to, this season you'll see more neutral colors. In some styles, the pocket has dropped from high-thigh to just above the knee, which can be a more flattering choice so as to not add bulk to your thighs. You'll see many styles in a wide leg. This trend crosses over into athleisure wear. But keep in mind, cargo shorts are still out!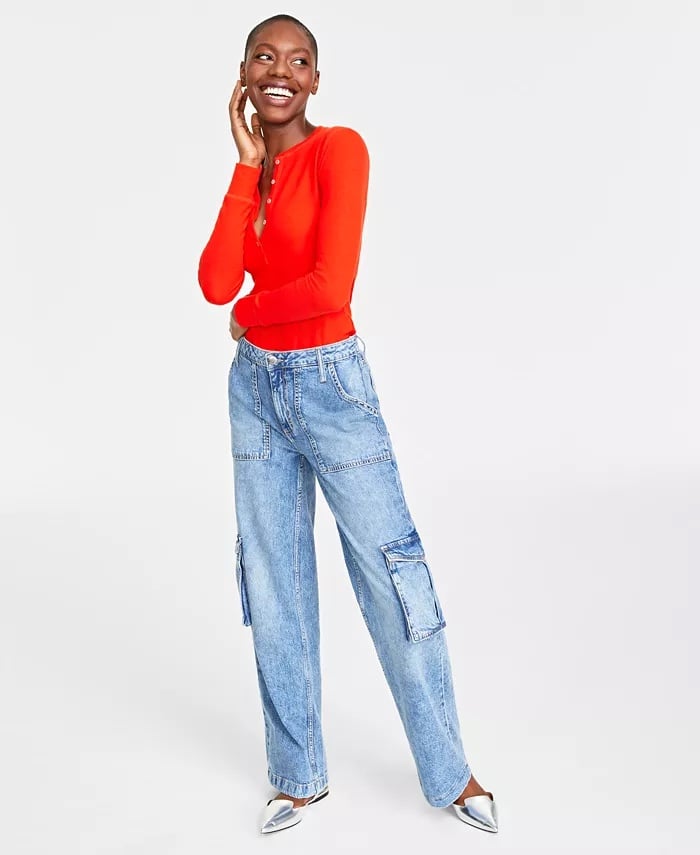 Does this trend favor Type 3's movement?
I was the most concerned about this trend returning from the 90's, but rather than seeing them in camo print, and with the side pocket being more tailored, we can make it work.
Make sure the pockets are flat and not too oversized! Otherwise, they get baggy-looking and wrinkled, just not a good look for any Type. The fabrics that most cargo pants are made of are definitely Type 3 friendly – natural fibers with heavier weave.
Another great option is often referred to as Utility Pants. They are similar to cargo pants, but they have flat pockets with no flaps.
Any secondary Type considerations?
3/1: You're going to have the most fun with this trend. It's a more youthful look in the trend lineup, and you can wear the most movement on your body, so why not add a pocket or two where we are just not used to having them!
3/2: Go with knit athleisure cargo pants for a casual look.
3/4: You can pull this off. Find more tailored cargo pants with straight legs, and flat, no-flap pockets.
What keywords are important to remember for this trend?
Active, Swift

4. Oversized Sweaters, Blazers, Layering pieces
Oversized everything has big trend for the last few years, as we head into the cooler months, you'll see oversized sweaters with a twist. The balloon sleeve (wide through the arms and tapers at the wrist) is trending this season. The oversized sweater with leggings and boots is a great look this fall.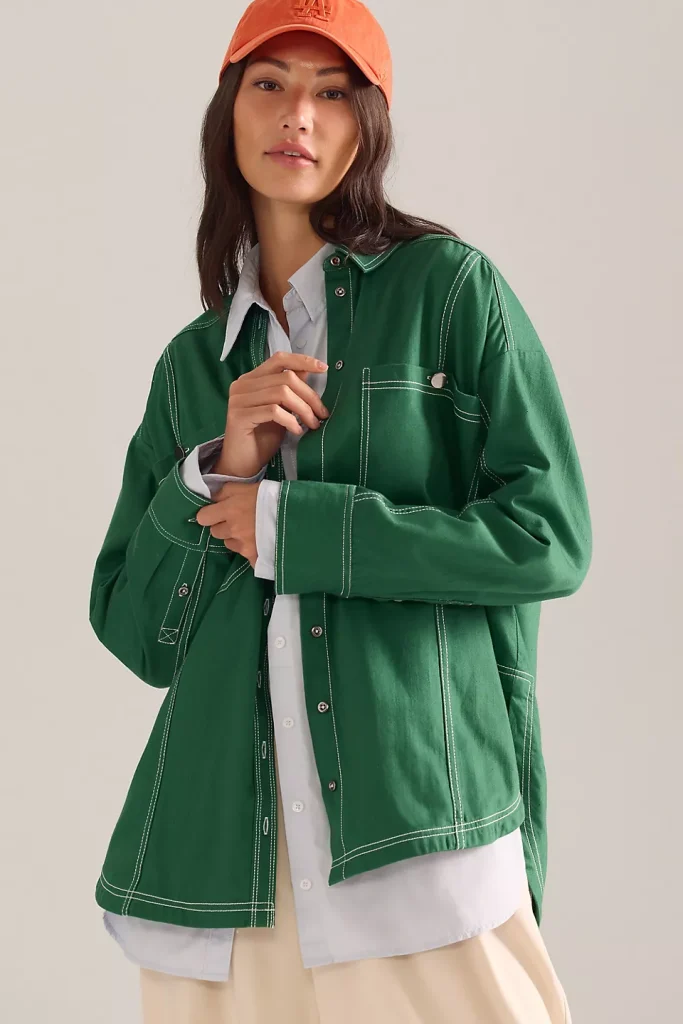 Does this trend favor Type 3's movement?
Can we say casual and comfy for this trend? Lots of room for interpretation as it includes oversized anything! But let's make it stylish and not just baggy. I've even purchased some men's jackets and blazers!
Stick with the basics. Don't overdo the oversized look. Try an oversized sweater or sweatshirt, even a hoodie, with a pair of leggings, and a thick-soled boot or tennis shoe.
Any secondary Type considerations?
3/1: This could get heavy on you, so try an oversized layer you can take on and off, like a bomber jacket or blazer.
3/2: This style suits a Secondary 2 the most as it creates extra flow. Looks great worn with leggings.
3/4: Stick with an oversized blazer or layers to keep the structure you prefer.
What keywords are important to remember for this trend?
Textured, Substantial

5. Long, Oversized Coats
Overall, we're looking at longer lengths and oversized! Think 80's trench coat: double-breasted, big shoulders. Textured coats like fuzzy shearling and teddy coats are still going strong.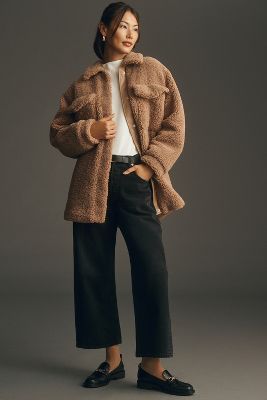 Does this trend favor Type 3's movement?
Since we are the queens of layering, this is a favorable trend for Type 3's. I mean, it's coats—and coats are a layering piece! We are all about function, so they serve two purposes: function and styling with layers. Win, win.
You need to know which coats work for you and your secondary energy and which ones don't—or you'll be making returns (and you know how much we like that activity – not)!
Any secondary Type considerations?
3/1: Textured coats like fuzzy shearling. Teddy coats are still going strong.
3/2: Think, "If a cardigan and a coat had a baby!" Softer fabric coats that could pass as a cardigan or a coat, with a tie belt.
3/4: Trench coats, double-breasted coats, and driving coats with straight design lines
What keywords are important to remember for this trend
Dynamic, Textured
6. Bold, Playful Patterns and the Color Red
Bold and Playful would be two words that sum up what we're seeing in the pattern and color trends this fall/winter. Popular patterns include colorful prints, polka dots, and hearts. Even the classic stripes have become thicker and more colorful.
Red is always a popular color in the fall, but this season you'll see more bright, light reds taking center stage. (Check out what makes a Type 3 Red here!)
Another popular nod to the 80's is color blocking with light and dark tones of the same color.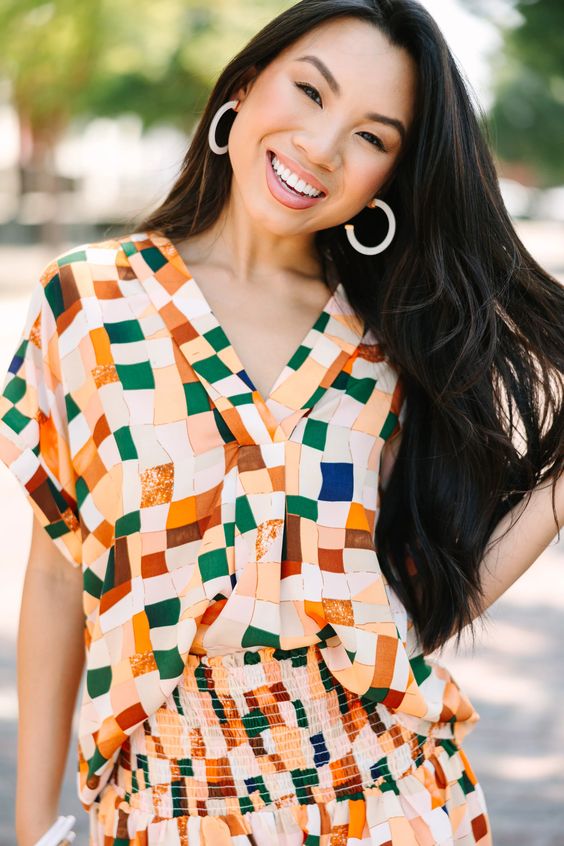 Does this trend favor Type 3's movement?
Let's change bold to substantial and playful to abrupt! Now we can make it work.
What's in is pattern with movement, so our Type 3 asymmetrical, swift, dynamic patterns can be incorporated. Just choose more substantial patterns rather than smaller-scale patterns.
Type 3 reds run the range from fiery red, to brick red, to a deep, rich red. Style those reds into your blush, a Type 3 red lip, or how about a full-on red monochromatic top and bottom under a denim wrap jacket? Who is going to be the most daring and show us a red trench coat?
Any secondary Type considerations?
3/1: Kick it up, ladies. This has your name written all over it. Mix those patterns up! Try a top with a traditional Type 3 asymmetrical pattern with a military jacket with stars or polka dots on top! Make that high-movement statement.
3/2: Style these more substantial patterns underneath a solid color layering piece or in a skirt!
3/4: Pants are our jam with the one, or add these patterns in a trending coat!
What keywords are important to remember for this trend?
Substantial, Abrupt
7. Statement Jewelry
Pick your piece, will it be a statement earring, necklace, or bracelet? The statement can be made in size, color, or design. Metal pieces are popular. Pearls are taking center stage. Keep in mind if you're clothing is stronger in pattern and color keep the jewelry minimal. For minimal jewelry small hoops and dainty chains are trending.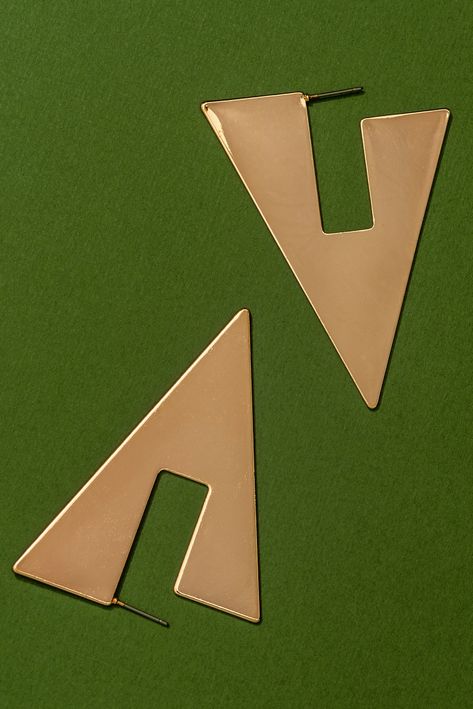 Does this trend favor Type 3's movement?
As you are seeing, the trends this 2023 Fall/Winter are lending themselves to our keyword substantial. But, and this is for you ladies who are not into "heavy-looking," substantial, Type 3 jewelry, I've got the inside scoop to make it work for all of us.
Don't forget to shop the DYT store for Type 3 jewelry and get 20% off using your Unlimited-Use Style School Discount Code: STYLESCHOOL20
Use STYLESCHOOL20 for 20% off!
Any secondary Type considerations?
3/1: Chains, but more dainty, lighter looking.
3/2: Chains that are longer and create a more fluid movement.
3/4: Mr. T all the way! Just kidding! Make a statement though with your chain necklaces as we are the ones who can pull off the most substance with this trend.
What keywords are important to remember for this trend?
Rich, Substantial
So there you have it! Your 2023 Fall/Winter Cheat Sheet!
Now that you've got all the info you need, you can create amazing, current Type 3 outfits and post them in the Lifestyle Facebook Group during the next 4 weeks of Style School!
As a Grand Finale finish to Style School, we're showing off your amazing style during a week-long fashion show. Each Type will get one day to post their outfits in our Lifestyle Facebook Group and share what they learned during Style School.
Type 3's, our day to post is Friday, October 6th!
Afterward, we will be putting together a gallery of all the Fashion Show outfits for each Type so you can have this collection as a handy reference as we have fun incorporating popular 2023 Fall/Winter trends into our styles. I hope to include one of your outfits in this upcoming gallery!
(Also! All the photos are linked for shopping, so if you like what you see, go and buy it! We've also added some of these trends to our Type 3 StyleInspire boards! Just one of the many perks of being a Lifestyle member. Shopping made easy!)