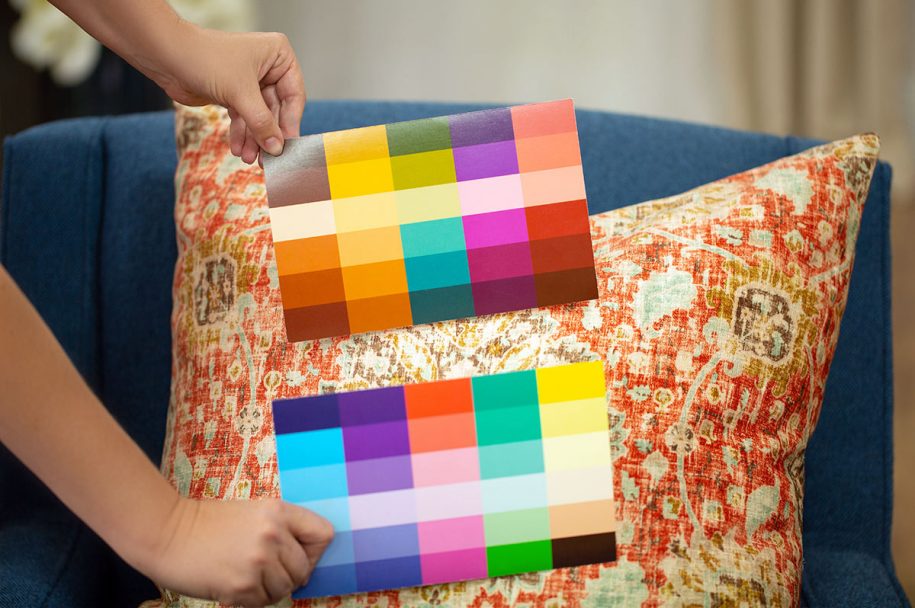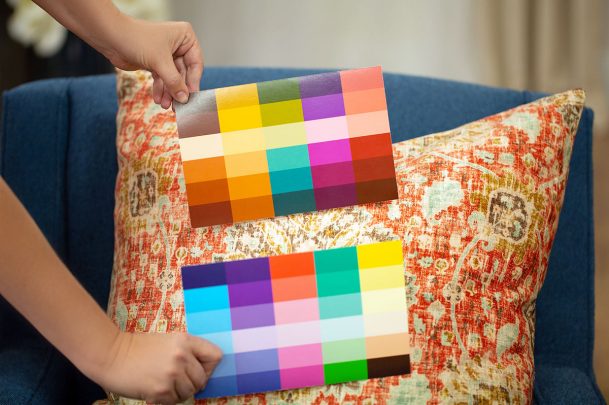 To an outsider, they might just look like "color cards"—but at Dressing Your Truth, you know them to be so much more: the Style Guides!
In my Dressing Your Truth system, I give you all the tools necessary so you can have the most positive, enjoyable experience as you determine your Type of beauty and then create a personal style you love. One of those tools is the Style Kit.
Not long ago, I published a video, Why You Need the Dressing Your Truth Style Kit and How to Get the Most Out of It! It quickly gained popularity among the DYT community as they saw firsthand how valuable the Style Kit really was.
Now, aside from putting together a wardrobe you're crazy about, I want to show you even more ways you can use the Style Kit!
We asked our DYT Lifestyle members what other creative, unusual ways they used their Style Kit. Here's what they said:
25 Creative Ways to use Your Style Kit
1. Nail colors
This one came up a lot! Women take the Style Guides with them to the salons for nail appointments, or to the stores where they pick out a new nail polish color. Now you can be sure your nails match the rest of your outfit.
2. Choosing fabric for a quilting/sewing project
It warmed my heart to see how many women bring their Types into their creative projects. You can make sure all of your projects have a cohesive look thanks to the Style Guides.
3. Decorating your home
Whether or not you have an eye for interior design, the Style Guides help you get the look you want within your own home more easily now.
4. Choosing gifts for your friends
When you know what Type your friend or family member is, you can be certain you're choosing an item that they'll love.
5. Hair color
It's true! Your hair should harmonize with the colors of your Type, and your Style Guides help both you and your hairstylist choose the correct colors for you.
6. Watchband
No need to stick with only black or brown—now you can get more creative and colorful.
7. Paint colors
It can be overwhelming to walk into a paint store and try to choose a color for your kitchen. Now, your Style Guides can help you determine which "Type" you want your kitchen to feel like!
8. Choosing curtains
But don't just stop at the curtains! This also pertains to bedding, couch pillows, rugs, or pops of color in decor as well.
9. Clothes for family members
If your partner or children are a different Type than you are, having the Style Kit makes it easy for you to shop for everyone.
10. Musical instruments
Whether you play the drums, guitar, piano, or something else, you can now incorporate your Type's color into your musical talents.
11. Beads and gems for jewelry & jewelry making
Take your Style Guides with you to the craft store to ensure your colors coordinate with the rest of your wardrobe.
12. Handbags
Your purse or handbag can be a way to further express yourself. Now you make sure all your handbags harmonize with your Style Guides in just a few minutes.
13. Cars
Choosing a new (or used) car is exciting! Chances are because of DYT, you'll be paying extra attention to the color and seeing if it's "true to Type" for you!
14. Phone case
You carry your phone with you everywhere, and it practically could be an accessory! With plenty of cases to choose from, you'll enjoy picking one that fits your Type.
15. Laptop cover
Laptops are usually gray or black. Now you can Type-ify your laptop with either a plain color or a design that feels better for you.
16. Scrapbooking
Scrapbooking is truly a creative expression unlike any other. Shelicia shares: "I love taking my card to the scrapbook paper aisle at Joann fabrics and I use the paper for behind my family photos."
17. Website and logo
Have your own website or business? Use the Style Guides to see if your brand makes the impression you want.
18. Shoes
Shoes are such a beautiful finishing touch to your outfit. Make a statement with your footwear, true to Type!
19. Painting on canvas
Whether you're into acrylics, oil paints, or watercolors, your artwork can now reflect an Energy Type when you harmonize them with your Style Guides.
20. Pet collars and tags
Did you know that even pets have an Energy Type? Once you determine their Types, you can choose collars, tags, and even those cozy sweaters for them that match their Type!
21. Wallets
Having a wallet you love is one of those simple pleasures of life you might not often think about. But once you've got a wallet that matches your Type, you'll know exactly why it's so great!
22. Planners and notebooks
Imagine having a planner you get excited about every time you open it. Or a notebook/journal you love writing in to record your thoughts.
23. Umbrellas
Think about it—if your whole outfit is true to Type, but then your umbrella is true to another Type, you'll feel off. Give yourself an umbrella you feel fabulous with!
24. Lunch thermals and water bottles
Whether you pack a lunch every day for work, or you pack them for your kids, what an easy way to honor everyone's Type and choose colors that match who they are.
25. Masks
This can be a lighthearted way to add fashion while wearing a mask. With more and more options becoming available through online retailers like Etsy every day, you can easily find something that will work with your entire look instead of clashing with it!
What other creative uses can you think of?
Leave a comment below with your ideas. And if you don't yet have your Style Kit…
Buy your Style Kit today!