Are you frustrated with your appearance?
You may be compromising yourself by doing any (or all) of the following:


You buy clothes you later decide just don't feel right, but you wear them anyway.

You hate taking the time to shop, so you just buy what you need to get by. (Who cares anyway!)

You think it takes a lot of money to look good, so you'd rather not even try.

You determine what looks good on you by asking your friends, your husband, or following the fashion trends.

You feel lost when it comes to knowing what to wear. You want to look good, but you don't know where to start!
These 7 tips will help you start feeling better about your appearance:
1. Throw away the media's definition of beauty.
The truth is, the fashion industry has lied to and misguided so many women for so many years.
Most women have been conditioned to compromise their own beauty as they try to live up to the world's standard. I call this shame-based beauty. It's time to redefine beauty.
2. Only buy if it you can say, "I love it!"
No more settling when it comes to your clothes. Make purchases based on what you love. It's better to have a closet with fewer items that you love, than to have a closet full of items you don't even like to wear!
3. Start to trust yourself.
When you try something on, pay attention to how it feels. Your body knows what it feels good in. Start to listen to your body's feedback and what it wants to wear.
4. Smile more at yourself when you look in the mirror.
One of your most beautiful features is your smile. Did you know that when you smile, it's a natural mood lifter? If you are feeling bad, smile! It will help you to start feeling better.
5. Have a day in the raw.
Be careful to not condition yourself to the belief that you're only attractive if you're all made up. Occasionally, go a day without makeup. I do this frequently just to remind myself that makeup does not make me attractive. Instead, it's a fun resource to use to enhance my God-given beauty.
6. Stop comparing yourself to other women.
If you are comparing yourself, it's never going to put you in a positive mindset! When you compare, you end up feeling unattractive and inadequate! #NoMoreComparisons
7. Learn how to dress your truth.
Your Type of beauty is unique. When you learn what colors, patterns, design lines, and fabrics look best on you, you'll feel confident about your appearance.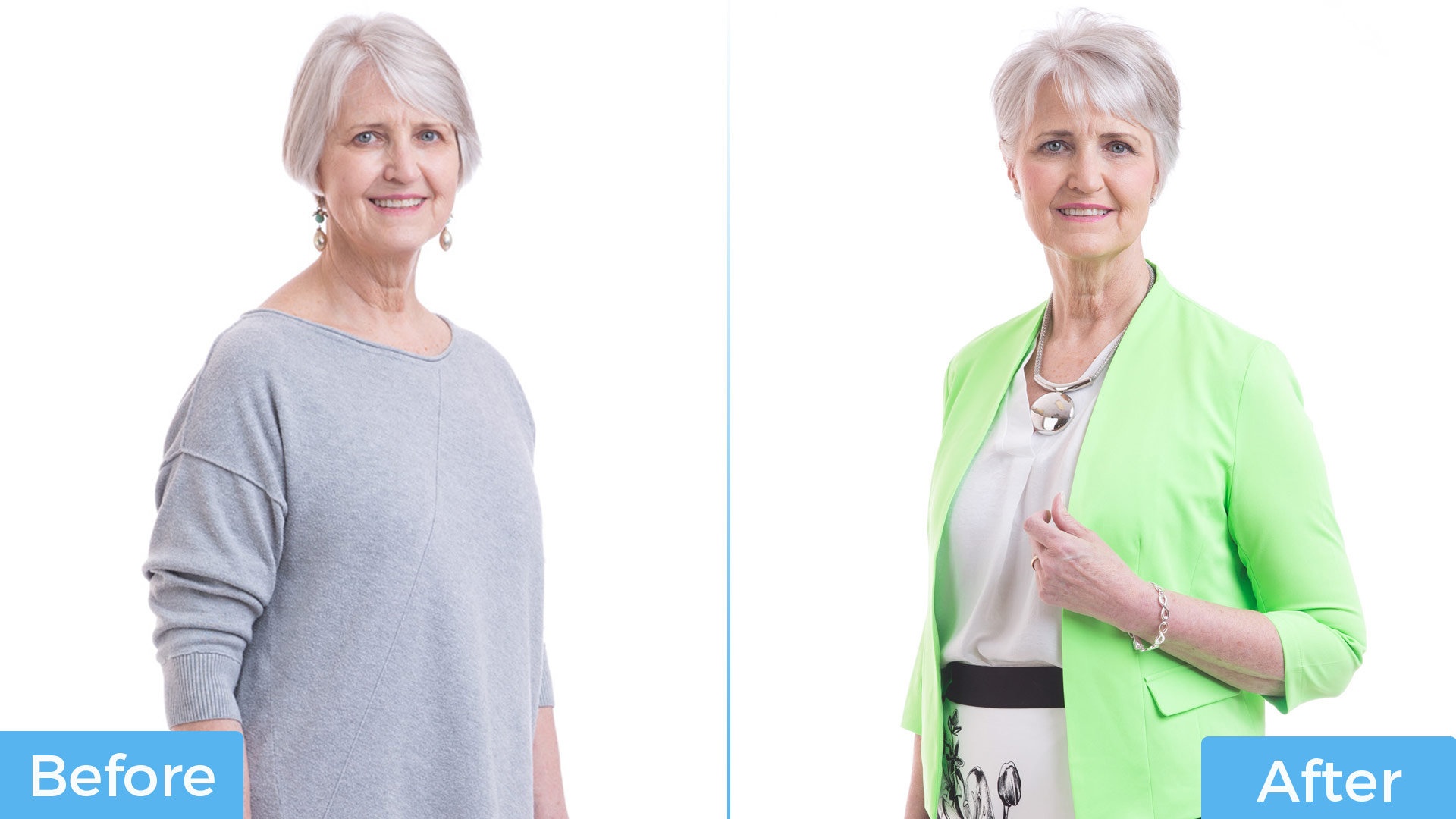 In this Before & After, Lyn lacked confidence in her appearance before she discovered Dressing Your Truth. But in her After, Lyn looks stunning and confident. She holds her own, and no longer is she compromising her own beauty. Now she's an authority on it!
You too can become your own beauty expert and feel confident about your appearance every day.
Discovering your Type of beauty is the first empowering step to creating a style that brings out your true beauty. I offer a free Before & After course to help you discover your Type of beauty easily.
Start your free Before & After!

Enjoy these extra resources:
Go even deeper into Energy Profiling & join Lifestyle today!