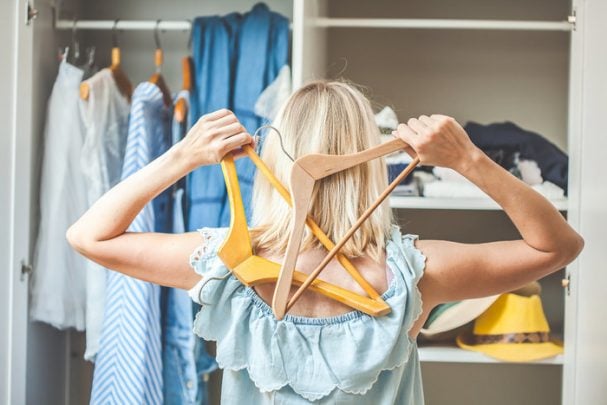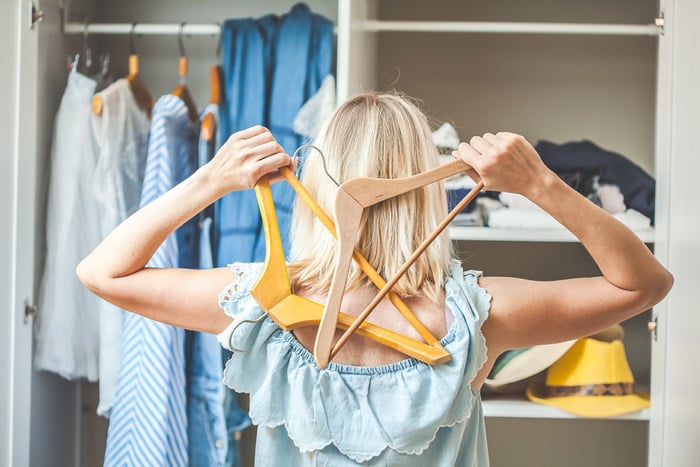 It's possible to have amazing style, even on a budget!
You've lost weight, been hired for a new job, or maybe you're tired of your mom uniform of jeans and a t-shirt!  Whatever the reason, you want to build a new wardrobe and you want to do it on a budget.
Let me help!
So you don't waste your money on what you will eventually come to not loving, make sure you do my first suggestion to set you up for my 3 steps below!
Start with Dressing Your Truth and learn what Type of beauty you express so you can choose the correct clothes, accessories, and hairstyles to match your Type of beauty.
You will learn that your natural beauty expresses both in your personality and your physical traits. Dressing Your Truth supports you by teaching you what clothes look best on you! Not knowing this is why you buy so many clothes you just can't say you, love.
Now you are ready to follow my 3 easy steps and I guarantee you will have a lot of fun re-building your wardrobe in a short time in a price range you can afford.
Step 1 – Believe in what you want
Too often I hear women express that they can never find what they want at a price they love. I have learned that what I believe I will experience and that is what is most likely going to show up for me! So the first step is to believe in the following:
1.  I am easily finding what I love that is perfect for me.
2.  What I love is affordable to me; it's always at a price I get excited about.
3.  Shopping is easy, quick and fun. I am always led to the right stores or online sites to find what I want.
Believe me, this works! I have used these affirmations and beliefs for years. I've even tweaked it a bit recently by adding – What I want is always easy to spot in the store; it's in a highly visible place that I notice.
A few years ago I was shopping with my mom, and she very sweetly said in her Type 2 soft, subtle manner,
"Carol, it's like the clothes fall out of heaven and are lying in the aisles when you show up." I gave her hug and said, "Let's create the same for you, Mom!"
Step 2 – Shop your closet
Hold on, don't get rid of it yet! When you learn to refashion your own wardrobe, you can transition many of your existing pieces to be true to your Type of beauty.
I have created several refashioning tutorials about dyeing clothing items, painting shoes, and jewelry, and even distressing jeans. These are just some of the quick things you can do to help you in rebuilding your wardrobe affordably.
In my early days of dressing my truth, I dyed many of my white clothes to beautiful Type 3 shades. I haven't tried painting shoes, but I encourage you to have a go at it! Let me know how it turns out!
Step 3 – Shop at thrift stores
Thrifting is a way to start creating a new wardrobe with little investment of time and money. Most thrift stores group items by garment type and color.
When you have a Style Kit that provides you with Color Guides and Pattern Guides, you can just cruise down the thrift store aisles to find the correct matches very quickly. You will no longer be considering items that are not the right colors for your Type with the help of the Style Kit.
And, when you get more secure in creating your own style, you can easily let go of those thrift store items as they did not cost much.
Type 3 Gina, only shops at thrift stores. Look at her! You would think she is purchasing high-end fashion items.
Dressing your Truth has made thrift shopping so effective and helps me zero in on exactly the right clothes and accessories that will look best on me. I've been able to build a unique wardrobe from mostly thrift shopping based on DYT principles. I have fun with my look and know that what I choose will look flattering and unique to me. – Gina, Dressing your Truth Lifestyle Member
I share more great tips on how to get the most of your trip to the thrift store in this article.
With Dressing Your Truth, you will be saying, "I love everything in my closet! My new challenge is knowing what to wear because I love it all!"
You will not only feel great Dressing Your Truth, but you will also look amazing! Get ready for a lot of compliments, and remember, "I am finding what I love easily, and at prices I love!"
I can't wait to see you post a pic of yourself in your new outfit in the Lifestyle Facebook group!
Share in a comment a budget-friendly shopping tip that has helped you create a new wardrobe.