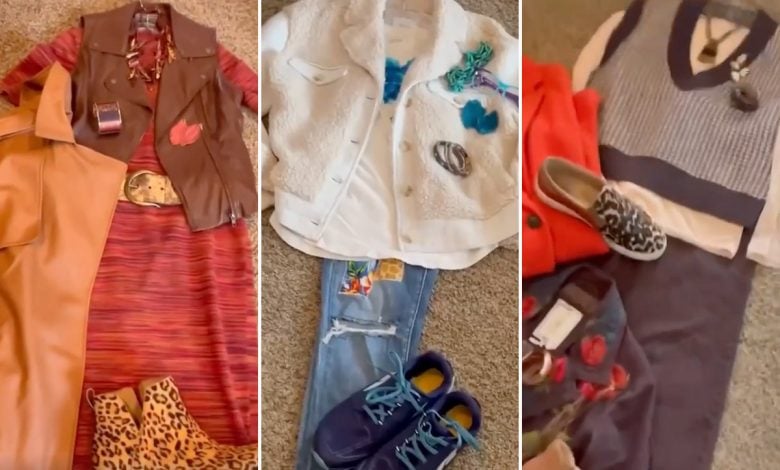 What if you could put together stylish outfits for every day of the week, without spending any extra time doing it?
In fact, what if I showed you a way that would actually save you time?
Let me tell you how!
A few years ago, I started dedicating an hour or two toward a process I now call the "Grab and Go Closet."
I lay out different clothing combinations around my bedroom, on the floor, on my bed, and on chairs. This helps me pair the best bottoms with the best tops, jackets, scarves, etc. I see everything laid out in front of me, and it helps me get really creative! I always have my Style Guides and Pattern Guides with me to make sure each look harmonizes and works together.
I pick out shoes and jewelry for each outfit too. I put the jewelry into zip-lock bags and attach them to the hangers.
When all the outfits have been chosen and put together, I hang them all up in my closet, grouped together, ready for the week ahead. "Grab and go!"
This is a video I posted on my Instagram page showing my Grab and Go Process!
This method will change your DYT experience!
First of all, it will save you so much time. It only takes me about 2 1/2 hours to put together 14 outfits. Before this, I would spend about 20 minutes each morning figuring out what to wear that was both stylish and fun. Added up, that would take up to 4 1/2 hrs! Now, I get two weeks of outfits done in half the time.
Secondly, it helps you discover new outfits. Invite a friend, mom, or sister to come over and help. I did this once and my two friends put together looks I had never thought of. Sometimes it takes fresh eyes to show you what you didn't know was possible!
Every Type will benefit from the Grab and Go Closet!
Type 1:
Problem: It's common for a Type 1 to see too many possibilities each morning when getting ready for the day. You get distracted by the daily activities and just throw on whatever. Without setting aside dedicated time, you could find your style getting stale and dull. (And that's the last thing a Type 1 wants!)
Tips: Turn on music you love while you do this! Pick a theme to inspire your choices, such as color, level of dress, Disney princess, etc. Check out the group calendar in the Type 1 Facebook group to see what's coming up! You'll get new creative ideas, you'll look forward to wearing your outfits, and it makes getting ready more fun!
Type 2:
Problem: You could find yourself getting overwhelmed by the multiple decisions that have to be made for just one single outfit, so you'll repeat what's familiar and comfortable. You won't branch out because you don't have the time to ask the necessary questions. This can lead to frustration and even tears. You find yourself trying on multiple outfits, not having the right one, giving up, and feeling defeated.
Tips: Set aside an hour and limit yourself to 4-5 outfits. Starting smaller will help you not feel overwhelmed by the process. Start by choosing your favorite items and a few of your less-worn items, and then experiment with mixing and matching those. If you see some outfits you like on the Type 2 Facebook group, or any outfit you see online/in stores, copy those!
Type 3:
Problem: Your practical nature could prevent you from having enough time to put together outfits every single day, so you end up just grabbing the same old, same old. This method will help! You like compartmentalizing and seeing big results. We've got you covered here.
Tips: Set a timer and challenge yourself to build as many outfits as you can in 30 minutes, then slow down when you get to the accessories, trying combinations you haven't put together before. Remember, this is where you can really create a dynamic quality with your outfits. Check out the Type 3 Facebook group for inspiration if you find yourself getting stuck.
Type 4:
Problem: You could get frustrated trying to perfect an outfit and end up quitting. (Type 4's know that "all or nothing tendency" quite well!) This process simplifies decision-making and helps you see the big picture of your style. It helps you avoid overthinking every day.
Tips: Set a day and time in your schedule to do this. Browse the Type 4 Facebook group ahead of time for ideas. Lock your door and don't let an unorganized closet keep you from starting. Remember to add color to your classic black and white. If you favor black, that's great! Choose to have a few days when you keep it simple and classic with the black to keep you grounded.
Share your own "Grab and Go Closet" process with us!
Take pictures or even a short video of your process. Post them in the Lifestyle Facebook group to inspire others. Share how this has helped you get ready every day and how you discovered new outfits from it!
I can't wait to see what you do.
(Psst! Have you seen the new jewelry in the DYT store? Earrings, necklaces, and bracelets for every Type. Grab a few new pieces for your Grab & Go Closet!)