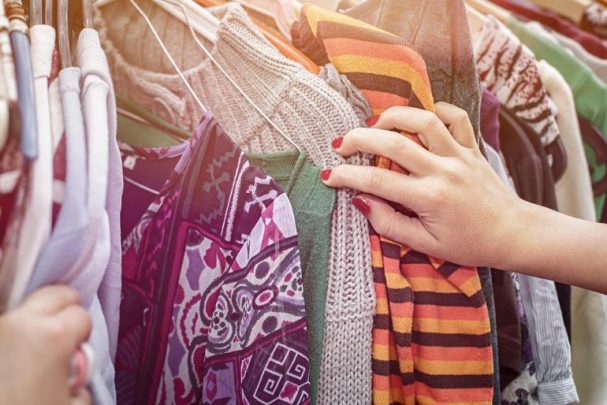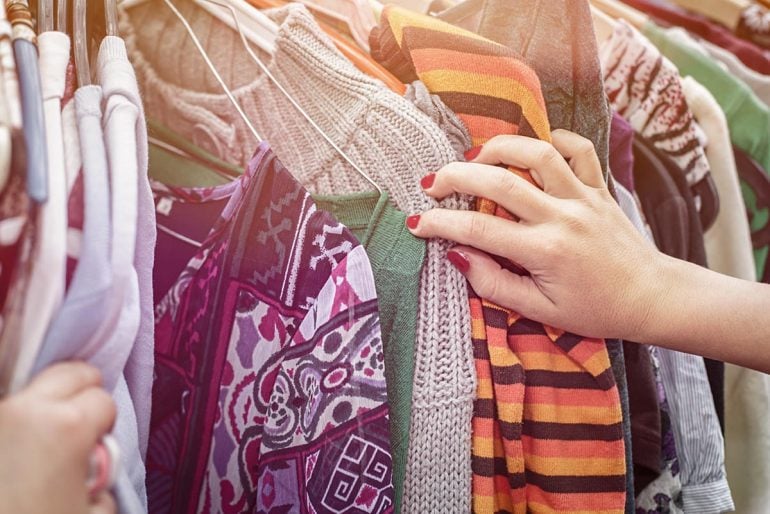 If you're looking for a way to save money and still dress in trendy, fashionable designs, then thrifting is for you!
It's no secret how great thrifting can be for your wallet.
Thrift stores generally charge about 1/10th of the average department store price and are well-designed, uplifting spaces packed with hidden treasures. In fact, it's hard to tell resale from retail these days, because thrift shops can be just as good at meeting your needs.
If you love thrifting and vintage clothing, you're not alone! About 16-18% of women regularly shop at thrift and consignment stores looking for deals and unique styles to add to their wardrobe.
Let's look at some tips for getting the most out of your thrifting adventure.
Tip #1: Know Your Colors
Here's a way thrift stores outshine all others: they're often organized in sections by color—a trend first popularized by Goodwill Industries in the 1990s. This works perfectly when you're Dressing Your Truth, which uses Color and Pattern Guides to help you select the right hues.
For example, bright white doesn't look good on everyone. On the spectrum of energy, pure white falls at the extreme no movement end of the spectrum, meaning it isn't a great fit for a dynamic Type 3 woman. She'd look better in a golden wheat color, which would be easy to spot in the color-coded sections of a thrift store.
Basic black also isn't a great fit for most Types of beauty. Type 4 women feel that black matches the sleekness of their energy, but for all other women who are not Type 4's, black is a weighty, draining color. Add some more color to your wardrobe by focusing on your Color Guide.
Tip #2: Look at the Lines and Shapes
As you browse through the racks, take care to observe the lines of clothing. Decide whether the lines match your Energy Profile and the shapes associated with it.
Look beyond the overall shape of the garment alone. Observe the pockets, collar, sleeves, shoulders, hemline, and neckline. What shapes do you see? Are they soft and round, or sharply geometric?
A Type 2 woman, for example, will look best in soft, subtle lines and shapes. A crisply-tailored, magenta jacket isn't the right look for her, so it can go right back on the rack. Instead, she could seek out a soft, blended-pattern blouse that flatters the energy of her gentle shape.
A Type 4 woman might come along and pick up that bold hue magenta jacket because she has the right kind of energy to support a stark, contrasting look.
Below are some rules of thumb you can use to shop by shape and your Type of beauty:
Type 1: Bright, animated shapes will support a Type 1 woman's light energy.
Type 2: Soft, flowy shapes work with a Type 2 woman's gentle energy.
Type 3: Earthy, textured patterns suit a Type 3 woman's dynamic energy.
Type 4: Large, bold statement pieces complement a Type 4 woman's grounded energy.
#3: Consider Feel and Fabric
Sometimes you'll pick up an item at the thrift store because you love the color, but the fabric is all wrong. Certain fabrics aren't matched to your Energy Profile. Wearing them, you'd feel uncomfortable all day long.
To illustrate this point, Dressing Your Truth did a dressing experiment where women of all four Types of beauty tried on the same outfit – a dark, structured blazer with a thickly-woven form-fitting skirt. While the Type 4 woman felt totally at ease, the other women felt uneasy. In fact, the Type 3 woman commented that the texture of the skirt felt so odd to her, she looked forward to taking it off her body.
To discover your perfect look and find what makes you uniquely beautiful, go through our free course! You'll be guided through a before and after that will bring you confidence for the rest of your life!
#4: Find Flattering Patterns
Learn how to pick up the patterns that flatter your energy, and pass by those that don't – no matter how good the bargain may be. Your Color and Pattern Guides will provide excellent guidance here.
A Type 3 woman, for example, is a good match for rich, textured, dynamic patterns, while a Type 4 woman should seek out bold, contrasting stripes. Both kinds of patterns can be found throughout any thrift store, but each woman should be making a beeline for the patterns that suit her.
Of course, it's also important not to get stuck in a pattern rut. A Type 4 woman looks great in bold stripes, but other symmetrical shapes would suit her too: high-contrast animal prints, bold polka dots, or clean herringbone should also make their way into the rotation.
#5: Rule Out Poor-Quality Items
Dressing Your Truth is about finding signature pieces you can rely on, so never buy poor-quality items at thrift shops. Look each item over for quality stitching, solid buttons and zippers, and an absence of rips and stains.
They often separate out the highest-quality items, including those still with their original tags, and place them on a special rack or shelf. Always stop by these valuable spots in the store. You may find excellent designer pieces at bargain basement prices.
#6: Final Question: Do You LOVE It?
Before you head to the checkout, ask yourself one last question about each item you found at the thrift store: "Do I absolutely love it?" If you're not sure, don't buy it. It's really that simple!
By asking this final question, you'll probably end up purchasing only about 1/3 of the items you originally intended to buy. That's a good thing. It means you're finally Dressing Your Truth and enjoying total confidence in everything you wear.
Happy thrifting!