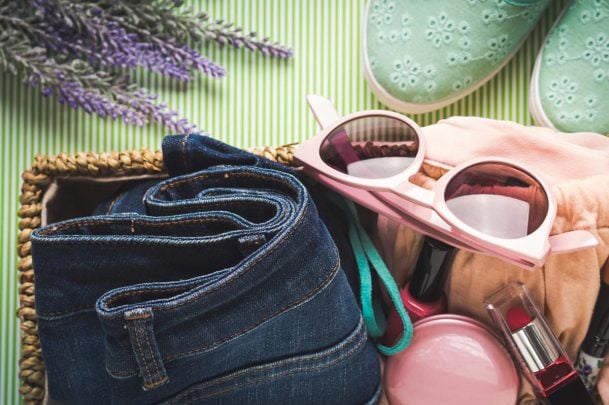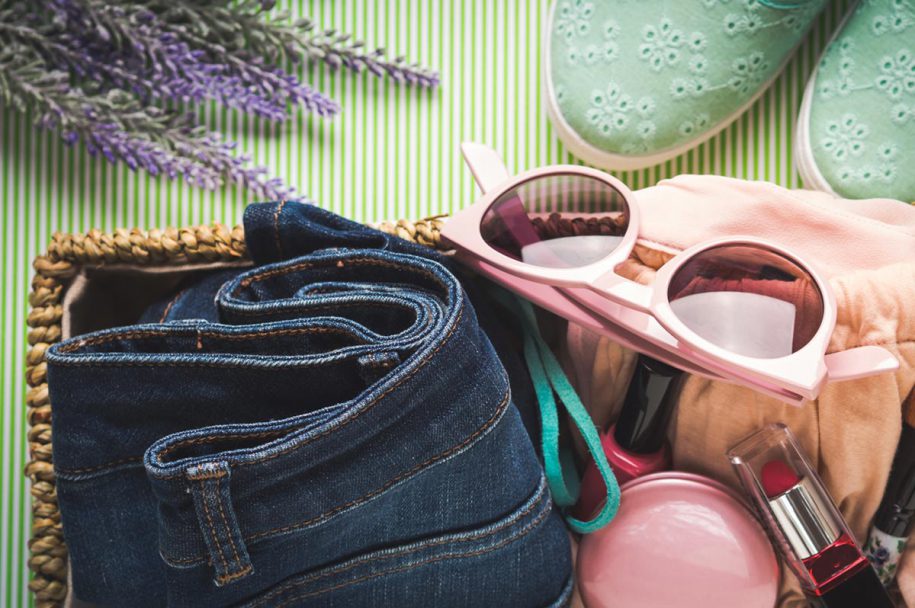 There's a good reason more and more women are choosing the capsule wardrobe idea—it reduces all of that overwhelming decision making and still gives you fabulous outfits.
Now that winter's over, you're ready to leave your snowy boots behind and step out into the fresh sunshine, looking and feeling great!
As you spring clean your closet, check this list of essential items you need for a versatile spring capsule wardrobe:
Shift Dress

Every woman needs a shift dress in her closet. They're so versatile! You can dress them up or down, with booties, flats, or sandals. Go with a color that you consider your "signature color" so you always feel great in it.

Whatever makes you feel the most comfortable and brings out your true beauty–that's your signature color. If you're still figuring out your personal style and best colors, start your free Before & After course here!

Short-Sleeve Floral Shirt

Flowers are starting to bloom, so wear them! Just remember, not all florals are alike, and you'll look best in certain ones.

We have a Lifestyle video series for each of the 4 Energy Types to help you determine which ones are meant for you. Watch it here: Florals for Every Type.

3/4 Sleeve Length Blouse

Nothing says "ready for spring" like a mid-length sleeve! This one is great for working in the office or occasions that require a dressed up look, like a date or evening with your friends.

3/4 length cardigan

As soon as the warm weather hits, you want to ditch your heavy coat. This cardigan will be the perfect layering piece for wearing over a top or under a light jacket.

Colored Jean

Springtime calls for more color. Don your colored jean to create multiple looks with different tops.

Need some direction on how to find the perfect jean? In Dressing Your Truth, you'll want to look for specific things to find the best jeans for your Type of beauty. These Lifestyle videos about each Type's jeans will be a great place to start.

Cropped Pants

For the warmer days, cropped pants bring a new look to your style. Go with a dressy or casual pair of cropped pants—or both! They look great with flats or sandals.

Dress or Skirt

Make sure you have a dress that makes you feel incredible. At this time of year, you'll want something special for those special weekend occasions, like Easter, Mother's Day, or a bridal shower.

Flats

A pair of stylish flats can be worn with jeans or dressed up with a skirt. Shoes can make or break your outfit, so make sure your shoes are correct for your Type!

Booties

We're all craving warmer weather, but just in case it gets cold again, have a bootie on hand to support you in seizing the day. If you had a darker color in the winter months, go for a lighter, more cheerful color for the spring.

Lightweight jacket

This kind of jacket will be great for those chilly mornings and nights while the sun isn't out. That fresh, chilled air is certainly welcome, and now you'll have a jacket to keep you warm!

Scarf

A lightweight scarf will not only provide a little extra warmth when you need it, but it will also add a beautiful element to your style!

Tips for scarfs for each Type:

Type 1 – True to your upward nature, keep your scarves light, a bright sunshine yellow, or even with some sparkle.
Type 2 – You naturally look great in a flowing design line. Try wearing a patterned scarf to add detail and interest to your look.
Type 3 – You're no fuss, so you choose scarves for their function more than an accessory piece. Choose a pattern or color that can go with a lot in your closet.
Type 4 – You don't want to mess with the flowing design lines. Choose a scarf that has clean lines and can stay put. A bold color by your face is stunning!

Makeup Starter Kit

Makeup is an essential part of your overall look in that it brings out your natural beauty as an enhancer.

Instead of switching out your makeup from light to dark every season, get makeup that is true to who you are year round. These Makeup Starter Kits are curated to bring out your individual Type of beauty. And because it's all in one easy kit, you'll complete your makeup routine faster!

Have you created a spring capsule wardrobe? How did it help you save time and money and make dressing easier for you? Share in the comments so others can learn from you!

Want more spring style inspiration?

We create personalized StyleInspire boards for each Type two days a week. It's like having a personal shopper at your fingertips! They include outfits, accessories, jewelry, and other personal items you need to create your spring wardrobe. StyleInspire is just one of the benefits you'll get when you become a Lifestyle member.