Are you familiar with this hair myth? "The older you get, the shorter you go!"
You probably saw your mother and grandmother get short haircuts as they aged, so naturally, you think that's the next step for you too. This definitely doesn't have to be true.
One of the reasons this short hairstyle trend became popular in modern society was for practical reasons. Hair tends to become thin and brittle as women age. It's also true that, on a daily basis, short hair can be easier to manage and maintain than long hair. Personally, I love having my short hair. It's easy to style every day and helps me get ready very quickly in the morning-plus, it supports my active and swift nature as a Type 3 woman.
But many women choose a short haircut simply because it's what they think is expected of them. They automatically rule out long hair because they think that's only an option for younger women. Because of this, women opt to decrease the length of their hair with each year that passes.
Well, I'm here to tell you that women absolutely can have long hair, no matter what your age is!
Hair is simply one way to express yourself, and together we can bust the myth that the only way to express your hair is with short hairstyles if you're over 50!
That being said, you will need to keep it in tip-top shape. Hair naturally loses its shine and vibrancy the older you get, but don't be intimidated-managing your long hair is easier than you think!
In fact, long hairstyles actually can be easier to maintain than short hairstyles since you will not need to make as many visits to the salon to keep the style looking just right. Short hair shows the "growing out" phase very quickly, whereas a long hairstyle will give you more wiggle room in between appointments.
You should also check out my favorite fashion tips for women over 50.
How to pick the best long hairstyle for YOU
No long hairstyle is one-size-fits-all. You'll want to discover your true Energy Type so you can style your long locks in a way that reflects your unique energy.
Take the Hairstyle Quiz now!
This is what Katie, a rich and dynamic Type 3 woman, discovered: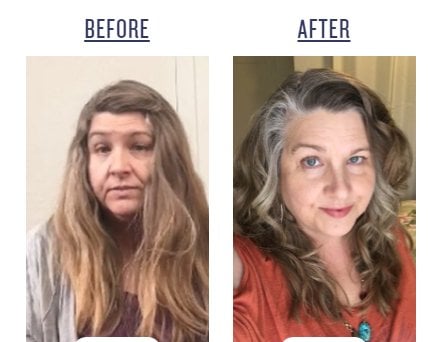 "Being a woman over 50, I know it's culturally expected for me to cut off my long tresses and go short. I've always preferred my hair a little longer because it gives me more options. After learning I was a Type 3 I was thrilled to learn I could keep my hair long, and keep my natural grays (free highlights!) while still honoring my energy. I just need lots of layers to add angles and edginess. If my hair is too long or all one length it pulls my energy down making me look old and tired. Thanks to DYT, I finally love my hair and know I can still look younger and stylish!" -Katie
How to Rock Long Hair at 50
We all know that hair naturally turns gray and/or white with age. But your hair color isn't the only thing that changes as you reach the golden years. You'll notice the texture will change too. Over time, fine hair may feel thinner and more delicate, while thick hair becomes stiff and coarse.
Both are normal, but they don't have to turn your long hair experience into a negative one. If you don't like how your hair feels, don't fret!
While you might be tempted to throw it up into a ponytail when you get frustrated, just remember that there are preventative measures you can take, as well as routine maintenance you can keep up with on a regular basis, to keep your hair looking and feeling healthy.
Here are tips to manage your long hair with all the changes it will undergo.
Tips For Thin Hair
You'll want to gently encourage blood flow to your scalp and hair follicles. Twice a week, take a few extra minutes to give yourself a relaxing, in-shower scalp massage.
Fragrant and herbal hair rinses will also help stimulate healthier hair growth. These rinses strengthen the hair, follicles, and scalp without the use of harsh chemicals.
Use an anti-dandruff shampoo to fight scalp infections and promotes a healthy scalp.
Avoid using too many hair products, as they can weigh down the hair. The volumizing dry shampoo from the DYT Online Store is a perfect product to use on your roots to create more lift and "mmmph."
Also, consider switching up your cut and hairstyle for thinning hair by leaving wispy or layered styles behind. This kind of a style will only make your hair look and feel thinner! Go for a blunt cut to give the appearance of thickness, especially at the ends.
Tips for Thick Hair
Use a leave-in conditioner to add manage-ability to your coarse hair. Hair Repair from the DYT Online Store is a gentle leave-in moisturizer that reduces frizz and increases softness.
Have your stylist add in layers to take the extra bulk away. Thick hair takes longer to dry, so by removing the extra weight, you also decrease the drying time. The less heat from a blowdryer or straightener, the better!
One of the reasons hair appears to be coarse is because it loses its shine as you age. Consider a plant-based hair serum to give it a healthy, soft shine again.
Try longer layers to lessen the volume and increase the visual of length in your hair.
Tips for Tight Curls
For type "C" curls, you will want to keep the hair moisturized. Tight curls do better when you avoid brushing while dry and only comb through tangles when the hair is loaded with conditioner. Take advantage of your curls; go for the cute and sassy look.
Tight curls experience a lot of shrinkage, so you should only work with a hairstylist who really understands curly hair. A dry curly cut can help ensure you get the shape you want with your long curly hair.
To Go Gray or Not?
How awesome is it that women have so many hair color choices in the time in which we live. You see inspiring examples of different hair colors for women your age everwhere. Gone are the days of only choosing a sandy blonde! Now, you can pick a bold, fun color or stay with something more traditional! That's the best part: the choice is yours.
Or, you can do what so many women are choosing: go gray!
Going gray is a natural sign of aging, and the moment you embrace it, it's like starting a brand-new phase in life.
Once you've gone gray, you'll want to stock up on purple shampoo, because over time, your hair can start to get brassy. Purple shampoo will take out that "orange" sheen and return it to the lovely ashy, silver you want.
One of the reasons women resist their gray hair is because they're afraid it will make them look haggard and like an "old lady." But that doesn't have to be the case. If you decide to go gray, you can do it in such a way that it doesn't add years to your appearance: How to Go Gray Without Looking Old
Vitamins That are Great for Healthy Hair
You'll want to stay consistent with the following vitamins, which will add health and vibrancy to your hair. While you can always take a supplement for each of these, I actually prefer and recommend you get as many of these vitamins directly from the source: from healthy food choices instead.
Zinc Pumpkin seeds and lamb are sources not only of zinc but also selenium, niacin, and vitamin B-12.Vitamin C: Strawberries, oranges, leafy greens – just to name a few!Vitamin D: Tuna, salmon, and other fatty fish.Iron: Parsley, broccoli, and spinach are excellent sources of iron.B-complex: Peanuts, fish, chicken, yogurt, mushrooms, avocado, and sweet potatoes.
Find the Right Updo
Sometimes you need a break from long hair. When you have a go-to updo, you will have a way to get relief from your long hair when you feel like it.
A fancy updo will also provide a solution if you have an event. This can be a fun way to change up your look or offer a solution if your hair isn't being cooperative. The elegant Chignon is a textured bun that can be perfect for special occasions. There are many fancy updos that can work well for long hair when you are over the age of 50.
Take Care of Your Long Hair
The right care regimen will be important for healthy hair for aging women. Here are some top tips to help you take the best care of your hair:
Consider a dandruff shampoo if you are noticing any flakes—it's anti-inflammatory and can help reduce the risk of scalp infections.
Treat your hair carefully by avoiding any pins or hair ties that will pull out hair. Try to let your hair hang loose as often as possible to alleviate pressure from your scalp.
Drink more water in order to hydrate the skin (including the scalp!).
Eat healthy fats, like fish and avocados, to increase the moisture retention and flexibility of your hair.
Use more conditioner (especially in the ends of the length) if your hair starts to look dry.
Do What Makes You Feel Comfortable
Hair is an integral part of any woman's self-esteem. It's your crowning glory, so if you want to keep your hair long, you can! You can do whatever you feel comfortable with. Don't look to your friends, your family, society, TV shows, or magazines to determine what length your hair should be! Tune into what YOU want, and then go from there.
Now, let's look at some beautiful styles to inspire your next long hairstyle.
5 Long Hairstyles for Women Over 50
The right cut can make it so much easier to get ready each day. Here are five perfect hairstyles for women over 50 who want to keep their hair long.
1. Textured Layers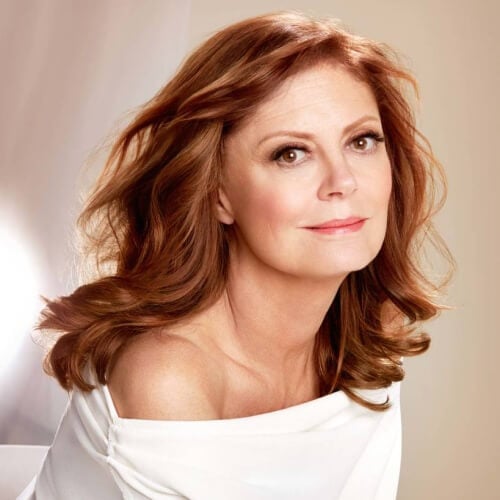 Long layers are great for thin or thinning hair. Before, you may have felt tempted to throw your longer hair up into a ponytail, but try a blowout with this style instead. Use a boar bristle brush while styling with the blowdryer to add volume and texture. This can work for medium length hairstyles as well, though the layers may need to be slightly shorter.
Recommended Product: Weightless Styling Mousse
Like the name suggests, this lightweight foam gives you maximum volume and soft hold, which works great for adding body to fine hair. The conditioning formula moisturizes hair while infusing it with shine and bounce. How have you lived without this?
2. Flowy Locks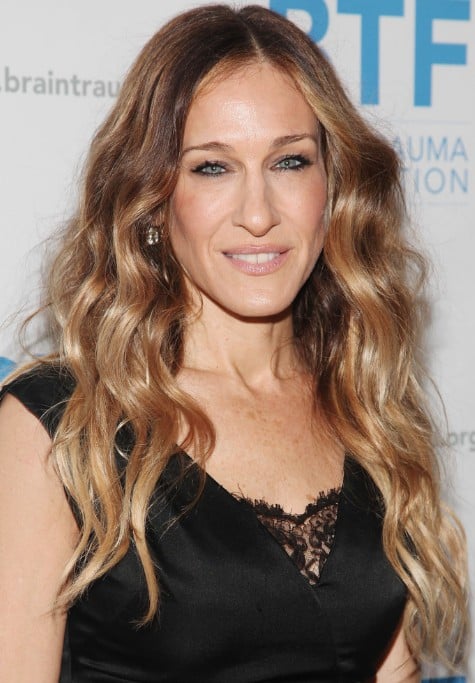 Flowy, wavy hair can make you look younger. Keep your hair trimmed and free of split-ends so it is healthy and not wispy. Apply a hydrating coconut oil mask to your hair before you wash your hair or by use a deep conditioner in the shower to keep the ends healthy.
Recommended Product: Cleansing Conditioner
This lightweight conditioner rinses away build-up while moisturizing and detangling. The gentle formula works as a shampoo replacement, protecting your color and repairing split ends while preserving scalp's natural oils.
3. Bouncy Barrel Curls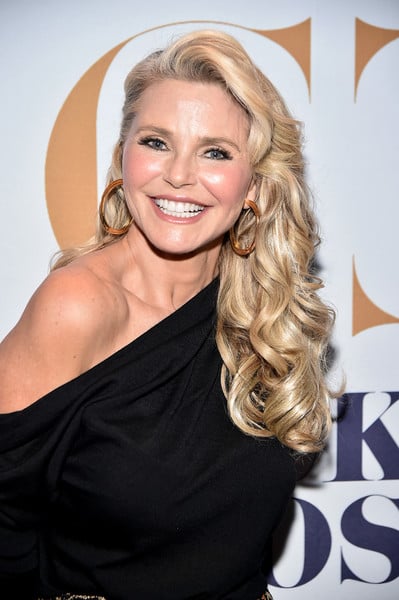 A soft curl give a youthful look that feels natural and inviting. This style works especially well if you have medium-to-thick texture, although even thin hair can benefit from the extra volume and bounce!
Recommended Product: Creamy Curling Gel
This creamy gel shapes your curls into softness and holds them in place, without feeling like a typical gel! It's more like lotion for your hair. It smooths frizz while adding fullness and body. Great for medium to thick hair.
4. Pronounced Bangs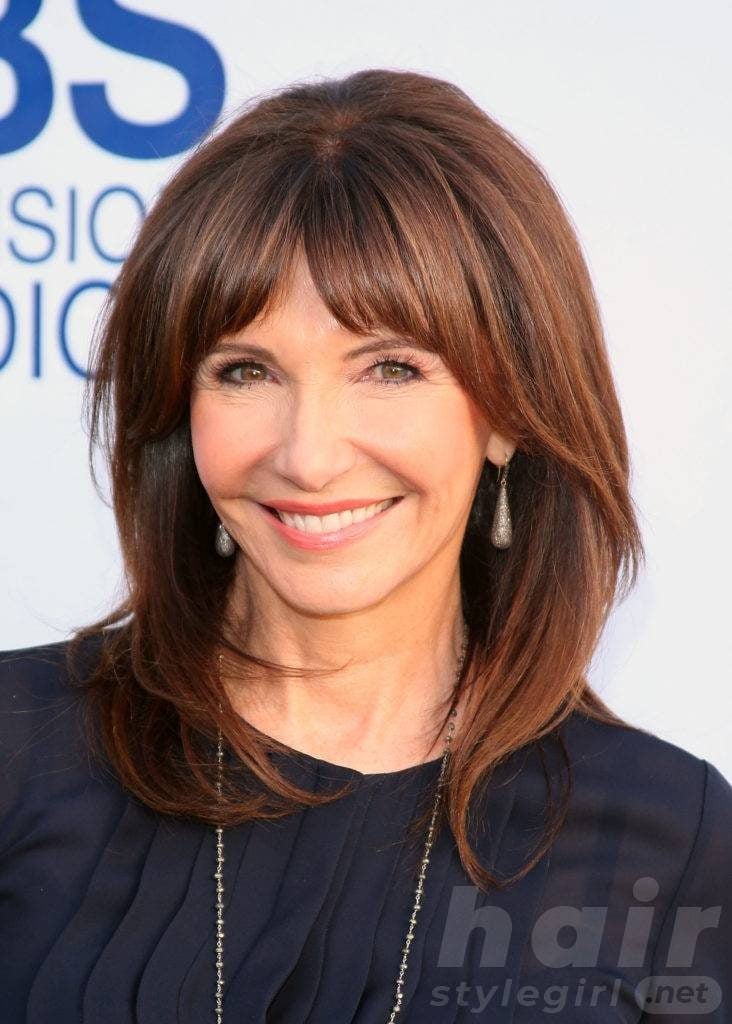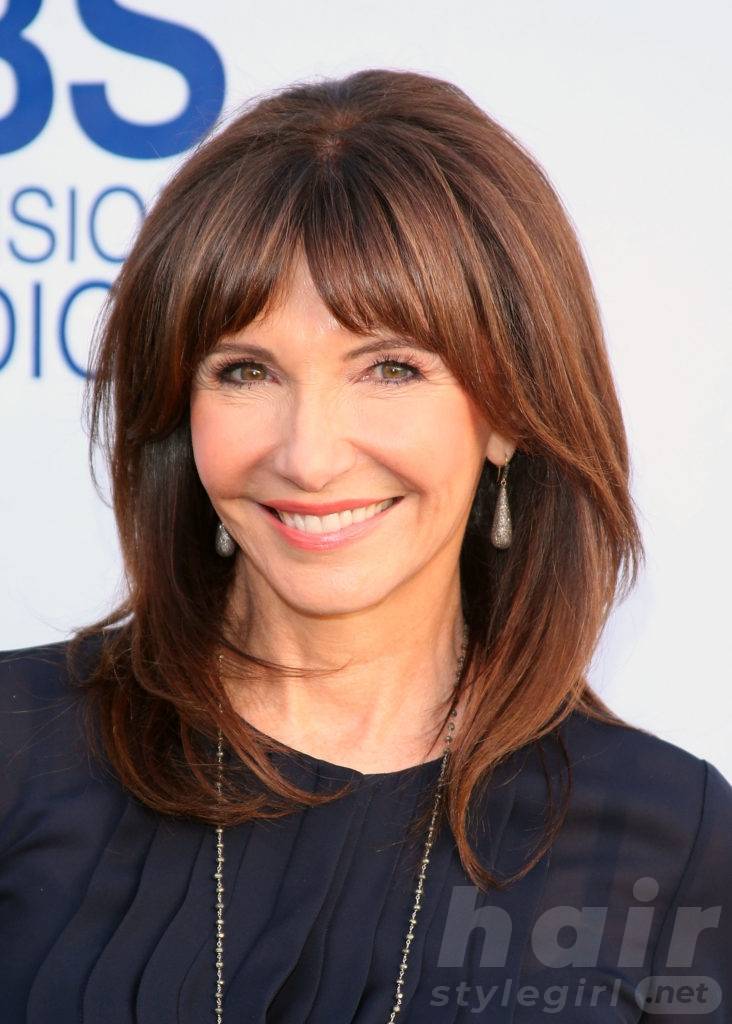 Bangs are such an easy way to give your long hairstyle personality. They frame your face and give you a youthful look. All bangs are not created equal, though! So you'll want to make sure you get the best bangs for your Type.
Based on your Energy Type, consider these variations for your new bangs:
Type 1 – Your keywords are: light, bright, animated. Go for bangs that are playful, fun, and bouncy. You can pull this off!
Type 2 – Your keywords are: soft, subtle, relaxed. Go for side-swept, blended bangs that have an elongated look.
Type 3 – Your keywords are: rich, dynamic, substantial. Your bangs can be exotic and asymmetrical, creating a v-shape across your face.
Type 4 – Your keywords are: bold, stunning, precise. Go with blunt and dramatic. The straight lines will work for you!
5. Highlights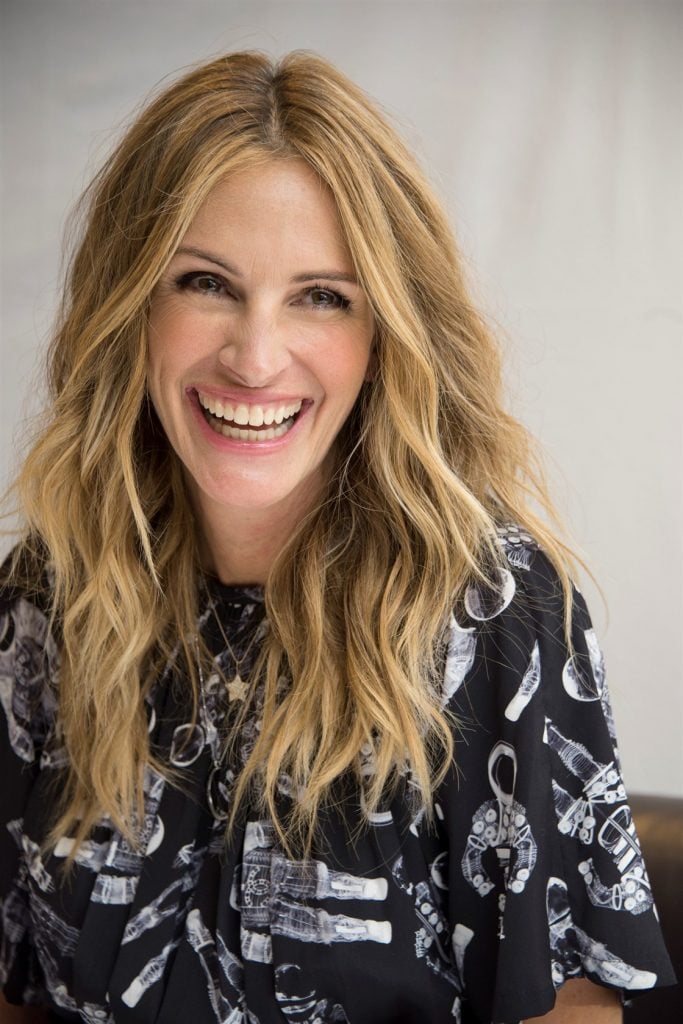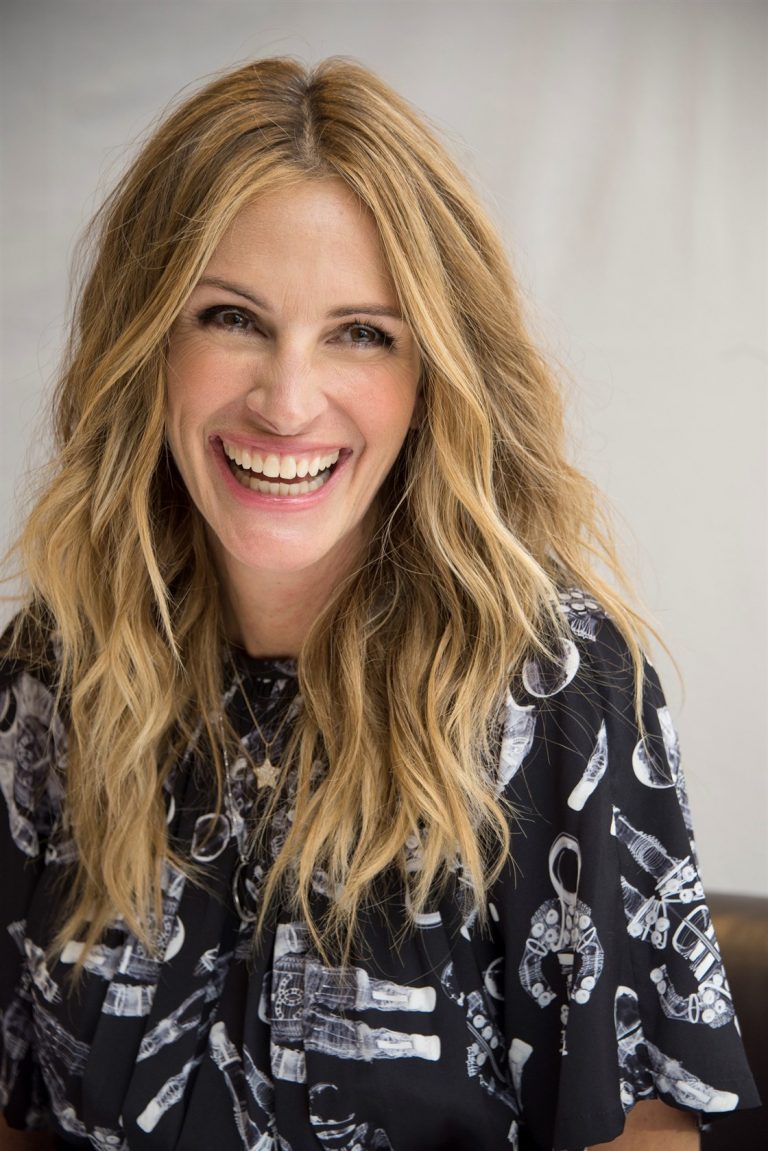 Highlights are the perfect way to add depth to your long hairstyle, especially because your hair will start to lose some of its natural shine over the years. When planning your highlights with your stylist, make sure to review the keywords in this Lifestyle video: Which Blonde is Best For Your Type?
The tips about choosing the best blonde for your Type also apply when putting highlights in your hair. You'll love your highlights because they'll be perfect for you and your Type of beauty!
Long Hairstyles to Avoid When Over 50
Always remember: you can ABSOLUTELY choose to rock whatever style you want! However, some hairstyles will age you more than others. Unless you are looking for a throwback look, you will want to avoid these outdated looks.
The Farah Fawcett (dramatic bang part with feathered layers)
Chelsea Cuts (long bangs and sideburns with a short back)
Pin-Straight Hair (without any volume, straight hair can look thin and flat)
Long Bob Hairstyle with Bangs (dramatically stylized cut that looks vogue but dated)
Wispy Bangs (thin bangs can appear as if you have a thinning hairline)
Undershaved Back (this outdated look can appear a bit harsh)
Baby Bangs (super short bangs that are usually unflattering for the average face shape)
Find the Right Hairstyle for Your Energy Type
Your Energy Type can help determine the right hairstyle to best fit your personality! You can learn more about how to better express yourself through your personal style when you understand your Energy Type.
We made it easy to find the best hairstyle that will work for you. Just take the 9-question quiz to get your results!
Let's get you looking and feeling incredible with a new hairstyle you'll love! 
Take the Hairstyle Quiz now!