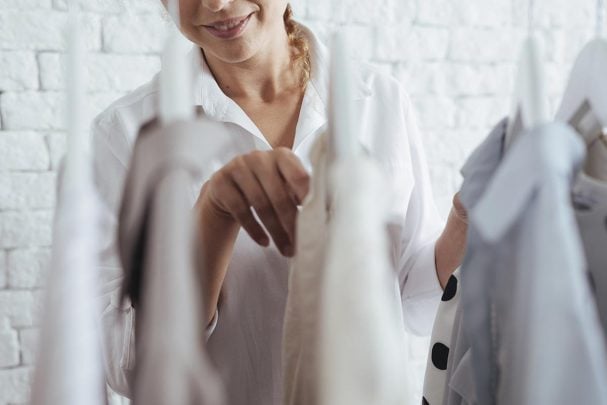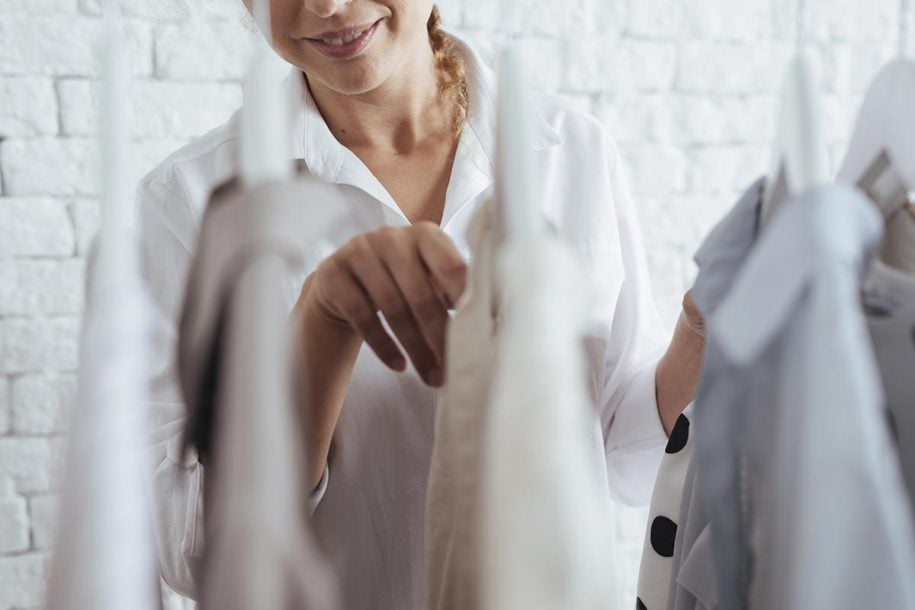 As a woman over 50, you want to dress in a way that honors the woman you've become. But we live in a world that is obsessed with youth and staying younger. This leaves you feeling pressured to make yourself "look" younger by following the fashion trends of what younger women wear.
But this isn't the right approach.
I'm turning 63 this year. I've never looked or felt better-and it's not because I'm trying to look like I'm 30! It's because I take care of myself and continually personalize my style to reflect who I am. I don't want to look like I'm half my age! I want to look great for my age and I know I do.
That's why I put together these tips around fashion for women over 50!
Before we get started, the main thing to remember is that I never recommend trying to "dress your age." In my Dressing Your Truth system, we talk very little about your age determining your style! Instead, I teach women how to create a personal style according to their Type of beauty. There are 4 Energy Types, and it's easy to determine which one you are based on a few basic profiling tools. After that, we really just focus on the energy and movement you naturally have within you-and you discover how to dress for that!
Dressing Your Truth is FREE! Start your Before & After today!
At the same time, I've gathered some fashion do's and don'ts for mature women over 50. Consider them more like guidelines that are meant to support you in creating a wardrobe that's classy and unique. You want a style that shows your seasoned personality instead of just defaulting to easy trends that might not work well with your changing body. So if you're wondering how to look stylish at 50, you'll love these tips!
What Not to Wear After 50 and What to Wear Instead
1. Too much makeup
Oh yes, we're getting right into it. Want to age yourself instantly? Put on way too much makeup.
Unfortunately, when an older woman wears too much makeup, she risks looking unattractive, harsh, or as if she's playing a role. As you age, you will naturally have fine lines and texture in your skin. But when you add heavy layers of makeup on top of them, they won't hold it well at all. In fact, your fine lines will only be exaggerated.
You want to avoid the typical "too much makeup" look of heavy foundation, bright blue eyeshadow, dramatic blush, and deep red lipstick that bleeds and feathers out.
What to do instead: Less is more! Scale back on the old-fashioned makeup look I mentioned above. Avoid sparkles in your eyeshadow since they'll just get stuck in your creases. Choose matte shades instead-you'll notice a huge difference.
I also recommend watching these makeup tutorials, made specifically for mature skin:
2. Cleavage
It's a common belief that cleavage is a sign of empowerment. Showing more skin might feel like sexual maturity and liberation, but for women our age, it looks desperate and unattractive. When it comes to cleavage, it's clear what not to wear!
A powerful tip: It's not the plunging necklines or cut of your blouse that will give you confidence and express your femininity. That comes from a deeper place within you. Clothes can simply be used as a further expression of the beautiful, mature woman you are.
What to do: Show off your alluring femininity with lavish fabrics like silk, satin, and cashmere. Use fur details and deep colors on your Style Guides (such as your Type's cream or champagne, plum or soft purple) to embody your natural sensuality without appearing desperate or attention-seeking.
3. Baggy and Oversized Clothes
Every few years, a new fashion trend surfaces that includes baggy clothes. We see celebrities and young women wearing baggy pants, oversized shirts, or large sweaters. You may even be tempted to wear them because you think they might hide extra weight or other "imperfections" about your body as you've aged.
However, instead of hiding all of these features, baggy clothing actually puts emphasis on them.
So stay away from them! Baggy clothes at this age make you look bigger.
There's one exception. It's okay to wear fashionably loose bottoms, as long as you have a fitted top or even a smartly-fit blazer. Or you'll look great with a slouchy sweater, as long as you're wearing fitted bottoms, like skinny jeans. What you want to avoid is baggy clothing covering every inch of your body. It just doesn't work for mature women!
What to wear instead: Wear clothes that fit you properly. You'll be amazed at the difference. You won't feel frumpy or afraid of being seen. You'll feel proud of your style, body, and confidence. But don't go too far into "fitted"-you want to avoid anything that's too tight, as that will also emphasize your features that naturally have shifted with age.
4. Light, neutral colors
I'm not saying you shouldn't wear any neutral colors, but you do want to avoid having your entire outfit, jewelry, and accessories be a similar light, neutral color.
This monochromatic look is much too harsh on older skin.
A special note for Type 4 women ( the only Type of women who can wear black ), you'll want to be careful that all of your clothing, jewelry, shoes, and accessories are not just black. Black is a beautiful neutral for you, but with so many incredible Type 4 colors to wear, you can add in bold and bright colors to give your outfit more interest and personality.
What to wear: Neutral colors are, of course, okay! But you want to make sure they are mixed with different colors of your Type of beauty. As a Type 3, I personally love to wear monochromatic outfits, but I make sure to balance it out with other rich and dynamic Type 3 colors. Want to see for yourself? I share so many of my #OOTD (outfits of the day) over on Instagram. Follow me there so you can easily watch my stories where I share a more personal side of my life.
5. Heels
While heels are traditionally seen as feminine, I think we place too much importance on them. They're not necessary for you to feel sexy, and in fact, they are terrible for your feet, knees, and hips!
As you age, they're simply impractical additions to any mature woman's wardrobe. They result more often in blisters and back issues than in boosted confidence.
What to wear: Slingbacks and flats. These shoes are infinitely safer for your joints and balance. In StyleInspire (which are Type-specific shopping boards exclusively for our Lifestyle members), we often feature true-to-Type footwear that's not only perfect for your Type, but is also comfortable and gives you fashion without sacrifice.
6. Crop Tops and Hot Pants
Let's be honest, these are really just trendy styles for teenagers and young women. You'll see influencers and fashion bloggers effortlessly wear these styles. But be careful! As a mature woman over 50, remember that you can be sexy without revealing too much skin. Crop tops will age you dramatically, and hot pants (which is another term for "short shorts") will not make you look young and hip.
One of the most liberating things about being a woman over 50 is not caring what others think about me-for me, clothes are not about just looking great with the sole purpose of impressing everybody else. We're past that! You've reached the point where you feel comfortable in your own skin.
In my current years, I want my clothes to support my lifestyle. I want to be able to move freely, be comfortable, and stay active without worrying that my shirt will ride up or my shorts will be revealing if I move around. I'm more excited to have clothes that support me in living a healthy life!
What to wear: T-shirts and shorts are fine-just make sure they cover enough! Your shirts can be form-fitting but not tight. You'll also look great in Burmuda shorts, where the length rests right at the top of your knees.
7. Too Many Old Fashion Styles
You'll want to be careful about pairing too many "old-fashioned" items together. For example, you don't want to wear a tweed skirt, Brogues, and flesh-colored tights in the same outfit. All of those together will bring you back several decades-but not in a cool, vintage way! They'll simply make you look much older than you'd like.
While some women want to stay youthful by wearing trends to make them look younger, another group of women abandon style altogether and place themselves in a "grandma" category of fashion. But I have a motto for you: "Grandma is a role, not a style."
There is no reason why you have to start perming your hair and following in your mother or grandmother's footsteps when it comes to fashion over 50. What they wore were fashion trends of their years but it's not for you! No need to default into Granny from the Beverly Hillbillies.
What to Wear: Pair skirts with stylish boots to instantly add modern class to your style. Tennis shoes could also be a fun, casual option, but make sure the rest of your outfit is truly put-together, so your shoes feel like a stylish accessory rather than an afterthought.
8. Fleece
Fleece zip-up sweaters are one of those quick and easy (and inexpensive) items we love to grab while we run out and get the mail or take the dog for a brisk walk. But what do they really say about you, your style, and your personality? Not much. I also don't believe these fleece sweaters flatter our bodies at all as we hit 50 and over.
What to wear: Look for a warm, chunky, slouchy cardigan. You can either go with a style that falls around your hips or a longer one that feels fashionably oversized. I also highly recommend having a smartly-designed "coatigan" that you can wear for any occasion. So many times we save our good items for fancy events, but I believe your every day of your life is a special event. Enjoy your wardrobe and your style! And now with the pandemic and covid affecting gatherings and social events, you'll enjoy dressing up just for yourself at home.
An additional thought about fleeces: if you're going to wear a fleece for outdoor, active occasions, invest in a higher quality item that has more structure and looks more flattering. It's the cheap, baggy fleece pieces that will only make you feel frumpy.
9. Elastic Waistbands
Ladies, I know they're comfortable, but they will age you instantly. If you absolutely love them and don't want to give them up, that waistband must be hidden!
You can do this by wearing a longer top or simply tuck the front of your top in and then pull out just enough to cover the band. This is called a French tuck and is a great compromise of wearing your elastic waist pants while adding a touch of style.
What to wear: Another option would be to opt for tie-waist trousers. You've probably seen them and wanted to try them yourself! They tend to be a high-waist option, and they're meant to have a noticeable waistband. Women of all body types could easily pull off this style. You can still achieve amazing comfort and a defined waist without risking an unflattering fashion. Pair with a fitted, tucked-in top. You'll look and feel absolutely smashing.
10. Heavy Earrings
You already know where I'm going with this. That's right. Time and gravity will eventually stretch your earlobes. It's those older pieces that weigh so much and were not made with your long-term interests in mind!
Luckily, jewelry is now made with much lighter materials these days, so while you may want to set your old pieces aside, you'll find plenty to replace them with!
What to do: In the DYT Online Store, we have jewelry releases with beautiful options meant just for your Type. We make sure to have a great mix of small and large pieces. So even if you like chunky or substantial earrings, you can rest assured that they're still light enough for you to wear time and time again without risking your earlobes stretching down!
Extra Tips!
Jeans that fit you well and have a flattering cut will always be a good choice, no matter your age. You can dress up your jeans easily with the right top and accessories. Want more guidance? How to Find Your Perfect Pair of Jeans
Classic styles are always a good idea for mature women. A belted trench coat, button-up shirts, and tunic-length tops will flatter for years to come.
Embrace your gray hair. It's a personal choice if you'd like to go gray, and it can be wonderful, just like it was for Susan when she chose to embrace her gray .
If you're not ready to embrace your gray hair, you can still choose a gorgeous hairstyle without looking like a "little old lady." Work with your stylist to come up with some great options. Need ideas? See how Marcy avoided old lady hair here.
Want to create a personal style you love-no matter your age?
I've helped hundreds of thousands of women determine their Type and come alive in their lives and fashion. Just like Jackie Lynn!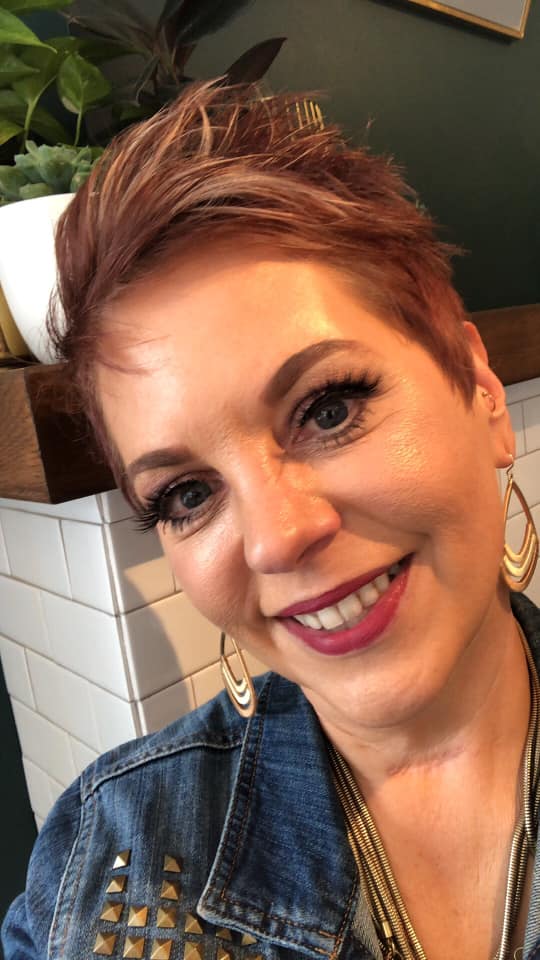 Jackie Lynn shares: "Grammy to 7 grandbabies here!! My motto is 'nobody puts me in a box'! I'm 52 going on 30. I dress for my Energy Type and personality – not a label. I'm a Type 3/1 who loves to have fun and they know it! No one ever believes my age!"
Want to get started with Dressing Your Truth? It's quick, easy, and fun!
Dressing Your Truth is FREE! Start your Before & After!
Share this post with a sister or friend! You can dress your truth together.