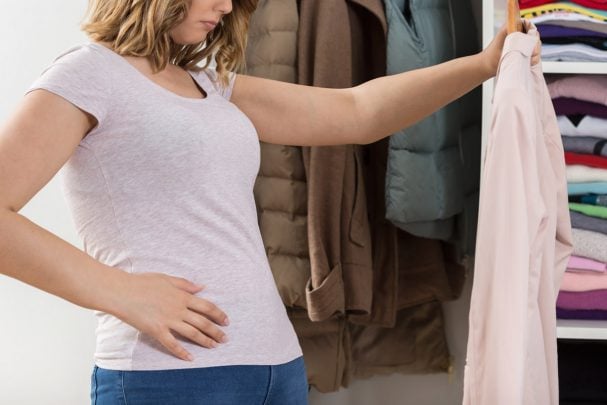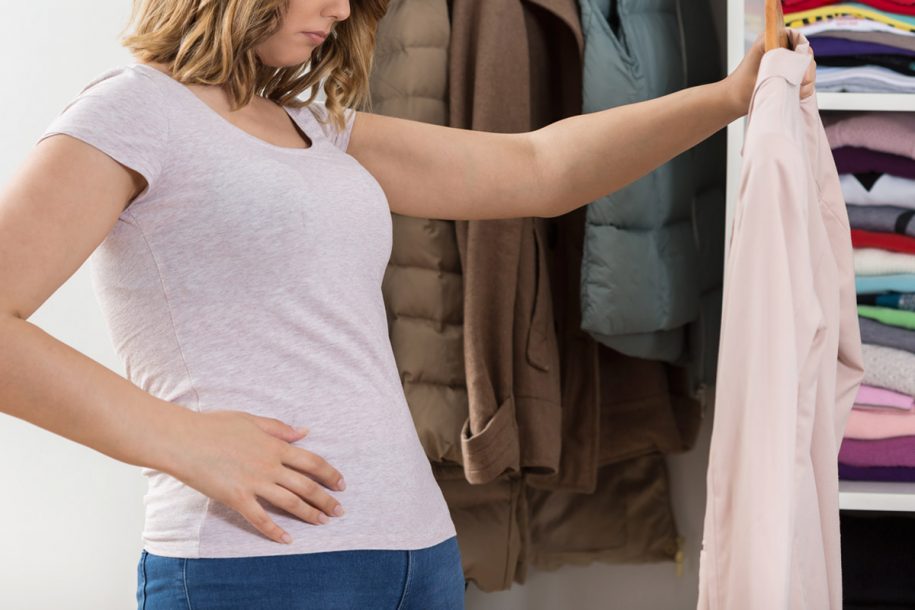 No woman wants to accidentally dress in a way that makes her look 10 lbs heavier than she is!
This year may have been challenging for you. All the holidays, change of routine, pandemic life, stress—these are all reasons why you may have put on a few extra pounds. It's normal for a woman's body to fluctuate a little with weight, and maybe weight loss feels hard for you. But the fact of the matter is: you don't like the changes you see. Your buttons don't close like they used to, your zippers require a bit more tugging than you'd like, and your favorite seasonal clothes from last year show your changing figure.
Whether or not you're at your healthy weight, you most likely don't want to look like you're carrying more weight. And oftentimes when women look heavier, they feel it too. In my opinion, that's even more challenging.
But it's an easy fix. Consider the possibility that some of your clothes are making you look and feel heavier than you really are. When you swap out some clothing choices, you'll instantly look and feel better!
It's important to note: this blog is not about losing weight, but instead about easy ways to dress to look 10lbs slimmer in an instant. If you would like to participate in my highly-successful Healing Plan for Weight Loss, we begin a guided experience starting in January 2022.
Add these 15 fashion tips to give yourself a light, healthy feeling of being 10lbs thinner:
1. Get a new set of underwear.
Not what you were expecting—but hear us out! Updating your underwear will honor your figure and get rid of squeezed body parts that can show up through your pants or shirts. Tight underwear is uncomfortable and draws more attention to the areas you don't want people looking at!
The correct-fitting bra makes a world of a difference in your figure. By lifting your breasts and creating more space between your chest and your waist, you'll naturally get more length and tone in your torso.
For underwear, find seamless, high-cut briefs. These provide comfortable coverage all around. And not to mention, we think getting new underwear can be fun and enjoyable. So why not honor and accept yourself with a lovely gift of new undergarments?
2. Opt for v-necks whenever possible.
Repeat after me: the best neck is a v-neck!
Avoid exaggerated cowl necklines and turtlenecks. Cowl necklines add bulk, and turtlenecks cover your neck and make it look fuller.
What you want to go for are v-necks. They strengthen your shoulder line and lengthen your neck and torso. They balance your broad hips and thighs as well.
They also give definition to your chest, without showing cleavage. (That's not a necessary part of looking slimmer!)
What if you don't have any v-necks in your closet? Don't worry! Simply unbutton all of your shirts and blouses to create a natural v-shape at the neckline. You could even iron the sides down to create a wide V, instead of just a sliver of an opening.
Second best neckline would be a boatneck. This offers similar benefits to the upper body. But be careful it doesn't turn into a soft cowl, which is one of the necklines to avoid!
3. Be strategic with color.
Put lighter colors on top and darker colors on the bottom to draw the eye away from problem areas where women tend to gain the most weight.
Another option would be to go for a monochromatic look! Wear one color theme from head to toe, creating a fluid, elongated look. You can take your single-color style from a blank canvas to a style masterpiece.
4. Use bodysuits as smoothers.
Bodysuits have come around in fashion again, and they can be an excellent way to create the slim, taut line you want. Swim tanks are another great option you could use year-round. Swim tanks also allow you to tuck in a top without any extra bulge in the waistband.
5. Try no-waist dresses for a smooth look.
Sometimes using a belt draws attention to an area you're not happy with. So let's look for dresses that don't require a belt, such as shift, fit and flare, t-shirt, empire, raised waist, trapeze, etc. These will be more forgiving and friendly to you at this time.
6. Create elevation with shoes.
Get some height with your shoes. This will help you feel tall and elegant, instead of frumpy and close to the ground. Any shoe with elevation — a wedge, platform sneaker, or even a low block heel, kitten heel, mule or clog — will make legs look longer. You can go as tall as you want, but even 1-2 inches will create a boost in your height, impacting both your inner confidence and your outer stance.
7. Choose high-waist pants.
Yep, another tip to add length! High-waist pants are much better than mid or low-rise pants, which shorten the look of your body and draw attention to extra weight. Moving the rise of your waist up just a few inches creates a long visual for the eye. You'll feel incredible in them!
8. Think of a balanced silhouette.
Some of us don't gain weight evenly all over our bodies. The extra pounds go to our top or bottom.
If you're a bottom gainer, ditch the skinny jeans, knits, and pencil skirts. Instead, choose full A-line skirts and dresses as well as wide-leg pants — always with a fitted top.
If you're a top gainer, forget tight tees and slim-fit button-downs. Instead, pair puff sleeve tops, dropped-shoulder sweaters, and oversized shirts — always with a fitted bottom.
It's all about playing with proportions.
9. Untuck your shirt.
Keep your shirts untucked if you feel self-conscious about any bulges around your middle. Fitted tops (especially when you wear a belt) just accentuate your middle.
Extra tip: Tuck in your shirt! I know, didn't we just say…? But depending on your body shape, tucking in your shirt can actually highlight your hourglass figure and give you more of a waist. This is especially helpful if untucking your shirt makes you look frumpy or messy.
10. Wear more blazers.
Blazers are such a classy, sharp way to add style to your look and help you look thinner. Pair a blazer with your favorite ankle pants, jeans or leggings, and over any jumpsuit or midi dress. This is a quick and easy way to look thinner!
11. Highlight your narrow spots.
We're talking about your wrists, ankles, etc.
Swap long sleeves, pants, and maxi skirts for shorter ones — ankle-cropped pants and jeans. For sleeves, go with three-quarter, elbow, or pushed-up lengths. For skirts, show off your legs with a length that's no longer than mid-calf.
12. Pointed shoes: the ultimate slimming secret.
Try this. Wear your outfit with rounded-end toe shoes. Now wear the same outfit, but with pointed toes.
What a difference!
They help elongate your legs and give the illusion that they are longer than they really are. Avoid ankle straps, as they make your legs look thicker. And lastly, elongate your legs with tall, dark boots.
13. Wear vertical stripes.
We've all heard that horizontal stripes make you look wider, and that's so true here too! Don't wear horizontal stripes if you're trying to appear thinner. They will add width and weight to the look of your whole outfit.
You'll want to stick with vertical stripes that draw the eyes up and down, not side to side. Extra tip: Go for smaller, thinner, darker stripes.
14. Draw the eye upward with jewelry.
Add Type-specific jewelry to play up your look! A beautiful necklace draws the eye away from the bottom half of your body. Gorgeous earrings also help keep the attention on your face.
Necklaces, earrings, belts, and bracelets can help draw the eye away from problem areas while accentuating your best features.
For example, long necklaces take the focus away from the hips, big earrings draw attention away from the upper body and towards the face.
15. Black is slimming—or is it?
Most women believe that black is slimming, but the color black only works for a certain Type of woman! For all the other women, black actually can make you look tired, heavy, and older.
Depending on your Type, you'll want to choose your "black" alternative.
For Type 1, this would be a dark navy or chocolate brown.
For Type 2, this would be dark grey or charcoal.
For Type 3, this would be dark brown, dark olive, or even a dark peacock blue.
For Type 4, enjoy all your black!
Here's where you can learn about other "black" options for all 4 Types!
Hair and Make-Up Tips to Look Thinner
1. Keep your hair styled.
Ask your stylist about hairstyles that flatter your face and take years off your appearance. At Dressing Your Truth, we teach you how to determine your Type, and then style your hair, wardrobe, and makeup all based on your unique Type.
Some women skip doing their hair every day because it takes too much. But with the correct color, cut, and style, you'll learn tips to make your hair routine easy. Plus, having the best hair products from our DYT Online Store makes a big difference!
2. Wear makeup
Especially lipstick! Emphasizing the beautiful features of your face makes you look put-together, and a put-together woman stands taller, creating a naturally thinner appearance!
So have fun with it! Just add a bit of color to one feature at a time—usually either your eyes or your lips—and keep the rest of your make-up looking natural.
Want to look thinner? Change your mindset!
Stop telling yourself you're not thin or pretty enough. Start loving your body exactly as it is. Then watch as your body starts to get healthier and more vibrant because it is loved!
If you focus on what you don't love about your body, that's all you'll notice.
There's a strong possibility that you've taken on some amount of the negative, collective energy of shaming yourself because it feels easy. But there's a better way to live. You can change the scripts of body shaming by stepping into the power of your true nature.
Discover your Type of beauty today!
You can discover which of the 4 Types you are when you take my FREE Beginner's Guide. It will show you easily how to dress your truth—which makes you look slimmer just by wearing the correct items on your body.
This will help you finally see how your perceived flaws are actually your greatest assets. You'll love getting dressed every day. You'll look forward to developing your own personal style that expresses the truth of who you are.
And when you look good and feel good, you'll be free to do good in a world that needs your gifts.
Start your free Beginner's Guide today!
Know someone who would love this post too? #Share it with her!
We think you'll love these posts: