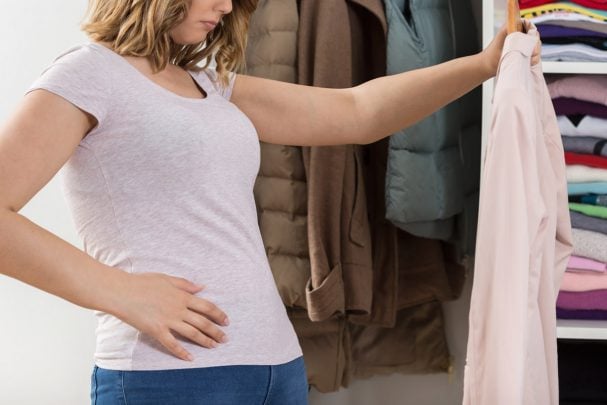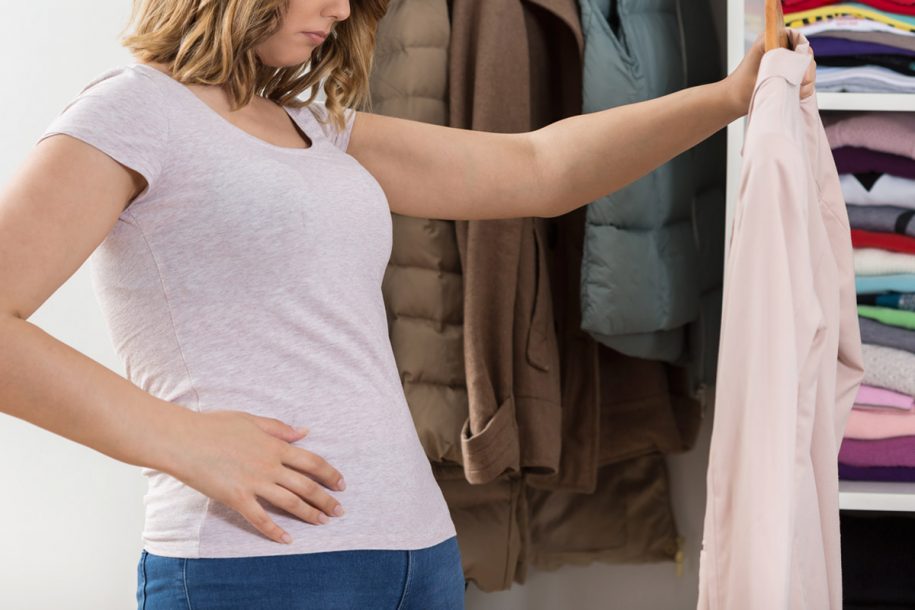 No woman wants to accidentally dress to look 10 lbs heavier than she is!
Whether or not you're at your healthy weight, you most likely don't want to look like you're carrying more weight. And oftentimes when women look heavier, they feel it too. In my opinion, that's even more challenging.
But it's an easy fix. Consider the possibility that some of your clothes are making you feel heavier than you really are. When you swap out some clothing choices, you'll instantly look and feel better!
Add these 7 fashion tips to give yourself a light, healthy feeling of being 10lbs thinner:
Your neckline matters. Avoid exaggerated cowl necklines and turtlenecks. Cowl necklines add bulk, and turtlenecks cover your neck and make it look fuller.
Draw the eye upward with jewelry. Add a beautiful necklace to draw the eye away from your bottom. Gorgeous earrings also help keep the attention on your face.
Untuck your shirt. Keep your shirts untucked if you feel self-conscious about any bulges around your middle. Fitted tops (especially when you wear a belt) just accentuate your middle. Extra tip: Tuck in your shirt! I know, didn't we just say…? But depending on your body shape, tucking in your shirt can actually highlight your hourglass figure and give you more of a waist. This is especially helpful if untucking your shirt makes you look frumpy or messy.
Be strategic with color. Put lighter colors on top and darker colors on the bottom to draw the eye away from problem areas where women tend to gain the most weight.
Wear makeup, especially lipstick! Emphasizing the beautiful features of your face makes you look put-together, and a put-together woman stands taller, creating a naturally thinner appearance!
Let's talk about shoes. Go for pointed-toe shoes to give some length to your legs. Avoid ankle straps, as they make your legs look thicker. Wear 2-4 inch heels to give you height and length. And lastly, elongate your legs with tall, dark boots.
Black is slimming—or is it? Most women believe that black is slimming, but the color black only works for a certain Type of woman! For all the other women, black actually can make you look tired, heavy, and older.
Most importantly, change your mindset!
Stop telling yourself you're not thin or pretty enough. Start loving your body exactly as it is. Then watch as your body starts to get healthier and more vibrant because it is loved!
If you focus on what you don't love about your body, that's all you'll notice.
There's a strong possibility that you've taken on some amount of the negative, collective energy of shaming yourself because it feels easy. But there's a better way to live. You can change the scripts of body shaming by stepping into the power of your true nature.
Discover your Type of beauty today!
You can discover which of the 4 Types you are when you take my FREE Beginner's Guide. It will show you easily how to dress your truth—which makes you look slimmer just by wearing the correct items on your body.
This will help you finally see how your perceived flaws are actually your greatest assets. You'll love getting dressed every day. You'll look forward to developing your own personal style that expresses the truth of who you are.
And when you look good and feel good, you'll be free to do good in a world that needs your gifts.
Start your free Beginner's Guide today!
Know someone who would love this post too? #Share it with her!
We think you'll love these posts: