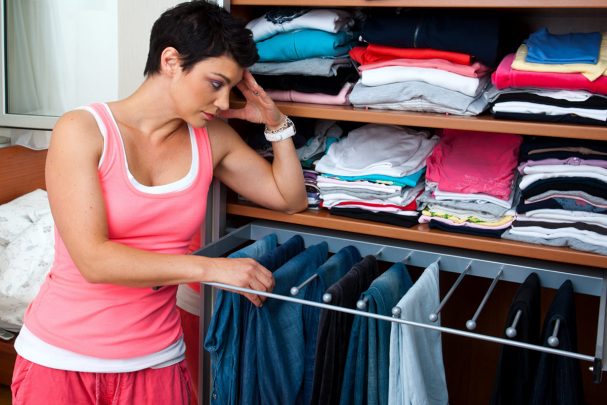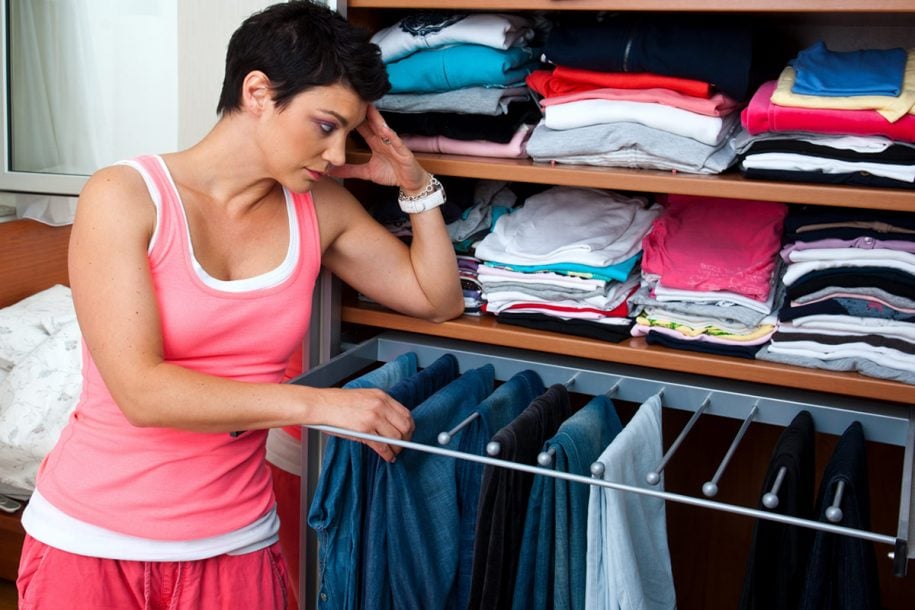 You're an hourglass body type. You're a pear body shape. You have an apple-shaped body. You have broad shoulders or narrow shoulders. You have a rectangle body shape. Sometimes it seems that every website and every magazine wants to tell you your body type.
There's the inverted triangle body shape, the lean column, the rectangle, the circle, and the oval … There's even a difference between a "neat" and "full" hourglass! It's all quite confusing and overwhelming.
But there's so much more to dressing for your body type than being a certain body shape. It's about finding what flatters your figure, feeling confident in your clothes, and knowing which garments match your specific Energy Type .
Dressing for your body type should really come second to Dressing Your Truth. Instead of asking, "What's my body type?" ask yourself, " What's my Energy Type? "
Dressing Your Truth by Energy Type
The free Dressing Your Truth Beginner's Guide gives deep insight into the many factors that combine to make you the unique person you are: facial features, body language, personality, thought processes – even your doodles!
As you learn to dress for your Type of beauty, you'll naturally feel that your clothing choices line up with your Energy Type. Are you a:
Bright, animated Type 1 woman?
Soft, subtle Type 2 woman?
Rich, dynamic Type 3 woman?
Bold, striking Type 4 woman?
Determine your Energy Type, and your clothing choices will begin to flow freely as you understand your best color combinations and components of style. You may even experience deep revelations and insights that guide your fresh approach to selecting clothes.
For example, Sherri is a bold Baby Boomer who didn't want age to hamper her style. But as she hit a certain age, she began to feel ignored by magazines and the fashion world. Sherri says the message the world sent her always seemed to be, "I'm old now. I'm invisible. Nobody cares."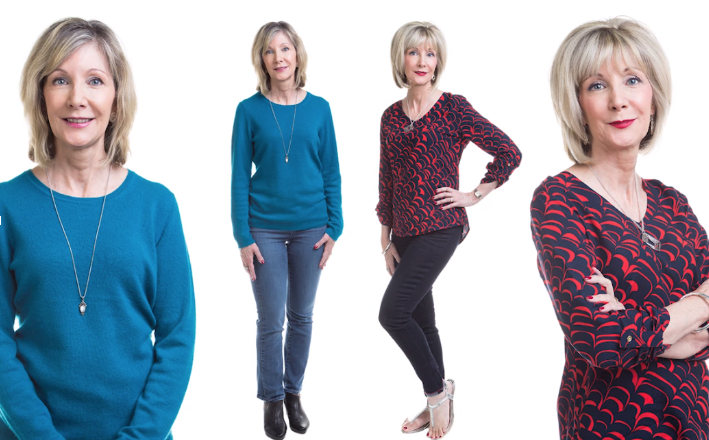 During a stunning before and after transformation, Sherri discovered she is a Type 4 woman – not a Type 2 woman, as she and others in her life had assumed. Knowing this made all the difference.
Sherri now dresses to accentuate her bold style, embracing her striking features and confident posture. As you can see in the photos above, the overall shape of the clothes really hasn't changed much – but her new look is high-fashion and much more flattering.
Now here's a study in contrasts. Meet Gina. She frequently wore bold, loud colors to fit in with an extroverted family and a competitive workplace. But the colors never felt quite right to her. In fact, they made her feel a little anxious.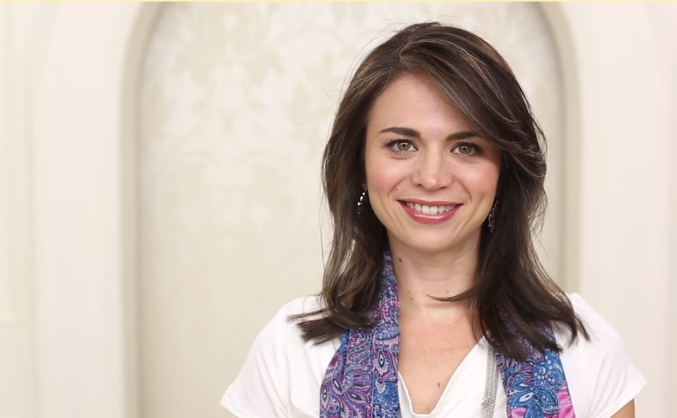 Gina discovered she is a soft, peaceful Type 2 woman who would feel much more comfortable in gentler colors and natural fabrics with graceful lines. After the makeover, she still incorporates color into her wardrobe, but more subtly – like draping a floral scarf across her shoulders.
What if Gina had tried to revamp her look based purely on her body shape? She would have missed the mark entirely. By matching her clothes to her Type of beauty instead, she uncovered the deeper emotions and energy motivations that guided her in precisely the right direction. That's a much more powerful approach than choosing your clothes based on body type alone.
What to Wear Based on the Feature You Want to Accentuate
Did someone say v-necks and skinny jeans? With help from Dressing Your Truth, it's easy and enjoyable to become your own fashion stylist. You can learn how to highlight your very best features and feel confident about getting dressed every day in clothes you absolutely love.
What's your best feature? We need to draw attention to it. Maybe it's your bright smile, defined waist, toned legs, bust, or flowing curves. Here are some features many women want to accentuate, along with tips for drawing attention to these features in a stylish way.
Legs
Proud of your legs? Accentuate your lower body with short dresses, skirts, and flared pants or trousers. You can also wear pumps and go for nude colors to give that mile-long legs illusion.
Height
Whether you're short, tall, or somewhere in between, stand tall and be proud of your height with long, graceful clothing lines that skim your body. High-waisted pants always add the look of height. Slim-fitting capri pants nip in at the ankles and can flatter both tall and short women.
Curves
Try accentuating the curve of your body with cinched or belted outfits. Wrap dresses hit all the right places. Or for those who are less curvy, create the illusion of curves with side cut-out dresses, ruffled swimsuits, and sweetheart necklines.
Waist
Maybe you have an hourglass shape and love your waist. Anything high-waisted will draw the eye to the smallest part of your torso. And while horizontal stripes can make you appear wider, vertical stripes have the opposite effect.
Upper body
If your upper body is a lovely shape, show it off with A-line dresses and skirts with a higher waistline. These shapes draw the eye upward to your top half and put the focus on your beautiful face, arms, and bust.
Face and smile
A flattering neckline brings all the attention to your face. Try a boatneck teed, a draping cowl neck sweater, or a fitted top with buttons or embroidery along the shoulder. A smart collar – maybe even with a pop of color – draws the eye to your smile and cheekbones. The right choice of tops can really bring out your best facial features.
Style Choices Can Bring Out The Best In Your Personality
Often, the most important feature to accentuate is your personality – the individual Energy Type behind your smile, posture, gait, movement, and more. No matter your body shape, your clothes must match your personal energy.
Take a look at Christine, a Type 3 woman who has sometimes felt like "too much" for other people. She's vibrant and tends to move through the world at a fast pace. But her old wardrobe clashed with her naturally swift, intense movement.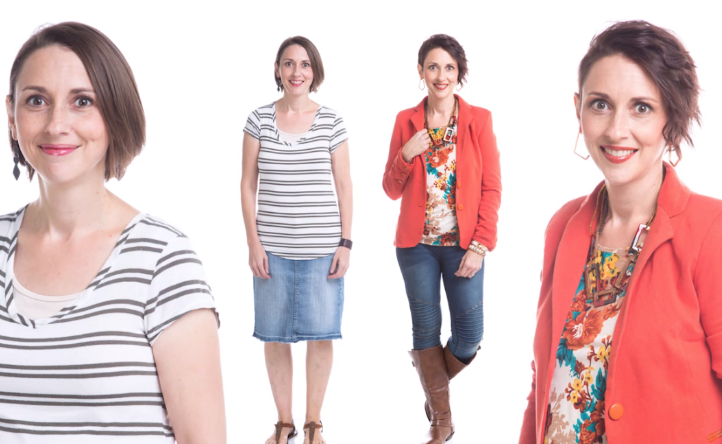 During her head-to-toe makeover, Christine learned that her shapeless, light-toned clothes weren't supporting her dynamic character. She needed lots more color and a bit more structure too.
And what a difference it made! With rich coral and jewel tones and a softly tailored blazer, Christine's revamped look supports her energy and still allows easy movement. Finally, she can experience the empowerment of feeling "just right" instead of "too much."
Now let's take a moment to see what happens when you don't dress to accentuate your best features and natural style of movement. Dressing Your Truth founder Carol Tuttle, who is a Type 3 woman, tried dressing in all 4 Energy Types to see what would happen.
Below, Carol's results are lined up by Energy Type from left to right: Type 1, Type 2, Type 3, and Type 4.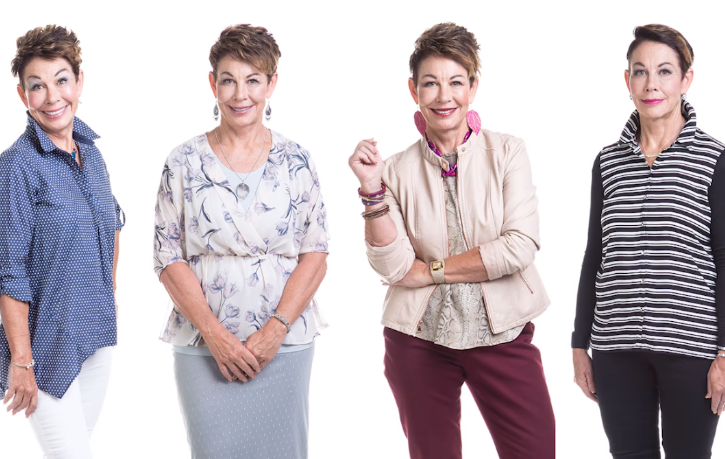 It's so clear that Carol feels most comfortable in her Type 3 wardrobe. During the experience, she shared that the other looks seemed to emphasize all the wrong physical features. For example, the structural Type 4 look drew attention straight to her hands, which made her feel awkward.
By contrast, the richness of the cranberry tones in Carol's best-suited ensemble seems to fit right in with her dynamic energy. Look how the collars on the third and fourth outfits are actually quite similar, but the third outfit highlights Carol's cheeks, face shape, and beaming smile.
She absolutely glows in the clothes that best suit her Type of beauty. Carol said she felt instantly relaxed when she was finally able to return to looking like a Type 3 woman.
8 Rules That Apply No Matter What Energy Type and Body Shape You Are
After seeing thousands of women experience the transformative power of a Dressing Your Truth Before & After, we've noticed that certain rules apply regardless of Energy Type and body shape.
First, don't try to squeeze your body into an unnatural shape. Welcome your actual body shape with open arms. Say it out loud: An hourglass shape is NOT the only desirable body type.
Free yourself from obsessing about a certain body shape – curvy, slim, pear-shaped, inverted triangle, athletic, whatever it may be. Connect with the woman inside you and allow her to shine from the inside out because any body shape or size can be perfectly, naturally you.
Here's another important tip: Don't dress your entire body to fit your largest proportion. You'll look like you're wearing a sack.
Choose carefully-tailored clothes that skim each area of your body without binding, stretching, sagging, or flapping around. A poor fit doesn't flatter anyone, especially plus-size ladies.
Buy the size you really are, not the size you wish you were, not too large a size, and not too small a size. Tight and baggy should both be avoided.
Select clothes with careful styling that suits your body shape and personal style. It's all about the details. Pay attention to seams, contrast stitching, decorative details, bias cuts, waistlines, and the overall silhouette.
A word about shapewear: Remember, it's sold to women looking to smooth their silhouettes. Shapewear has come a long way in the past decade. Modern fabrics are cool and light. If you haven't bought a shaper in 10 years, it's time to try again.
Finally, our last style tip is to always finish dressing by looking in the mirror and giving yourself a big smile. You've done it. You're Dressing Your Truth. Style and confidence are beautiful – and so are you!
There you have it! Next time your thinking about dressing for your body type, consider dressing for your Energy Type instead. This is the real secret to Dressing Your Truth.
Start your free Before & After!

Create a look and life you love with these resources: